Learning English is now not simply a subject in school anymore, but it is gradually playing an important role in life and is even becoming a trend. To accompany you on your way to conquering English, today's IELTS Document will share with you the full set of Achieve IELTS Free downloads so you can study on your own!
It seems that "knowing" English is too familiar to most young Vietnamese in the 21st century, but "knowing" is not enough. They want to compete, want to earn an income, want to have job opportunities in English. We need professionalism and improvement, and for that reason, IELTS is also quickly becoming a "trend" for you to strive for a high band score with extensive knowledge and a solid foundation.
However, not everyone has favourable conditions and opportunities for accessing IETLS through centers, teachers teach directly, and many people choose to study at home, self-study through IELTS study materials, and They also make remarkable achievements.
Achieve IELTS Review
Achieve IELTS Grammar & Vocabulary
The first is the book "Achieve IELTS Grammar & Vocabulary", this is a book suitable for those who are at the low average level from band 3.5-4.0, for those who are new to IELTS, it is recommended to combine reading the book to learn grammar while supplementing other background knowledge through self-study. This will be extremely useful for beginners, save time effectively and raise the band fast.
Regarding Grammar
Grammar includes 9 major lessons, introducing information around the present tense, past tense, future tense to comparative sentence structures, modal verbs, conditional sentences, declarative sentences, relative clauses…and many small exercises for you to reinforce grammar, and improve structure.
The book also has more in-depth practice sections because of the analysis of each type of test in the IELTS exam, especially the Writing test. This is the highlight of the book to help you practice more in the lessons, as well as get acquainted with Writing. The end of the book has key answers for you to check your answers.
Regarding Vocabulary
The book divides vocabulary by topic, especially emphasizing the Speaking part, this saves a lot of time for students in arranging vocabulary, and the advantages of using it in the Speaking and Writing sections, we can easily meet any topic. There is an extensive vocabulary on that subject. This is quite special compared to other books.
Topics covered in the Workbook are: Describing people, Describing things, Art and culture, Cities and town, Collocations, Education, Energy, Environment, Food, Health, Research, Discoverties, Inventions, Language, Media, Moneys… These are completely popular topics, often appearing in the IELTS exam and are also very practical in daily life to help you improve your communication skills and vocabulary effectively. Practice exercises and key answers are also provided to help you check your own answers while studying.
I think this is a great suggestion for those of you who are learning IELTS vocabulary and grammar from the beginning, it clearly illustrated and associated with important IELTS topics, so you will improve your knowledge when you practice.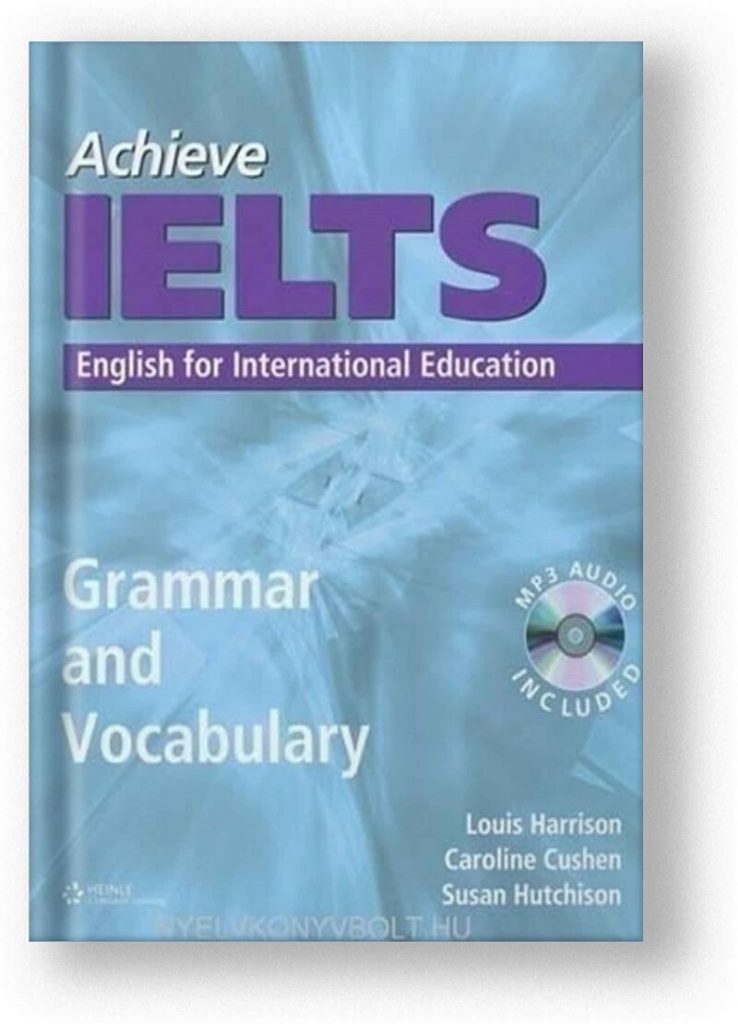 Achieve IELTS 1
My second suggestion is the Achieve IELTS book series. The book consists of 3 books: Student book, Teacher book, Work book, it can be said that this is a complete set of tips to help you perfect 4 IELTS skills. However, here I will talk about the Active IELTS workbook for your reference! This book is the next step in the process of raising the band score in the 4.5-6.0 range.
The book gives you tips for each type of test divided into 4 skills in the IELTS exam. For example, lesson 1 On Course introduces the introduction of Speaking Part 1, Writing Task 1, matching Reading type, Listening note format… Each type of lesson has a detailed analysis with examples to help you visualize effective homework strategies. This is an extremely handy book for self-study, you can absorb useful knowledge and effective tips without going to the centre or school, study anywhere, anytime.
The book is more about practice exercises with flexible illustrations, so those with a high level can review their knowledge, and it is easier for newcomers to understand the IELTS test. And at the end of the book, there is also a key for you to check your answers and results!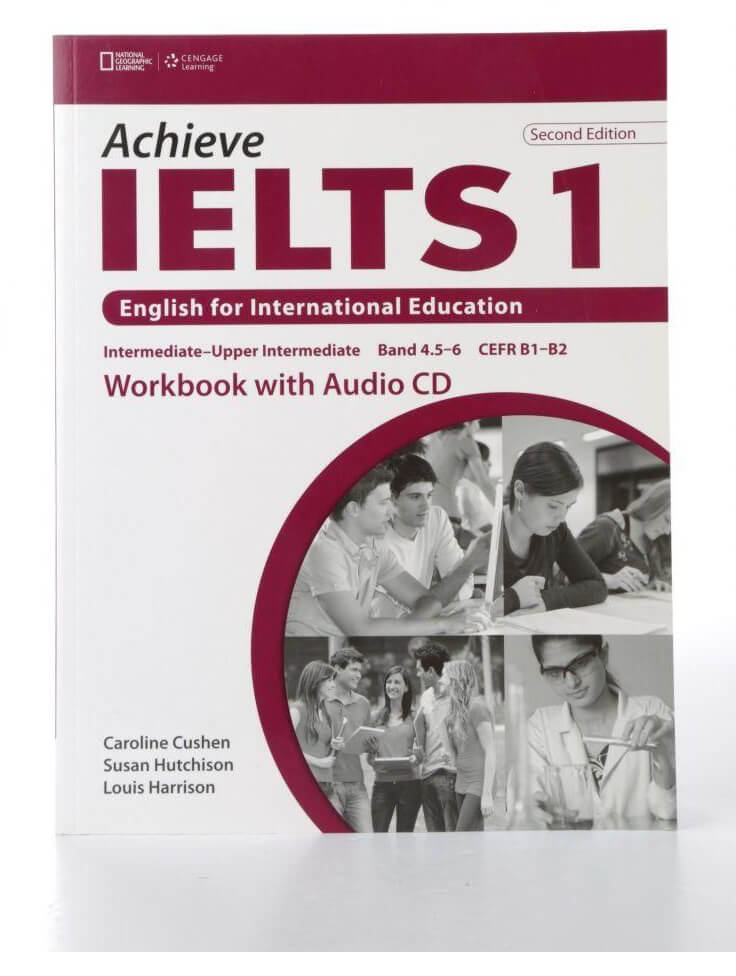 Achieve IELTS 2
The Achieve IELTS 2 book series is an advanced version of Achieve IELTS 1 used for students with a higher level, range 4.5 and can upgrade to band 7.0. Still a familiar structure, the lessons are divided into topics and topics with more advanced vocabulary, helping learners to approach deeply, and improve vocabulary and grammar. This is a special point when the learning methods are carefully analyzed in each paragraph of the lesson.
Like the books in this series, you have a good source of practice for each type of lesson because the books mainly focus on practice, distilled knowledge, hot topics for you to improve your IELTS level up. This is the reason that books with a difficulty level only for people about 6.5 and above can learn. And of course, it is indispensable to have the following answers to help you check to check your level.
Achieve IELTS Practice Test
Achieve IELTS Practice Test Book is the last book that I want to introduce to you in this article, unlike the books above, which are separate Test books. We all know that just learning theory is not enough, but to get a high score in IELTS, you also need to know the structure of the questions early, so this book will provide you with Tests for you to practice. The book is for your band 5.0 and above because the test has advanced and in-depth differentiation.
The book provides you with brief information about IELTS, and effective test methods for each skill. The book has enough structure of 4 tests like the real test, you apply the time setting and do the test according to the time instructions to check the level. At the end of the book, of course, it is indispensable for Keys and instructions for you to check your answers.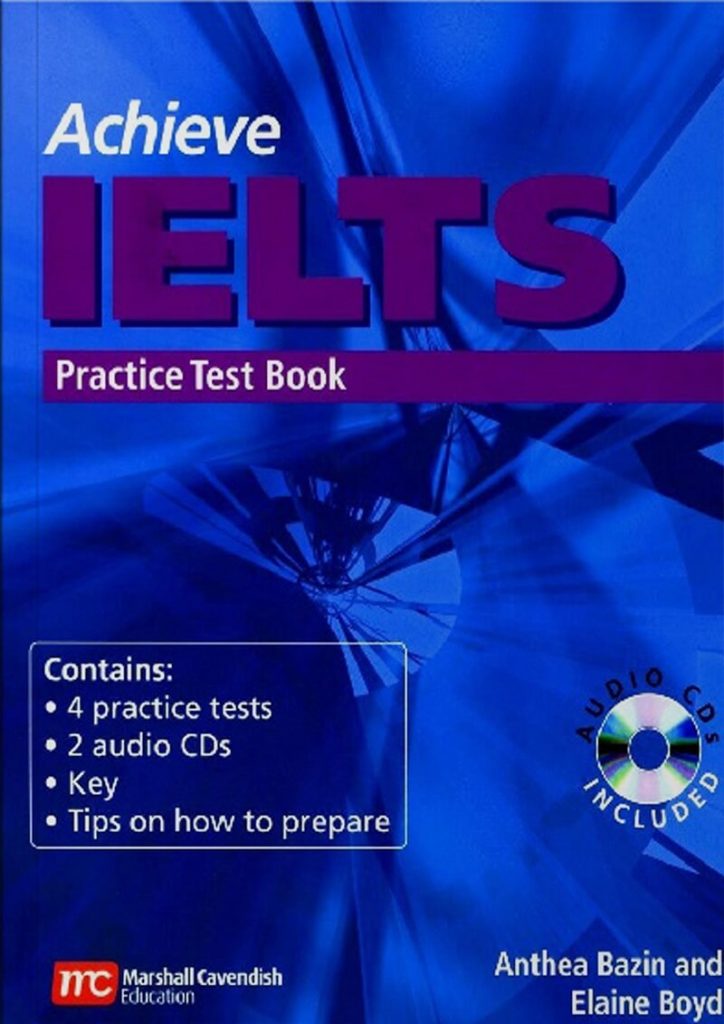 Achieve IELTS Study Guide
I am a self-study person for IELTS at home and I have some experience to help you use the book more effectively:
Discipline: homeschooling is extremely necessary for self-discipline, if you are lazy or do not have discipline, you cannot achieve any goal.
Specific class schedule: please schedule a specific class divided into Listening, Writing, Reading, Speaking afternoons, for example. Then apply and count down the correct time with the real exam time to forge the habit of doing the test on time and allocating the most reasonable time.
Take notes of mistakes, important vocabulary to raise the band score, and draw tips for yourself.
SPECIAL: I understand that many of you are not eligible, especially during this epidemic season, it is more and more inconvenient to go to the bookstore to find and buy, as well as delivery is difficult, so the gift I am sending to you is the download link. Online books are convenient to look up anytime, anywhere and save money; hopefully, you have more resources to practice, study IELTS effectively and get a higher score!