The book Action Plan for IELTS is one of the documents to help you self-study and prepare for the good Cambridge IELTS exam that you should refer to. With all 4 IELTS sample tests with accompanying audio files, you will practice, take sample tests, and check your level, thereby having an effective IELTS learning method.
Action Plan for IELTS Review
Book Contents
There are two test modes: Academic (Academic mode) and General Training (General mode). The book Action Plan for IELTS Academic version will give you in-depth knowledge of the academic format of the test.
The book distributes knowledge for all 4 skills of the IELTS test, which can be considered as 1 arrow hitting 4 targets.
Target Readers
This book is for those living in the 4.5-5.0 band range. This book series has the same target audience as Collin's IELTS 4-skill series. Still, because the knowledge is only encapsulated in less than 1 book, the amount of practice or knowledge will also be smaller.
Pros & Cons
For example, with Listening skills, the book distributes from the structure of a Listening lesson, to more fully what is the characteristic of each Section under the IELTS Listening test, to how to overcome each type of question that appears below. exam, to the complete test for learners to practice. So it should be said that after reading this book Action Plan for IELTS, you can already grasp some of the most important announcements about the IELTS format.
Action Plan for IELTS is a book that synthesizes knowledge from A – Z, but the layout of the book's knowledge does not make learners feel confused. On the contrary, the knowledge content layout is also one of the strengths of this Action Plan for IELTS.
The book distributes knowledge according to each type of question that appears under the IELTS test. With each type of question like that, the author will start from the characteristics of this type of question, what is it, how to do it, is there any note, and finally the exercise part. It is very clear indeed.
In the book, there will be instructions and good test tips after each exercise section.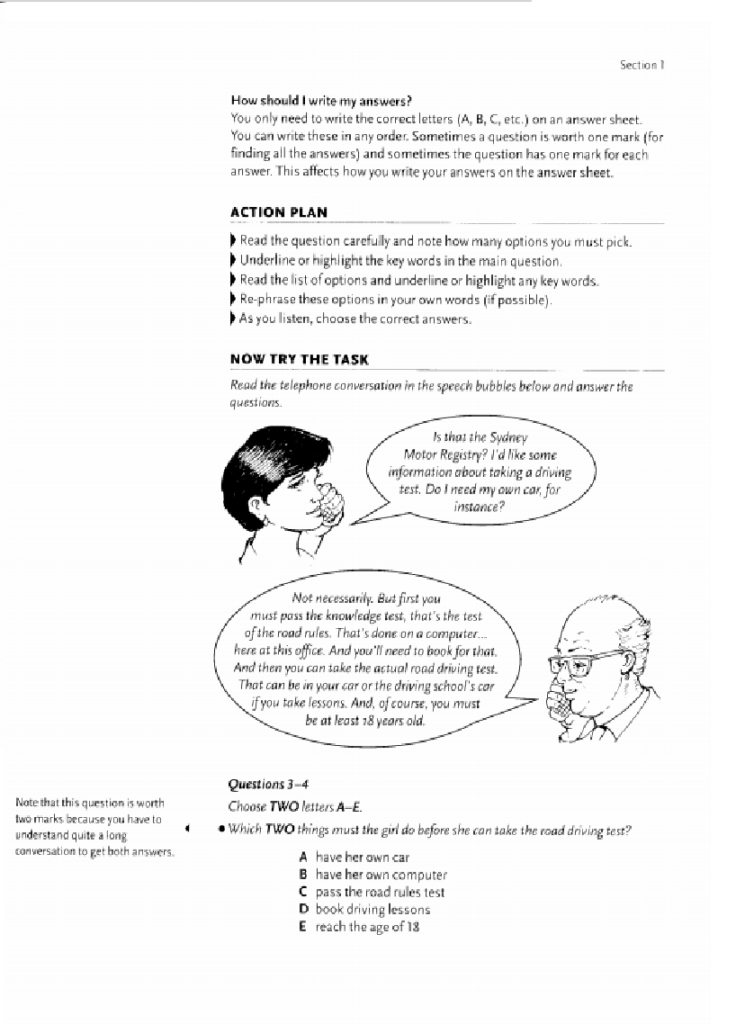 The book Action Plan for IELTS is reviewed as doing better than other books because some books for bands 5-5.5 often do not mention a few tests that synthesize each skill to check the level. Usually, to the more expensive band (from 6.0 and up), the new books deal with the practice of a complete question.
The book's cover emphasises that the book's primary feature is "last-minute preparation" because the book focuses specifically from theory to practice but in a concise manner, from theory on how to do each type of question, to little practice exercises for each type of test, to a complete test according to the structure of the test structure of the real exam.
So it is necessary, this book is especially suitable for some of you who have a taste for quick IELTS self-study (that is, learning under such a super short period).
Because just studying a book with a length of more than 100 pages, learners can still cover all the content of the IELTS test. In this regard, this Action Plan book is quite similar to the 15 days Practice for IELTS set, but the 15 days practice for IELTS is much longer and takes a lot more time to read.
However, since there are only over 100 pages, this book can't be too specific, and each question type doesn't have a lot of practice. The number of practice tests is only ENOUGH to tell you what IELTS is like, and what each type of IELTS test is like, but not enough to make you MASTER in this test.
Compared to some self-edited books by Vietnamese people, like the IELTS Study Guide for beginners, some of the tips under Action Plan for IELTS are not as clear.
Download Action Plan for IELTS Free
Please visit the link below to download the Action Plan for IELTS book and start practising immediately! Action Plan for IELTS can be considered a "tactical" diary for those who are self-studying IELTS and a "treasure" for IELTS teachers for their students.