The IELTS test is divided into two formats: IELTS Academic and IELTS General Training selected depending on the learner's individual needs. However, IELTS Academic attracts more test takers for various reasons than General Training, and these IELTS format test preparation materials are not as plentiful. In the following article, 9IELTS would like to introduce the Book: Cambridge IELTS 13 General Training PDF + Audio.
Cambridge IELTS General Training 13 Review
Book Content
Cambridge IELTS General Training 13 is divided into 3 main parts:
The first part introduces the structure of the IELTS General Training exam and the band score reflects the test takers' ability to use the language.
The second part includes 4 practice tests in the format of IELTS General Training with all 4 skills of Listening, Reading, Writing and Speaking.
The third part is audio scripts (recording of Listening lessons), sample writing and answers to exercises.
Target Readers
Because the Cambridge IELTS General Training 13 book only provides practice questions, this document is suitable for those who have mastered the exam structure and tactics for handling different tests in each skill. Thus, the Book is a reliable source of reference and practice for test takers before the official exam.
Pros & Cons
Because it was just published in 2018, the exam content in the Cambridge IELTS General Training 13 book is very up-to-date, including topics tested in the IELTS General Training test a few years ago, such as Food, Sports, Business, Travel and Tourism, etc.
A big plus for Cambridge IELTS General Training 13 is its high reputation and reliability. This is possible because this IELTS self-study material is the offspring of the prestigious Cambridge University – one of the three governing bodies responsible for the IELTS test worldwide.
Therefore, when learners try out the tests in the book, the results are a measure of accurately reflecting their current abilities.
The exam questions are of the same level, so it is easy to compare the test results, if there is a difference, it will indicate a specific gap in knowledge, or it may also be due to external factors affecting the test, such as unstable psychology, noisy space, not used to time pressure, exam skills have not been perfected.
In addition, although the book does not directly introduce each type of test in each skill of the IELTS General Training test like the "coursebooks", the fact that the tests are scientifically designed, authentic and follow the exam will also help learners visualize what a typical IELTS test would look like, how the skills will be assessed and what aspects they need to add to meet that requirement.
However, Cambridge IELTS General Training 13 is a practice book and does not provide instructions, tips and strategies.
For those who are just starting or have not yet entered the test preparation stage, you need to refer to specific IELTS test preparation books or manuals for each skill to familiarize yourself with the test rules of each type of question. Come up with a strategy that works for you.
Cambridge IELTS 13 General Training Study Guide
With Cambridge IELTS General Training 13, don't close the book and throw it away after completing each practice test. Instead, you need to check the answers carefully and try to explain your mistakes yourself. If you still have questions, you can consult a teacher, classmate or acquaintance who has experience taking or preparing for IELTS.
If you search for answers and are satisfied with the temporary results, you will fail to take full advantage of the book and waste a lot of your time and effort.
Because, after all, when doing a test, in addition to specific purposes, we need to aim at 2 primary goals:
Relatively assess the current level.
Understand why you are at that level, which means you can detect your strengths and promptly overcome gaps in knowledge and skills.
The process to success in IELTS includes trial and error, seeing how wrong is wrong and trying again so that it is highly effective. When taking the exam, you should note that these are sample questions close to reality, so you must take advantage of the opportunity to take the test.
Find a quiet room, turn on the timer and have your IELTS answer sheet printed. These mock tests will assess your current capacity fairly accurately if such conditions are ensured.
However, it is also essential to understand that although the Cambridge IELTS 13 General Training book is very good with up-to-date and high reliability, as analyzed above, it does not entirely guarantee your score when taking the test is stable like that. This is because many other factors affect the results on the day of the test and during the marking process.
Download Cambridge IELTS General Training 13 Free
Please visit the link below to download the Cambridge IELTS 13 General Training PDF + Audio and consult the Book immediately! Hopefully, the above information about the Cambridge 13 IELTS General Training book will help you use the Book effectively and have more reliable materials to refer to before the IELTS exam.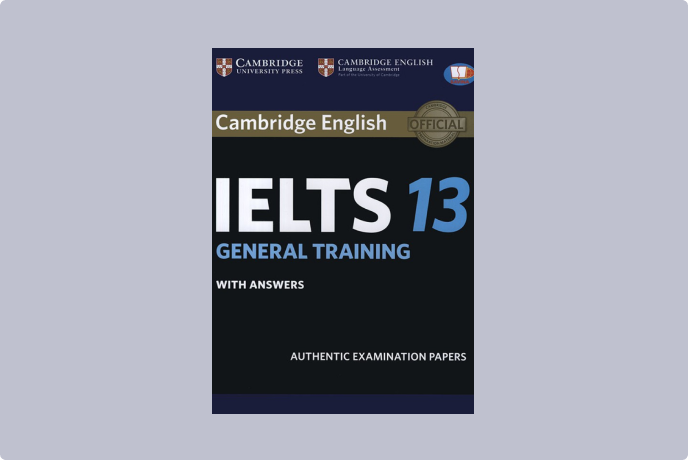 For copyright reasons, you can't download IELTS books directly on our website, but in this file. Please like and recommend our 9IELTS Fanpage to motivate us to keep up the good work.
Note: Please note that these Cambridge IELTS Books 1-17 Academic + General Training were collected from different sources on the internet and gathered together to help students prepare for their upcoming IELTS exam. The website owner does not hold any responsibility for those. If you have any claims regarding any content of this website, please contact us.