Cambridge Vocabulary for IELTS aims to extend and improve the accuracy of your vocabulary and help you prepare for the IELTS test. It introduces vocabulary through listening and reading texts that reflect the materials used in the IELTS test. Learning new words in context can help you to remember them and also allows you to understand their meaning. This book also gives you opportunities to practice new words so that they can become part of your active vocabulary.
Cambridge Vocabulary for IELTS Review
Cambridge Vocabulary for IELTS is designed for students working alone who want to revise and extend their vocabulary. But it can also be used as part of an IELTS preparation course in the classroom or as homework by a teacher. It is also suitable for advanced students or those studying English for academic purposes.
You can work through the teaching units (1-20) in any order, but you should study all the units if you want to prepare thoroughly for the test. You may want to start with a particular unit because it relates to a topic in your coursebook or because you are interested in that area.
Units 21 and 22 give helpful tips on (earning new vocabulary and using a dictionary. These units provide an instrumental introduction to learning vocabulary, so it may be a good idea to look at these first.
Cambridge Vocabulary for IELTS consists of the following chapters:
Map of the book
Introduction
IELTS Test summary
Unit 1: Growing up
Unit 2: Mental and physical development
Unit 3: Keeping fit
Unit 4: Lifestyles
Unit 5: Student life
Test One
Unit 6: Effective communication
Unit 7: On the move
Unit 8: Through the ages
Unit 9: The natural world
Unit 10: Reaching for the skies
Test Two
Unit 11: Design and innovation
Unit 12: Information technology
Unit 13: The modern world
Unit 14: Urbanization
Unit 15: The green revolution
Test Three
Unit 16: The energy crisis
Unit 17: Talking business
Unit 18: The law
Unit 19: The media
Unit 20: The arts
Test Four
Unit 21: Language building 1
Unit 22: Language building 2
Unit 23: Academic Writing Task 1
Unit 24: Academic Writing Task 2
Unit 25: General Training Writing Tasks 1 and 2
Test Five
Answer key
Recording scripts
Word list
Acknowledgments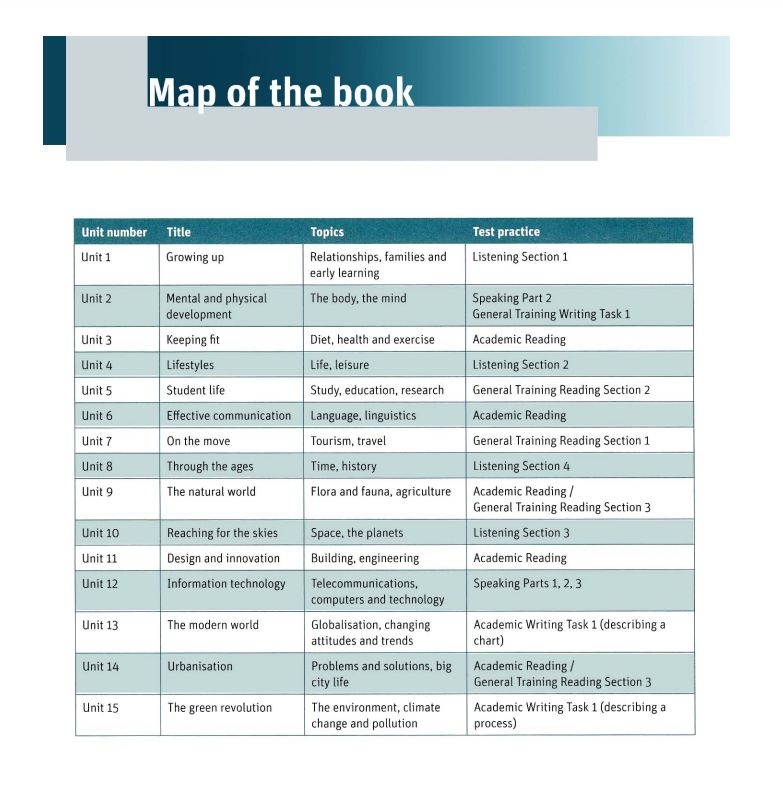 The first 20 units present and practice vocabulary based on general and academic topics. Each topic is divided into smaller sections. Each unit has three pages of vocabulary exercises based on listening and reading. writing and speaking materials are similar to those found in the IELTS test. There is also a focus on pronunciation. In addition, each unit has one page for a test practice activity or three pages when it is academic reading test practice.
The test practice includes examples of all the tasks in the following papers: Academic Reading, General Training Reading, Academic Writing, General Training Writing, Listening, and Speaking. These tasks provide useful practice and revision even if you are not taking the test.
At the front of Cambridge Vocabulary for IELTS is a summary of what is in each part of the IELTS test. The last five units of the book provide a general guide to learning and using new vocabulary.
Units 21 and 22 give useful tips on developing vocabulary and using a dictionary. Units 23 — 25 focus on useful vocabulary for the different writing sections of the IELTS test.
Units 23 and 24 are designed for students planning to take the Academic Module, and Unit 25 is designed for students planning to take the General Training Module.
At the end of the book, you will also find an answer key for each unit, including model answers for each writing task, recording scripts and wordlists for each unit.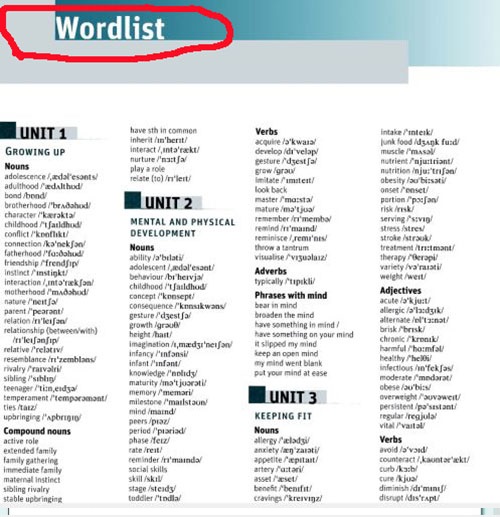 You have to listen to the audio CD to do the listening and pronunciation exercises in each unit. The test practice listening tasks are also on the audio CD. In the IELTS listening test, you hear everything once only, so try not to replay the track.
Cambridge Vocabulary for IELTS Study Guide
For maximum efficiency, you should study in order from beginning to end because you can learn the vocabulary from the previous lesson in the following tasks. The practice test helps you to expand your vocabulary a lot, and you will also practice different parts of the IELTS test.
Cambridge Vocabulary for IELTS Wordlist
Each lesson in the Cambridge Vocabulary For IELTS PDF book has a list of vocabulary words listed at the end of the book. Most of these words are used in many different contexts. You can divide this vocabulary list into small groups to study each group. You should learn by Picking up vocabulary at the Advanced level and by Toplist if you are at Inter level.
When you read and listen to these words, you can understand them, but you also need to expand the vocabulary activity by using them in writing and speaking.
At the same time, remember to learn the correct pronunciation, phrases, and collocations that go with it. Units 21, and 22 will help you develop effective vocabulary learning strategies. In the right way, you can master the Cambridge Vocabulary For IELTS book and study it effectively.
How to practice IELTS Speaking test
In part 2 of the speaking test you have time to take notes on paper, so using the words in the book and writing them down will help you when speaking. If so, record your answers and listen to them again. You can use speaking scoring websites to improve your speaking. You can also refer to the method: Shadowing.
How to practice IELTS Writing test
You should practice writing by using sesame words in the units you have learned. In the answer key section of Vocabulary For IELTS, there are sample answers, which you can use to write your own essay.
How to learn IELTS Vocabulary in the book
The vocabulary in each lesson may be completely new or you may have learned it before, but you still haven't used it correctly. Because even if you know a word, you can write it, but you can't combine it with a preposition, use it in collocations, or make a complete sentence. Therefore, you should have a notebook and organize your vocabulary according to the following categories:
New words to learn
Vocabulary you often make mistakes
Vocabulary that needs to be used more
Vocabulary by topic (eg: environment, work..)
Units 21 – 22 will guide you through those effective vocabulary-learning techniques.
Download Cambridge Vocabulary for IELTS PDF + Audio
Please visit the link below to download the Cambridge Vocabulary for IELTS book and build yourself a rich academic vocabulary before the IELTS exam. On our website, you can also download Cambridge Vocabulary for IELTS Advanced Book with Answers and Audio CD.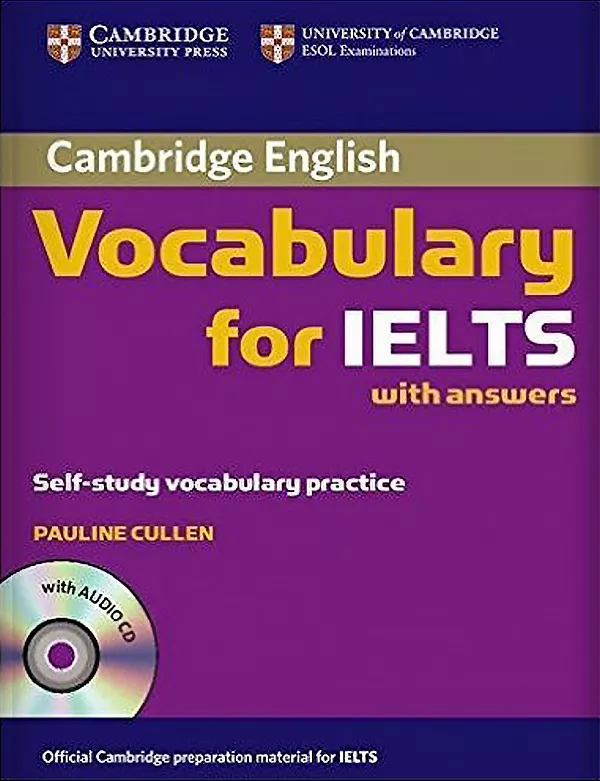 Note: For copyright reasons, you can't download IELTS books directly on our website, but in this file. Please like and recommend our 9IELTS Fanpage to motivate us to keep up the good work.
In short, this will be a "savior" on your journey to conquering the IELTS exam in particular and English in general, making buying yourself this Cambridge Vocabulary for IELTS book extremely necessary. We hope you will try to practice with as many different sets of materials as possible to achieve the desired band score.