Cambridge English Grammar and Vocabulary for Advanced is a book that combines both Grammar and Vocabulary, which are not provided in most IELTS books on the market. The book is highly appreciated by many IELTS learners because its content is compiled by many experienced teachers.
The main content of the book mainly revolves around two main parts, vocabulary and grammar, designed to include theory and exercises, and arranged from basic to advanced.
This book is aimed at all audiences, students who want to improve their grammar and vocabulary level, or can be a reference for teachers who are teaching at the school.
If you want to practice your own vocabulary and grammar separately, you can refer to the Cambridge Vocabulary for IELTS book, the Cambridge Vocabulary for IELTS Advanced book, or the Cambridge Grammar for IELTS book. These are all books compiled by Cambridge University Press, so you can be assured of the quality.
Cambridge English Grammar and Vocabulary for Advanced
There are two primary parts in the Cambridge English Grammar and Vocabulary for Advanced with Answers book.
Part 1 (from chapter 1 to chapter 25): This part includes knowledge of grammar, fully introduces knowledge from basic to advanced, has clear examples and explanations, and is accompanied by exercises to reinforce the knowledge learned. The three main contents of this section are as follows:
Context Listening: This listening section appears first to help support listening skills, through the listening part, you will be familiar with the grammar knowledge that is about to be mentioned.
Grammar: This section provides you with knowledge of grammar, explanations, and clear examples.
Grammar Exercise: This exercise reinforces what you have just learned and has answers at the end of the book.
Part 2 (from chapter 26 to chapter 45): This part guides you to expand your vocabulary. The new vocabulary mainly revolves around sentence patterns, collocations, idioms, etc. They all revolve around interesting topics in daily life.
And if you already have a good amount of vocabulary and grammar, you can refer to 4 IELTS practice books such as Cambridge IELTS Intensive Training, The Official Cambridge Guide to IELTS, or Cambridge Action Plan for IELTS. These are all books of Cambridge Publishing House, so you can be assured of the quality.
How to Use Grammar and Vocabulary for Advanced?
In the Grammar part:
First, try to focus on the listening part and spot the grammar topic the book will cover next.
When you come to the grammar section, remember to read the theory and understand the accompanying illustrations carefully. Then close the book for about 5 minutes and visualize what you have learned.
Then, open the exercise section and try to see how well you understand the lesson and check the answers, assess your level.
In the Vocabulary part:
You also carefully study vocabulary, semantics, examples, and pronunciation and repeatedly read the word aloud.
Give yourself an example with a newly learned word.
Try to use them as much as possible in everyday communication.
Don't forget to review those words the next day.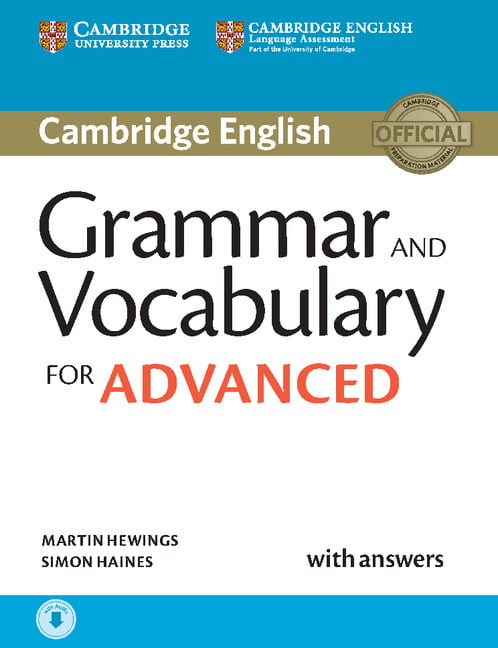 Due to copyright reasons, you can't download IELTS books directly on our website, but in this file. Please like and recommend our 9IELTS Fanpage to motivate us to keep up the good work.