Cambridge Objective IELTS is a two-level course that provides thorough preparation for both the Academic and General Training components. Using analysis of actual IELTS candidate papers, the course is uniquely designed based on the Cambridge English Corpus.
Cambridge Objective IELTS Intermediate + Advanced Overview
The two levels of Objective IELTS may be studied independently or sequentially, allowing lower-level students who need a high band score to begin preparations early. The Workbook and CD-ROM may be used to increase the study time for each level from 60 to 80 hours.
The primary goal of the Cambridge Objective IELTS series is to provide excellent language instruction, test preparation, and engaging classroom debates. This course combines in-depth and rigorous language study with systematic test preparation and practice in order to improve students' chances of passing the IELTS Academic and General Training exams.
These IELTS books have twenty brief chapters that cover a wide variety of stimulating subjects. There are ten 'Test Folders' that include in-depth descriptions of each test problem and practical, instructive guidance. In addition, there are ten 'Writing folders' that aid in the development and refinement of writing abilities and provide extensive and rigorous test preparation. The novel also conveys a feeling of development.
There is also a "Grammar folder" that includes additional examples and explanations for enhanced comprehension and learning. There includes a CD-ROM for further instruction on grammar, pronunciation, and vocabulary, as well as more practice on all four essential skills: listening, speaking, reading, and writing.
In addition, it is important to mention that Cambridge published the second book in this series, one for a higher band with more advanced exercises and training.
Contents of Cambridge Objective IELTS Intermediate + Advanced
Here are the Objective IELTS book contents to guide you further on what's inside them. The detailed contents of each book are as follows:
There are 40 questions in the book, scattered into four sections, dedicated to listening skills. The 1st and 2nd sections are related to social needs. There is a 2-person conversation which is followed by a monologue.
The 3rd and 4th sections, on the other hand, focus on situations related to training and educational contexts. They include a conversation held by up to 4 people and a monologue after. The question for listening skills are chosen from the following types:
Note completion
Multiple choice
Short-answer questions
Sentence completion
Matching
Classification
Labeling a diagram
Summary completion
Table/flow-chart completion
There are 40 questions and 3 reading passages for reading skills with a total of 2000 words – 2500 words (General Training) and 2000 words – 2750 words (Academic). The 1st passage is about 'social survival,' 2nd focuses on 'training survival,' while the 3rd highlights general reading. The questions are chosen from the following types:
Matching
Classification
Multiple choice
Short-answer questions
Sentence completion
Summary completion
Labeling a diagram
Yes/no/not given
True/false/not given
Locating information
Note completion
Table/flow-chart completion
Headings
Writing skills include 2 tasks that would help you organize data, express opinions, challenge ideas, and provide factual information. The tasks include the following types:
Describing graphic data/diagram
Writing a letter
Writing an essay
Speaking skills include an oral interview between yourself and an examiner that would last for approximately 11-14 minutes. The interview will consist of 3 parts;
Introduction and interview
Individual long turn
Two-way discussion
Other items in the book:
CD-ROM
Answer key
Audio CD (sold separately)
Pros & Cons of Cambridge Objective IELTS Book Series
Here are the advantages and downsides of buying the Objective IELTS Intermediate Student's book.
Pros
Numerous exercises and activities in the book will surely prepare you for the IELTS examinations. There are 'writing folders' and 'test folders' that provide thorough and in-depth instruction and preparation for every facet and section of the exam.
The most impressive aspect of this book is its substance. The book's twenty modules thoroughly cover the four needed abilities. Moreover, each unit concentrates on topical material that maintains the student's attention while providing them a feeling of accomplishment and development. The book highlighted vocabulary, grammar, and pronunciation to facilitate learning.
In addition, there includes a CD-ROM that provides additional IELTS practice for skill development.
Cons
As with every other available preparation book, the objective guide has its drawbacks. While there is plenty to learn from this book, some readers may find the speaking and writing parts inadequate.
A further disadvantage is the associated CD-ROM. In comparison to other modern computers, it is rather obsolete. Some individuals may not have the necessary drive or device to play it.
How To Use The Objective IELTS Books Effectively?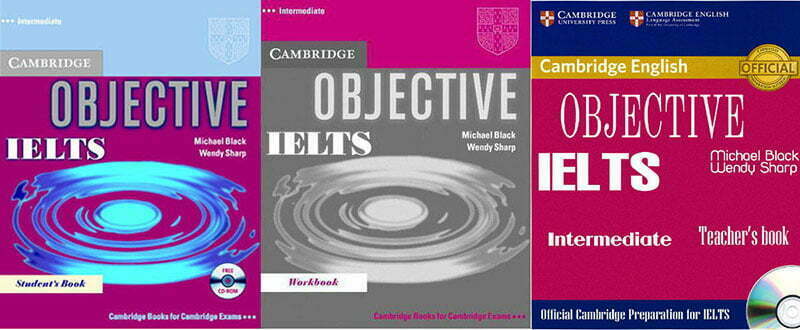 Due to copyright reasons, you can't download IELTS books directly on our website, but in this file. Please like and recommend our 9IELTS Fanpage to motivate us to keep up the good work.
If you use the Objective Book Series to prepare for the IELTS, you must know how to use the book efficiently. Here are some helpful suggestions:
Take the time to study the book's organization. Peruse the pages and acquaint yourself with the book's basic instructions. Before reading and studying, attempt to comprehend how the process works.
Determine your strategy, whether you want to concentrate on one ability before moving on to the next or not.
Find a peaceful place in your house to read and study. Possessing a pen and paper nearby might be useful for taking notes or writing down unknown terms to look up later.
Assess yourself. Determine whatever abilities you are currently lacking and devote special attention to that area of the book. However, this does not imply you may neglect other aspects.
As much as possible, apply the information, methods, and insights from the book to real-world situations.
Follow the unit and activity directions carefully. If there is a time restriction, ensure that you adhere to it.
Enjoy! You will undoubtedly learn more if you are engaged and having fun. Do not exert yourself excessively.
Cambridge Objective IELTS Intermediate + Advanced book series is an excellent resource for IELTS preparation. This book is useful for preparing students to get a score between 5.0 and 7.0. It may be used as a source of knowledge to enhance your English abilities and language growth.
Due to copyright reasons, you can't download IELTS books directly on our website, but in this file. Please like and recommend our 9IELTS Fanpage to motivate us to keep up the good work.