Smart IELTS Vocabulary and Grammar is a relatively new book on the IELTS book market. Today, 9IELTS will have a fundamental review of this book so you can get the most overview before buying.
This is a book about vocabulary and grammar, just like other books, but this book will have some other outstanding features as follows:
Vocabulary and grammar are listed based on the most popular IELTS topics. This is quite similar to the Cambridge Vocabulary For IELTS
There are Vietnamese captions & specific examples.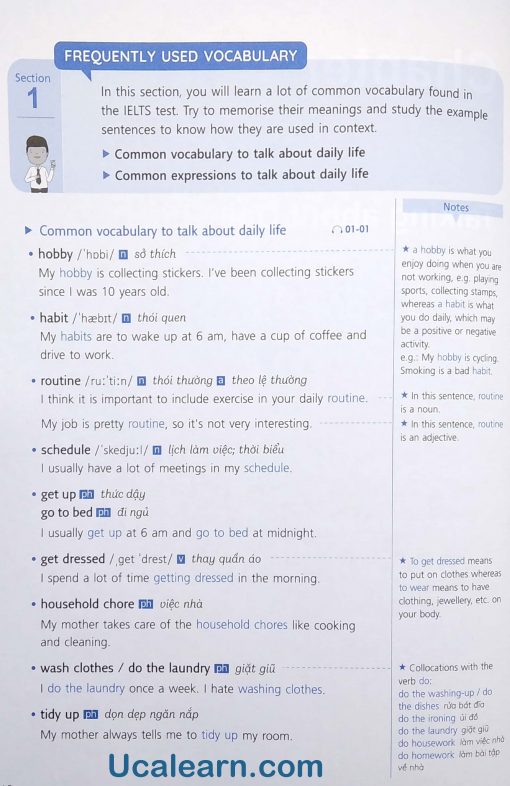 If you take a quick look at the content analysis, you will see that the book's content is very clearly annotated.
Unlike Vocabulary books that are just a list of words, this book offers easy examples to help you learn through context.
Smart IELTS Vocabulary and Grammar Review
Book Contents
The Smart IELTS Vocabulary and Grammar book will be divided into all 16 Chapters with content focusing on common topics in IELTS as follows:
Chapter 1: Talking about Daily Life
Chapter 2: Talking about Travel and Tourism
Chapter 3: Talking about Plans
Chapter 4: Talking about Work and Bussiness
Chapter 5: Giving Opinions
Chapter 6: Describing differences and changes
Chapter 7: Describing Places
Chapter 8: Talking about media
Chapter 9: Talking about Family and Friends
Chapter 10: Talking about People
Chapter 11: Talking about Art and Museums
Chapter 12: Talking about Technology
Chapter 13: Talking about Likes and Dislikes
Chapter 14: Talking about ideas and information
Chapter 15: Talking about Sport and Health
Chapter 16: Talking about the Environment
Target Readers
This book will suit those at level 5.0 down (or beginners). This book's vocabulary is also quite basic, which may make graduate-level students a bit bored.
Smart IELTS Vocabulary and Grammar Study Guide
For IELTS in particular, as well as English in general, you do not need to rush to learn. Because the book is suitable for those of you who are still at level 5.0, you should have a few notes:
Study by topic
Try to make your sentences according to each new set of vocabulary you learn
Try to remember the meaning in context/sentence, don't learn individual words
Download Smart IELTS Vocabulary and Grammar Free
Please visit the link below to download the Smart IELTS Vocabulary and Grammar book and start practising immediately!