Those who want to conquer high-stakes IELTS exam must be familiar with the series of practice questions from Cambridge University Press: Cambridge Practice Test for IELTS. In the article below, 9IELTS will spend a couple of lines reviewing the first book of this famous series: Cambridge Practice Test for IELTS 1.
Cambridge IELTS 1 is part of a series of books of the same name, published by Cambridge University Press – one of the most prestigious publishers in academic English, and language skills in general.
For those who don't know, Cambridge IELTS is a series of books about the IELTS exam published annually by Cambridge itself to give you the best orientation for those who are preparing for the IELTS exam. The book is a collection of many different sets of topics, and by exploiting these topics, readers will be able to decipher and grasp the structure of the exam. This will help you to be more confident when entering the 'battle' with the exam.
Cambridge IELTS 1 Review
Book Content
Cambridge Practice Test for IELTS 1 is divided into 4 main parts:
The first part provides 4 IELTS Academic mock tests and 2 questions in a General Training format. Listening section of each test, there is an accompanying audio file.
The second part is recording the Listening tests in the practice test (audio scripts).
The last part is the answer sheet – sample answer sheets of skills in the IELTS test.
Each practice test in Cambridge IELTS 1 will have 4 questions as in an IELTS Academic test: from Listening to Reading, Writing and Speaking. In there:
In the Cambridge IELTS 1, audio files (CDs) with standard quality are attached to be used for the Listening test.
Target Readers
Because the Cambridge IELTS 1 book only provides practice questions, this document is suitable for those who have mastered the exam structure and strategies for handling different tests in each skill. Thus, the book is a reliable source of reference and practice for test takers before the official exam.
Pros & Cons
Cambridge Practice Test for IELTS 1 not only provides IELTS practice tests in Academic format, but also designs 2 sets of IELTS General Training sample tests, suitable for learners of all ages – even if they have IELTS preparation needs. Academic or General Training.
This makes this IELTS preparation book different from others, when most focus on preparing for one type of IELTS test: Academic, or General Training.
Most of the lessons in the Cambridge IELTS 1 book are designed to be relatively close to the official IELTS test in both content and form, allowing learners to practice test-taking techniques, exam room skills, and compete simultaneously. Tester expands vocabulary related to the topic of Reading/Listening in the test.
Of course, you should only do it after you have completed the mock test, to avoid interruptions and dishonesty when taking the test.
Due to its long publication, Cambridge Practice Test for IELTS 1 shows some local obsolescence. Some types and topics of Listening, Reading and Writing skills no longer appear in the same section in the IELTS Listening test in recent years.
For example, you can mention the "outdated" forms of listening in the book: listening and choosing pictures suitable for descriptive information (section 1), multiple-choice test (section 4),…
Although well promoted as a practice material, Cambridge Practice Test for IELTS 1 is not a wise choice for those new to this journey, because the book does not provide enough detailed instructions for you to do the test effectively.
If yes, you should only refer to the book briefly to get an overview of the "look" of an IELTS test.
Cambridge IELTS 1 Study Guide
As analyzed above, some questions in the IELTS practice test of the Cambridge IELTS 1 book no longer appear in the IELTS test at present, so learners need to pay attention to distinguish it from the new test format. (can be compared with Cambridge IELTS books from 9 onwards) so as not to confuse the test types with each other, negatively affecting the psychology of the test and the perception of the current exam format.
However, in terms of its standardization compared to other unreliable sources, learners can still take advantage of the book from this prestigious IELTS practice serves as a source of practice for certain types of tests. . Compare the test types in this book with Cambridge IELTS books from 9 and up, remove the old format and practice only the same format.
Download Cambridge IELTS 1 Free
Please visit the link below to download the Cambridge IELTS 1 book and start practising immediately! Download Cambridge IELTS 1, and you can not only practice well but also have great experiences in the process of IELTS test preparation, thereby removing obsession and stress during the actual exam.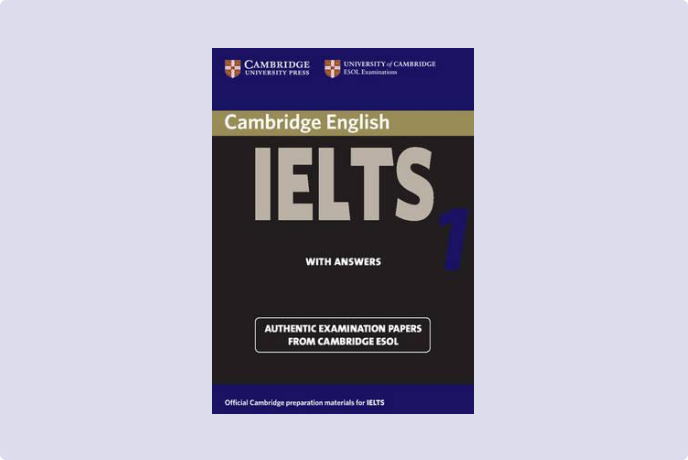 Note: For copyright reasons, you can't download IELTS books directly on our website, but in this file. Please like and recommend our 9IELTS Fanpage to motivate us to keep up the good work.