The Key to IELTS Writing Task 1 Academic is written by author Pauline Cullen, a professional at Cambridge University and the author of many famous IELTS books such as The Official Cambridge Guide to IELTS, Vocabulary for IELTS Advanced, Cambridge Vocabulary for IELTS with Answers, The Key to IELTS Success and The Key to IELTS Writing Task 2.
The Key to IELTS Writing Task 1 Academic Overview
The Key to IELTS Writing Task 1 Academic teaches the skills needed to write a formal discursive essay that will meet the criteria and finally get a band 7 or above IELTS Writing Task 1. The book is divided into two sections. The first teaches the skills needed to write a clear, logical features guided test practice with model answers. Rather than simply presenting these as a finished writing process step by step, and show the type of thinking and planning you need to do in samples of bands 6.0-6.5. You will learn how to address them, and how to increase the band score from 6.5 to 8.
There are now 15 lessons, and the response so far has been great. As with the Writing Task 2 book, there are detailed, step-by-step explanations, and interactive exercises to allow students to develop their confidence and their skills, and up to 5 people can share a book (and the cost).
20 Lessons and 12 months of access—you can do it in 20 days, 20 weeks, or longer
Learn about the problems in Task 1 that will keep you at Band 6 or lower
No waiting—immediate access to the course
Interactive exercises to give you immediate feedback
Share the cost and the book on up to 5 different devices
New writing tasks and 25 model answers
The Key to IELTS Writing Task 1 Academic Guide
To improve your score, you must learn to apply the skills the examiner is looking for in your writing. Lessons 1-10 will help you with this, so be sure to complete this section first, before moving on to the guided test practice section. Don't rush through the sections – read, re-read, think, absorb, and be sure to complete the interactive practice exercises. Work at your own pace. Practising little and often is generally the best approach to take, and I've included ideas to help with this.
Throughout the lessons, you will be encouraged to review your writing. If you have done previous nearby. Reflect on your own writing problems and try to be systematic in the way that you work on fixing these. You also find a link to printable worksheets to guide you through any activities and help you organise your own notes. Print them out and have them next to you as you work through the lessons.
All of our language skills are linked in some way, and the author tried to make use of this by incorporating writing ones. These add variety, but you will also find that they have a positive effect on your writing. During the thinking stage of writing, we hear our inner voice. Lower levels tend to think of ideas in their own language word for word. At the higher levels, students can think in the language they will use to write, inner voice makes the same mistakes as when you are speaking in English, and these mistakes
The listening exercises not only offer variety but should also help improve your written accuracy.
Download Key to IELTS Academic Writing Task 1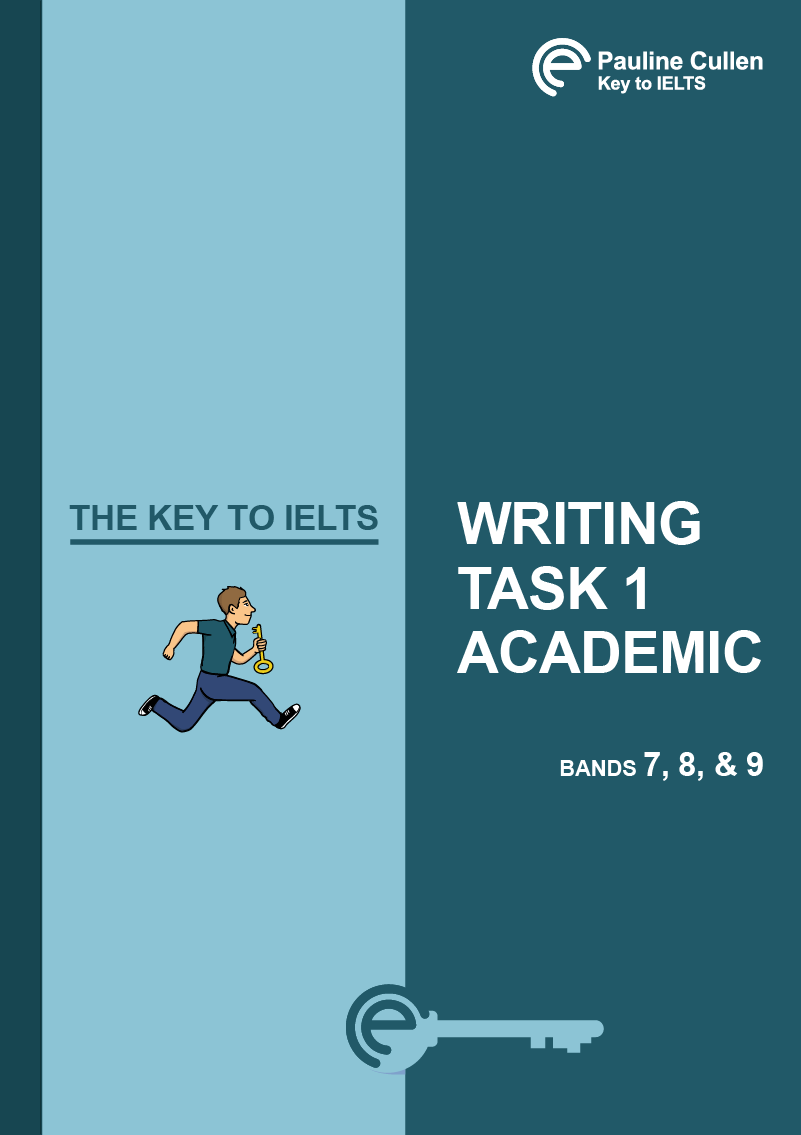 Due to copyright reasons, you can't download IELTS books directly on our website, but in this file. Please like and recommend our 9IELTS Fanpage to motivate us to keep up the good work.