The 144 IELTS Speaking Part 2 samples with audio are an invaluable resource for anyone preparing for the IELTS Speaking test. These samples cover a variety of topics, and provide authentic audio for listening practice to help you develop your fluency, vocabulary, and time management skills.
Why 144 IELTS Speaking Part 2 Samples + Audio?
Diverse Topics: The 144 IELTS Speaking Part 2 samples cover a wide range of topics, ensuring you are prepared for any subject that may appear in the actual exam. These topics can include travel, hobbies, personal experiences, future plans, and more.
Varied Difficulty Levels: The samples cater to candidates of all proficiency levels. Whether you're a beginner or an advanced speaker, you can find topics and languages that suit your level.
Authentic Audios: Listening to the audio accompanying the samples helps you understand the rhythm, intonation, and pronunciation patterns of native English speakers. This is vital for improving your listening and speaking skills.
Improved Fluency: Practising with these samples helps you become more comfortable speaking for two minutes on various topics. Over time, this will boost your fluency and confidence.
Time Management: IELTS Speaking Part 2 is all about managing your time effectively. The samples allow you to practise structuring your responses within the time limit, which is a crucial skill for the actual test.
How to Use 144 IELTS Speaking Part 2 Samples + Audio
Regular Practise: Consistency is key. Dedicate a portion of your daily or weekly study routine to IELTS Speaking Part 2 practise using these resources.
Record Yourself: After practising with the samples, record your own responses. Listen to them and identify areas for improvement. This self-assessment is invaluable.
Expand Vocabulary: Note down unfamiliar words or phrases while going through the samples and audio. Build your vocabulary and use these words in your responses.
Mimic Native Pronunciation: Try to mimic the pronunciation and intonation patterns of the native speakers in the audio. This will help you sound more natural when speaking.
Seek Feedback: If possible, have a teacher or a language partner listen to your responses and provide constructive feedback. This external input can be extremely beneficial.
Download 144 IELTS Speaking Part 2 Samples + Audio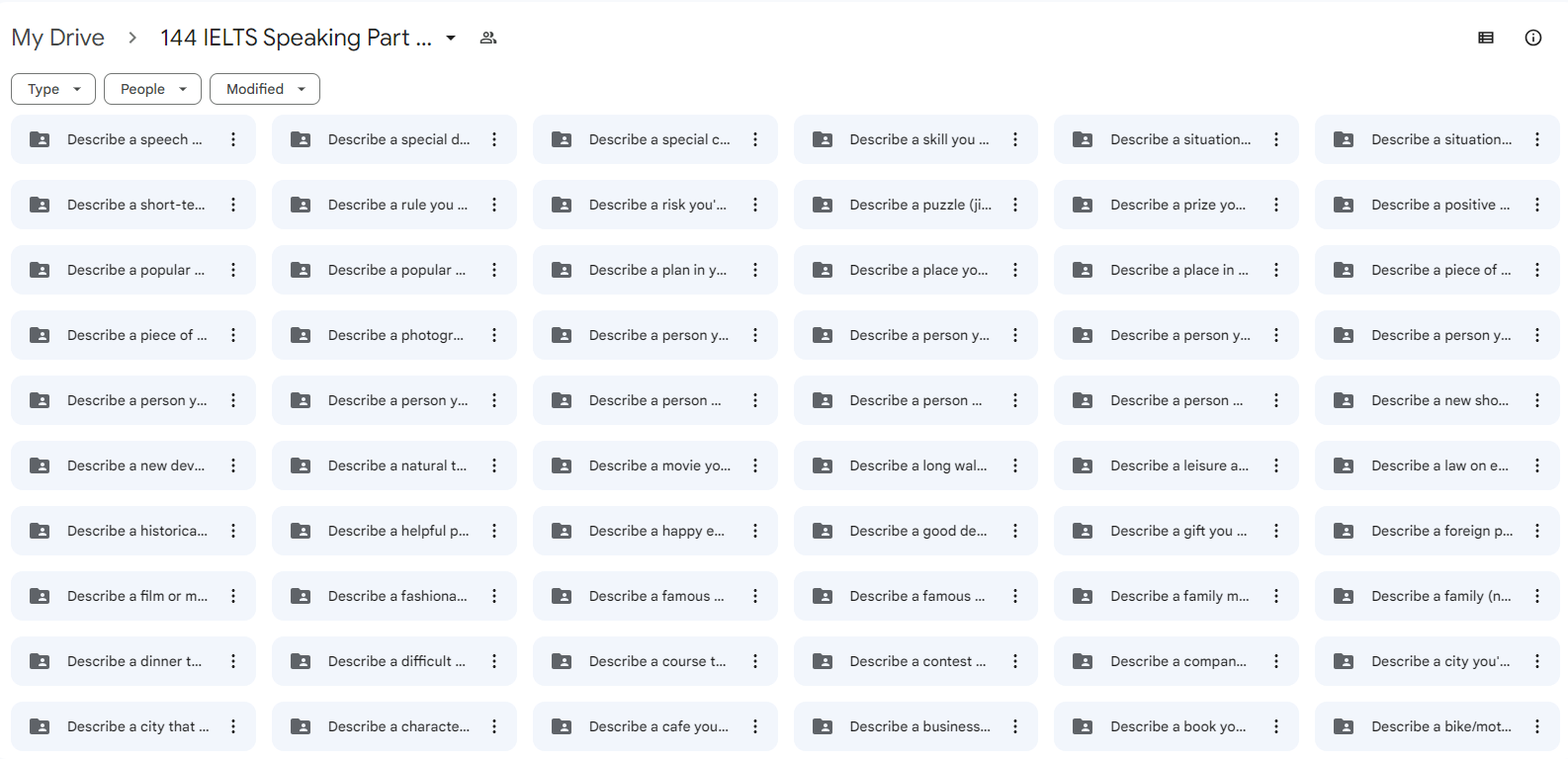 Due to copyright reasons, you can't download IELTS books directly on our website, but in this file. Please like and recommend our 9IELTS Fanpage to motivate us to keep up the good work.