IELTS Vocabulary Booster is an extremely useful document to help you improve target band 7+ vocabulary to help you apply for your IELTS Writing Task 2 test to be more impressive, score in the IELTS exam. This book contains 500 words in 9 common topics of Writing Task 2. They are: education, health, environment, crime, food, art, global issues, technology and space. outer space.
The book is written very specifically, with examples with pictures, detailed explanations in simple words to help learners grasp as quickly as possible. According to the author's statistics, over 90% of students using this material have significantly increased their vocabulary scores in the Writing test.
IELTS Vocabulary Booster 7+
This is an IELTS book written by a team of language experts at Linguaman language schools, distilling useful and interesting vocabulary for you to study.
The main contents of the book include:
– 9 topics mentioned are the most popular topics in IELTS Writing: Education, Environment, Food, Globazization, Technology, Health, Crime and Punishment, Outer Space, Art.
– The lesson structure in the book shares images interwoven with knowledge of vocabulary, introduction, and interpretation to help you learn very vividly. Vocabulary matching is an example section, prominently designed for useful reference by learners.
– After the main vocabulary words, the author provides interesting phrasal verbs and verbs to help learners refer and apply for their Writing test to be more impressive. This source of phrases is very useful for you to use for each topic article.
The concise, logical design with vivid images helps you easily learn according to the document, memorize more than 500 interesting words and phrases. These words can still be used for other parts of the IELTS, which are commonly used.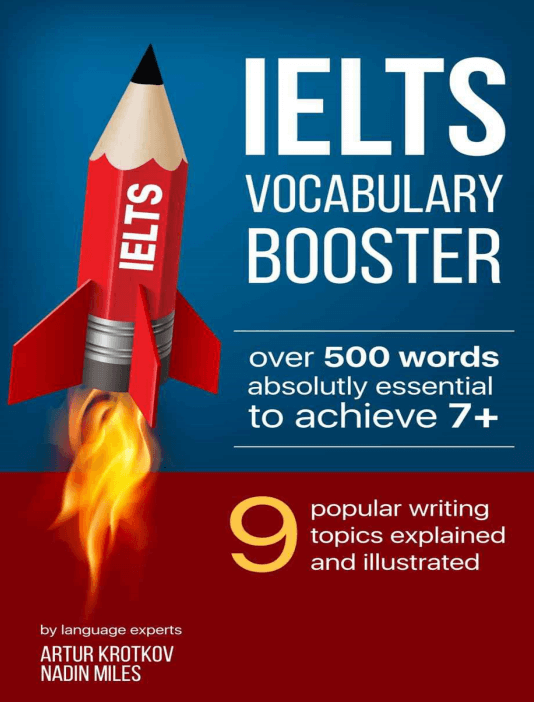 Due to copyright reasons, you can't download IELTS books directly on our website, but in this file. Please like and recommend our 9IELTS Fanpage to motivate us to keep up the good work.