You should spend about 20 minutes on this task.
The graph below gives information about the preferred leisure activities of Australian children. Write a report for a university lecturer describing the information shown.
Write at least 150 words.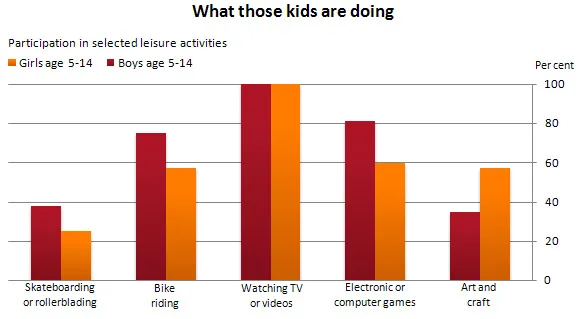 Sample Answer 1
The graph shows the preferred leisure sctivities of Australian children aged 5-14. As might be expected, it is clear from the data that sedentary pursuits are far more popular nowadays than active ones.
Of the 10,000 children interviewed, all the boys and girls stated they enjoyed watching TV or videos in their spare time. In addition, the second most popular activity, attracting 80% of boys and 60% of girls, was playing electronic or computer games. While girls rated activities such as art and craft highly – just under 60% stated that they enjoyed these in their spare time – only 35% of boys opted for creative pastimes.
On the other hand, bike riding was almost as popular as electronic games amongst boys and, perhaps surprisingly, nearly 60% of girls said that they enjoyed this too. Skateboarding was relatively less popular amongst boys and girls, although it still attracted 35% of boys and 25% of girls.
Sample Answer 2
The bar chart illustrates the data about 5 activities Australian children prefer to do in their spare time. Boys do more of each activity than girls (except for arts and crafts and watching TV or videos). Another visible trend is that, while boys are more active than girls, both still prefer sedentary activities such as TV and video games.
The percentage of Australian youngsters of both genders watching TV or videos equals 100%. Boys much more prefer electronic or computer games than by girls. The figures are slightly over 80% and 60% respectively. Likewise, bike riding attracts boys more than girls in their spare time. Boys' involvement in this activity is nearly 80%, whereas the figure for girls is a little under 60%.
Around 40% of 5-to-14-year-old boys enjoy skateboarding or rollerblading, while the proportion of girls at this age is slightly more than 20%. In contrast, the figure for girls spending their leisure time on art and crafts is more significant than their male counterparts, at just under 60% and approximately 35% respectively.