» You should spend about 20 minutes on this task.
The pie charts below show information on the highest level of education of women in Someland in 1945 and 1995. Write a report for a university lecturer describing the information in the two graphs below.
» You should write at least 150 words.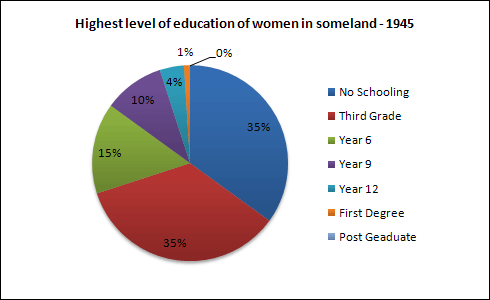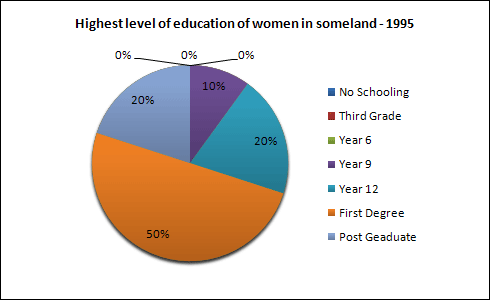 Sample Answer 1
The pie charts compare the highest level of education achieved by women in Someland between 1945 and 1995. It can be clearly seen that women received a much higher level of education in Someland in 1995 than they did in 1945.

In 1945 only 30% of women completed their secondary education and 1% went on to a first degree. No women had completed post-graduate studies. This situation had changed radically by 1995. In 1995, 90% of women in Someland had completed secondary education and of those, half had graduated from an initial degree and 20% had gone on to postgraduate studies. At the other end of the scale we can see that by 1995 all girls were completing lower secondary, although 10% ended their schooling at this point. This is in stark contrast with 1945 when only 30% of girls completed primary school, 35% had no schooling at all and 35% only completed the third grade.

In conclusion, we can see that in the 50 years from 1945 to 1995 there have been huge positive developments to women's education levels in Someland.
Model Answer 2
The pie charts show how the women education scenario in Someland changed by comparing the highest level of female education in 1995 with that of five decades earlier. Overall, a notable progress in education was achieved by women in Someland.

According to the diagrams, more than one-third women in Someland did not receive any formal education in 1945 while another one-third dropped out before they even completed their primary education. This is a dismaying figure for women in terms of their schooling in Someland in 1945. Moreover, almost a quarter female merely finished their sixth and ninth grades whereas only 4% made it to their 12th grades. Merely 1% of these women were awarded their first-degree certificates while none of them earned the post-graduation qualification. 

However, after fifty years, the progress was remarkable when one in every five women in Someland finished their post-graduation, half of them earned their first-degree and all women finished at least grade 9. No women in Someland in 1995 was deprived of their education and 20% of them finished school years to finish their 12 grades.
Sample Answer 3
The provided pie charts present a comparison on the education level of females in Someland between the years 1945 and 1995. Overall, as is observed, more female got educated in Someland in 1995 than that of 1945.  

Firstly, women education scenario in Someland in 1945 was terrible as there was no postgraduate woman and only 1% women who completed their first degree in this year. It is of note that in 1945 the percentages of females who did not finish even 12th class degree comprised 95% of total women. 35% of these women never went to school at all.  

On the contrary, the women education in Someland after 50 years witnessed a noticeable improvement. In this year all women in Someland went to school and completed at least 9th grade. The percentage of women completed their first degree was half of the total woman. 20% women completed their post-graduation at that time which was a significant improvement in terms of the women education in 1945.   

In summary, women's schooling rates in Someland made a noticeable progress during a 50-year period from 1945 to 1995.
Sample Answer 4
The given pie charts compare the highest education level among women in Someland in 50 years duration. As is observed from the given data, the women made a remarkable progress in education over the 50 year's period in Someland.
Initially, in 1945, more than one-third women in Someland did not have any schooling experience while another one-third could manage education until third grade only. Less than 1% women in this year managed to get their graduation or post-graduation degree. This reflects the poor education level among the female of Someland in 1945.
After 50 years, the education level among women in Someland remarkably improved and more than 50% women finished their first degree while 20% of them completed their post-graduation. Remaining women either finished their 12th-grade education or studied till 9th grade. No women were left unattended to school and that's a remarkable progress for women in education in Someland.
In summary, education level among women improved significantly over the 50 years period in Someland.