High-Scoring IELTS Writing Model Answers is one of the best IELTS books that provide learners with useful writing tips and strategies as well as sample exercises to help learners maximize their Writing scores.
High-Scoring IELTS Writing Model Answers provides you with 79 writing samples based on the original IELTS Writing topics in the period 2007-2009. These include Writing Task 2 essay, Writing Task 1 data description, and IELTS General Training letter writing. The samples are grouped by topic, and each one is followed by a note on vocabulary and structure worth learning.
High-Scoring IELTS Writing Model Answers Content
Part
Content
Part 1: Argumentative Essays
Unit 1: Environment and pollution
Unit 2: Computers and the Internet
Unit 3: Languages and cultures
Unit 4: Media and advertising
Unit 5: Travel and Tourism
Unit 6: Work and Life
Unit 7: Education and Learning
Unit 8: Technology and Inventions
Unit 9: Government and Society
Unit 10: Others
Part 2: Chart Essays
Unit 1: Line chart
Unit 2: Bar chart
Unit 3: Pie chart
Unit 4: Table
Unit 5: Diagram
Part 3: Letters
Unit 1: Letter of complaint / Suggestion
Unit 2: Letter of friendship
Unit 3: Letter of application / invitation / thanks / enquiry
High-Scoring IELTS Writing Model Answers Review
High-Scoring IELTS Writing Model Answers is an easy-to-use and highly effective reference book.
Essays are divided on the basis of topics, in each topic, there are sample essays ranging from 4 to 6. It is thanks to this point that readers can refer to books depending on the topic they want. Learners do not need to study books in order of pages.
In addition, when referring to 4-6 articles on the same topic, learners understand the relevant arguments as well as how to develop ideas accordingly. The Key Vocabulary section at the end of each article contains about 10 good words/structures. So a topic provides approximately 50 new words for learners!
The book provides IELTS reference materials for learners of all levels, and the reference samples also achieve very high scores. Very few books on the IELTS test preparation market today contain high-score band samples for General Training students.
With the illustration of the topic, followed by the article and the vocabulary to note, learners can use the book very quickly and easily whether it is in paper form or PDF file.
However, the sample essays all of the band scores of 7.5, and the book does not provide an outline, sentence formation instructions, or even comments by the author. Users should note that they must complete the IELTS Writing course or learn the basic books before using the book. People with a band score below 6.0 are also advised not to study the book too much.
The book is not very suitable to be used as a single IELTS Writing textbook because it does not contain exercises. The book has a guide to sentence patterns and key vocabulary, but memorization completely depends on the learner's method.
Learners should also make sure their IELTS Writing skills are good enough before studying this document.
Due to being published for a long time, High-Scoring IELTS Writing Model Answers is not updated. IELTS learners can only find common types of questions in Task 1 and Task 2. Learners can also learn the author's argument, but to ensure all types of lessons, learners should also refer to more updated books.
How to Use High-Scoring IELTS Writing Model Answers
High-Scoring IELTS Writing Model Answers book is completely true to the title, only provides high score model articles for IELTS Writing. If you are a beginner in IELTS Writing, you should read books that focus on building your language foundation first, and then move on to this reference book.
But if you are a student aiming for IELTS 7.0+ and are confident with your foundation, High-Scoring IELTS Writing Model Answers is absolutely the material that you can make the most of. Use the book as part of your writing practice before problem-solving and learn good vocabulary, structure, and ideas from the book.
From there, write your own essays. Regular practice and planning will lead to your own progress in the long run. You should have someone mark and evaluate and correct your essay.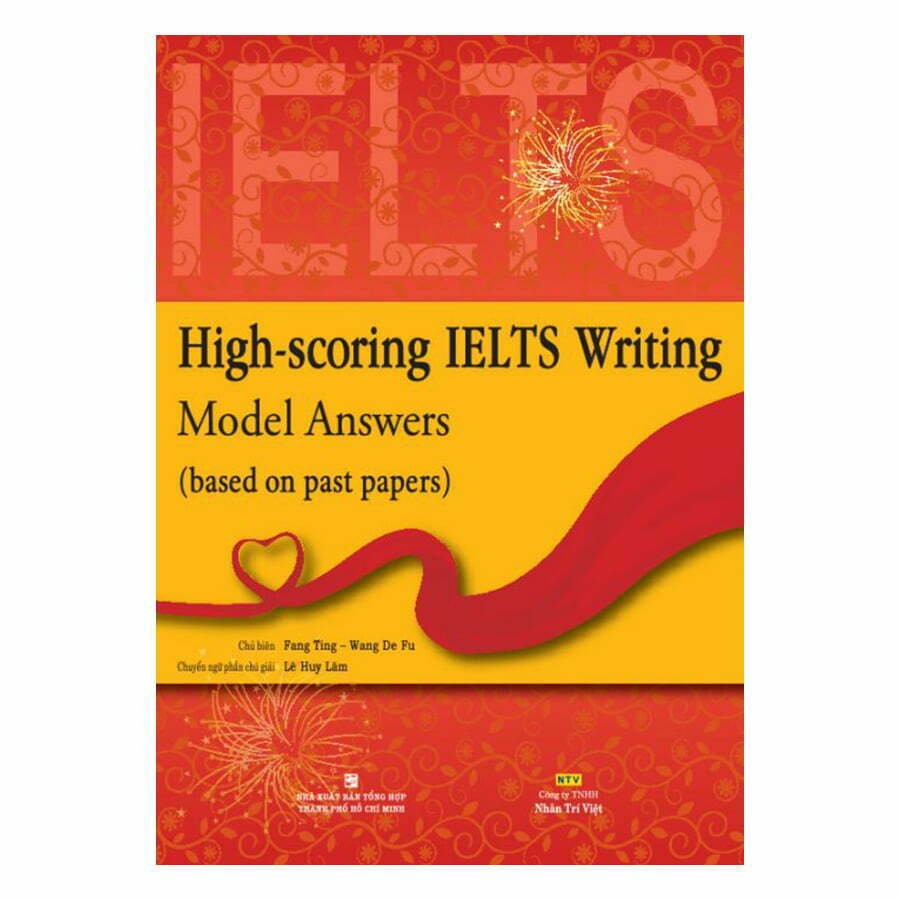 Due to copyright reasons, you can't download IELTS books directly on our website, but in this file. Please like and recommend our 9IELTS Fanpage to motivate us to keep up the good work.