You should spend about 20 minutes on this task.
The graph below gives information about how much people in the United States and the United Kingdom spend on fuel. Summarise the information by selecting and reporting the main features, and make comparisons where relevant.
Write at least 150 words.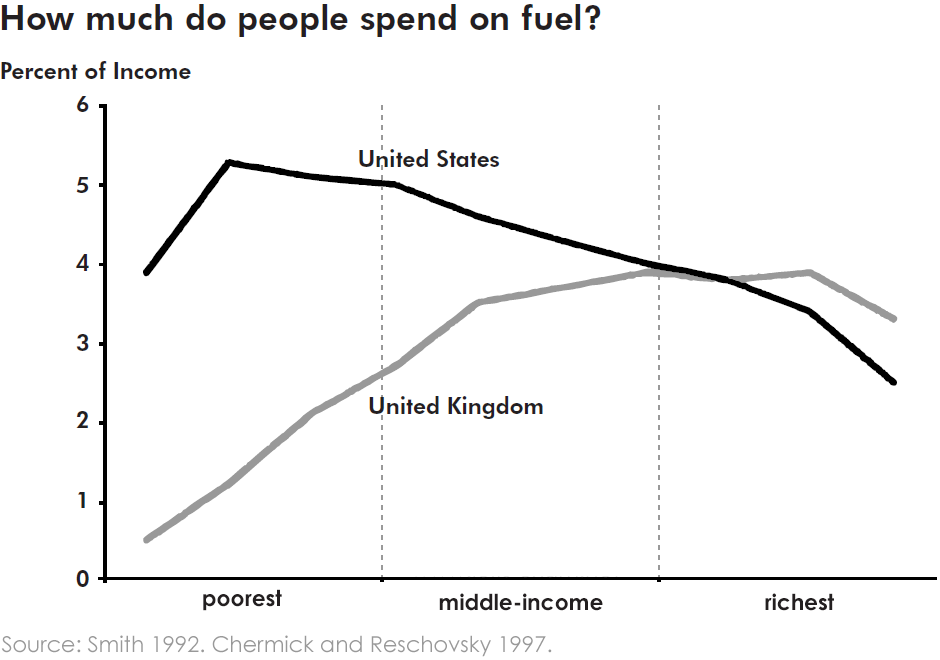 Sample Answer
The graph compares the percentage income that people in the UK and USA spend on fuel.
Firstly, the difference between the total spending on fuel by the poorest and the richest is greater in the UK than in the USA. In the former, the poorest spend less than 0.5% of their income on fuel, suggesting that they do not use cars very much, and the richest spend around 3%. By contrast, in the US, the poorest spend around 4-5% while the richest spend between 2 and 3%.
Secondly, in the USA it is also noticeable that the percentage of income spent by the poor can be twice that spent by the rich. However, in the UK. the percentage spent rises quite steeply for the poorer members of the population but then remains almost constant apart from the very richest, where it falls again.
In both countries people on middle incomes spend about the same percentage. Overall, the percentage of income spent on fuel generally gets higher in the UK, whereas it decreases in the US.
(175 words)