The Lessons for IELTS series has two titles dedicated to speaking practice. Compared to the more basic version, Lesson for IELTS Advanced Speaking promises to bring a new level of knowledge and skills, further developing what has been achieved in the previous book. Let's learn about this book with 9IELTS through the article below!
Lesson for IELTS Advanced Speaking belongs to the Lessons for IELTS series of books, published by New Oriental Education & Technology Group – a leading provider of foreign language materials in China.
The book helps learners to solve the most challenging problems in the Speaking test by assisting learners to understand how to answer the question types in the 3 parts of the test. In addition, the book is also a collection of complementary knowledge about grammar, vocabulary by topic, types of functional languages, and linking methods, thereby indirectly guiding learners to optimize the band scores in 4 scoring criteria for the Speaking test.
Lessons for IELTS Advanced Speaking Review
Book Contents
Lesson for IELTS Advanced Speaking is divided into 10 lessons.
Each lesson is designed through a 3-part process with 3 parts of the IELTS Speaking test.
In each section there are practice exercises, strategic instructions for approaching each question type, and learner-reference answers.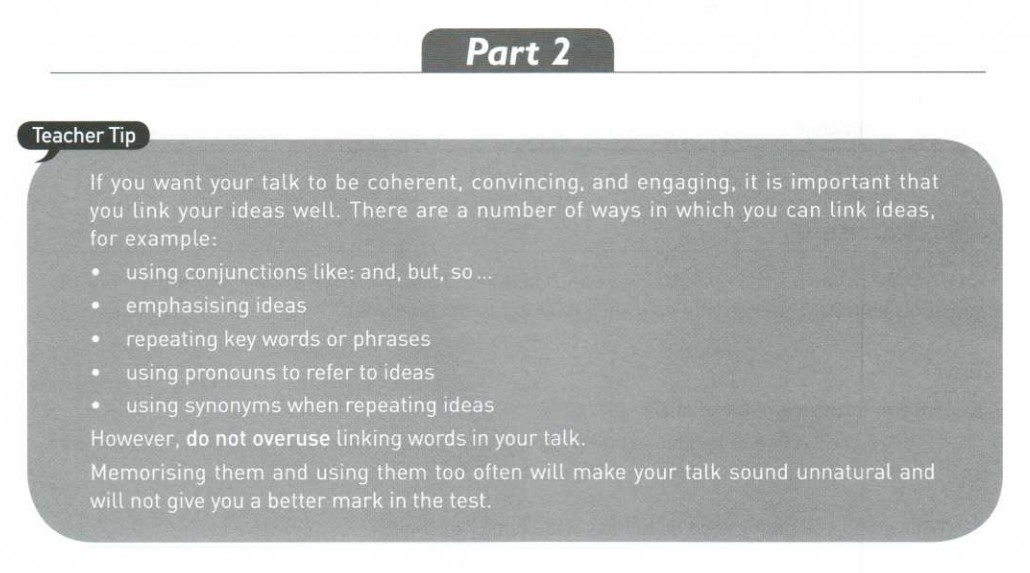 The end of the lesson is a supplement for learners on developing vocabulary, grammar, and ideas: language, brainstorming & vocabulary.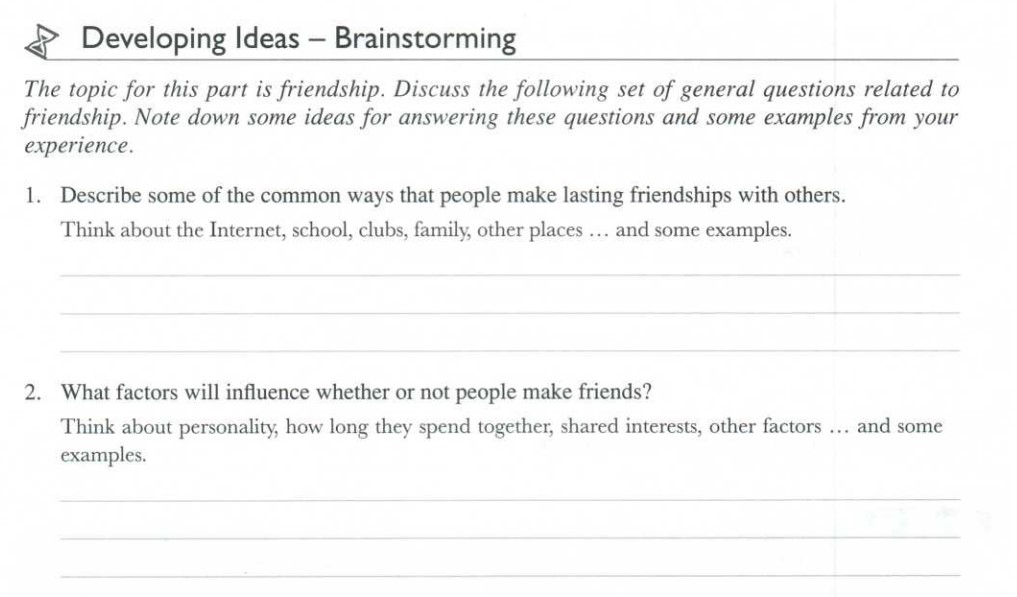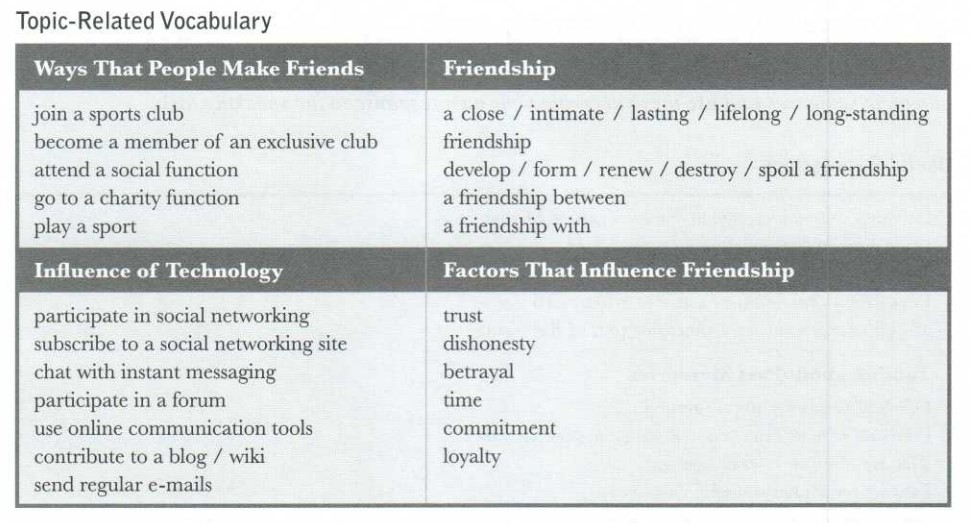 Target Readers
As analyzed above, and as reflected by its name "Advanced", Lesson for IELTS Advanced Speaking focuses on development strategy – expanding ideas and fostering vocabulary that makes the book The book is not a good choice for new learners.
As such, the book is specifically designed for learners who already have a good IELTS Speaking test background and are aiming for band scores above 6.5 in the actual exam. Books will assist writers in equipping advanced skills and developing the ability to present ideas persuasively, with depth and coherence.
Pros & Cons
Lesson for IELTS Advanced Speaking not only designs "vegetarian" talks in the form of text, but also has an accompanying audio file (audio file) to record sample speech by native speakers, helping learners to absorb ideas, accumulate vocabulary, practice pronunciation and grasp the most natural form of presentation.
This overcomes the disadvantages of many other Speaking practice books when they only focus on providing sample Speaking lessons in text form without the Listening section, ignoring significant factors in Speaking skills: Fluency. smooth) and Pronunciation (pronunciation).
Lesson for IELTS Advanced Speaking not only offers sample articles but also designs meaningful activities to help learners understand each IELTS Speaking test assessment criteria, thereby determining what they need in a specific way to achieve the desired band score.
For example, there are often tasks that compare two spoken passages and indicate which is better in terms of pronunciation/ structure/ vocabulary/, etc. The response is commented in detail at the end of the book, readers can compare it with their judgment to accumulate more.
Lesson for IELTS Advanced Speaking not only focuses on practising Speaking skills independently, it also includes some additional Listening practice sections (because Listening will support Speaking). However, it should be noted that these are only supporting activities, not the actual IELTS Listening test format.
For example, the current IELTS Listening test has no such thing as a messy, out-of-order answer. However, this IELTS preparation book has a form of filling in the heard information in the table but with the information to be filled out in no order. You need to pay attention to avoid misunderstanding and confusion.
Lessons for IELTS Advanced Speaking Study Guide
As analyzed above, because some types of supplementary Listening lessons are not suitable for the IELTS Listening test format in recent years, learners need to carefully study the new IELTS test structure to avoid wasting time and effort in the exam. Outdated articles in the book.
Some sample answers for Speaking Part 2 are a bit long, exceeding the time allowed for the test. Some lessons have to be said for 3-4 minutes, while the time of Speaking Part 2 is limited to 2 minutes.
Speaking is complex, requiring natural reflexes, flexibility and a certain fluency in the language. To increase interaction and reflection, it would be a good idea if you could find a companion to practice with in parallel with self-study with IELTS preparation materials.
However, if you can't find a classmate, you can still learn effectively by yourself by closely following the requirements of the activities and exercises in the book and comparing your answers/speech with what you have learned. provided in the book, thereby drawing out what we have done well and the areas that need to be improved, forming self-evaluation capacity.
In addition, just focusing on studying in this Lesson for IELTS Advanced Speaking book is not enough to guarantee the expected success.
You need to combine many other Speaking practice materials, along with audio-visual channels such as Youtube, BBC, British Council learns English, etc., to further support structured vocabulary and natural speaking.
Besides, you can also refer to the LinearThinking method in Speaking – a new method of 9IELTS that has been tested for effectiveness over time. This method allows a maximum resolution of major obstacles for those of you who are at a low level and for learners who have achieved a certain level of Speaking. To learn more about the LinearThinking method, you can visit 9IELTS's website: 9ielts.vn.
Download Lessons for IELTS Advanced Speaking Free
Please visit the link below to download Lesson for IELTS Advanced Speaking book and find yourself suitable and effective Speaking methods! So we have learned the pros and cons of Lesson for IELTS Advanced Speaking. Hopefully, a few lines of Dol's review of the above book will help you use the book effectively and have more orientation in practising Speaking skills.