Writing skill has always been considered a difficult skill because it requires candidates to "produce" an article, not simply to receive and understand available information such as Reading and Listening skills. . Understanding this, in the following article, 9IELTS would like to introduce to readers the book: Lesson for IELTS Writing – a pretty good title to help improve your writing.
Lesson for IELTS Writing belongs to the Lessons for IELTS series of books, published by New Oriental Education & Technology Group – a leading provider of foreign language materials in China.
The book helps learners to solve the most challenging problems in the Writing test by assisting learners to understand the method of writing for both Task 1 and Task 2. In addition, the book is also a collection of additional knowledge supporting grammar, vocabulary by topic, functional languages, and linking methods, thereby indirectly guiding learners to increase the band score in 4 scoring criteria for the Writing test.
Lessons for IELTS Writing Review
Book Contents
Lesson for IELTS Writing can be divided into 3 main parts:
The first part is Unit 0: Introduction, giving an overview of the IELTS test in general and IELTS Writing in particular.
The second part includes 20 lessons with 20 different topics, helping learners accumulate vocabulary and familiarize themselves with writing forms related to the topic in the lesson.
The last part of the system of learned vocabulary (Vocabulary Bank) and the answers to the exercises in the upper part (Answer key).
The content of each lesson has the same progression as a session in an IELTS preparation class.
The lesson begins with This Unit and IELTS – a summary of the main content of the lesson and the purpose of this lesson in preparing for the IELTS exam. Following this section, the "Getting ready to write" paragraph offers some discussion questions to help stimulate critical thinking and a sample essay that suggests ideas for writing.'


Next is Key Vocabulary, Essential Grammar and Language Focus – the necessary vocabulary and grammar structure of the lesson, which is also the knowledge that can be applied to the writing practice afterwards.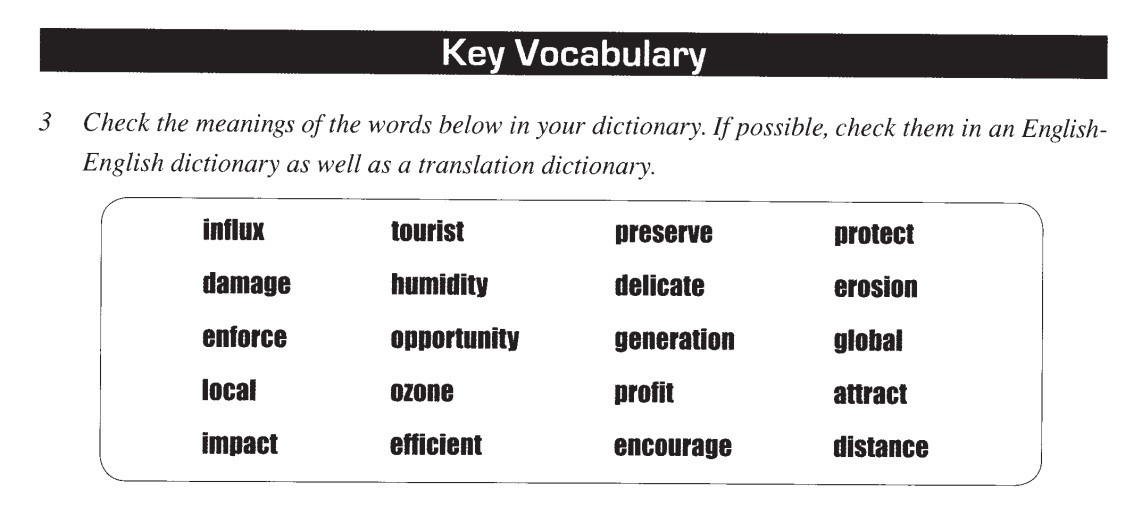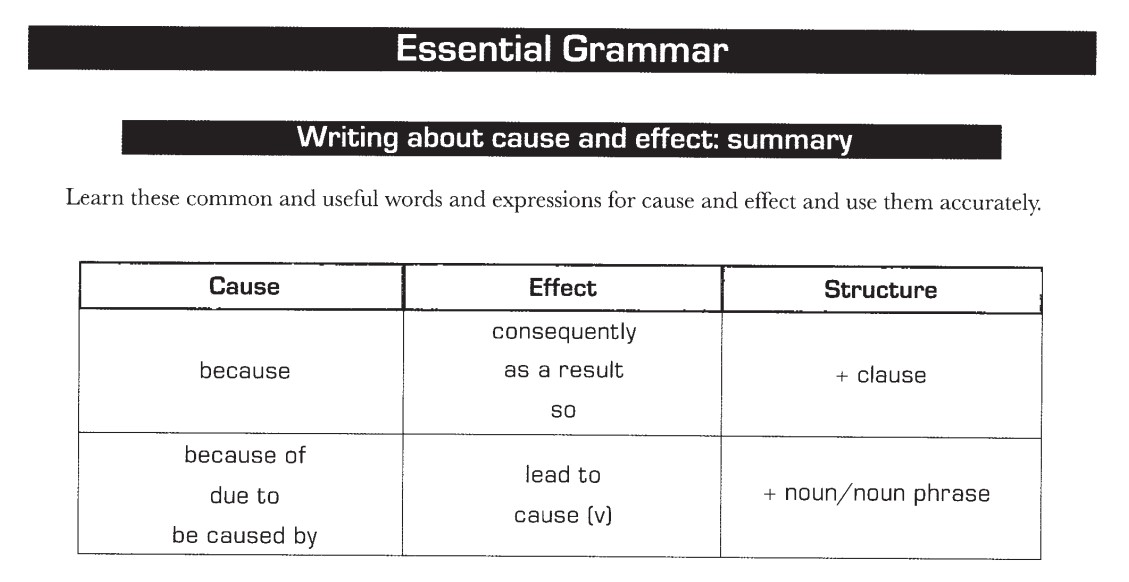 In the Guided Writing section, learners develop their own writing according to the available suggestions and steps. Finally, in the Writing Practice section, learners need to apply the entire lesson to handle the given topic independently. After writing the essay, learners can also refer to the Model essay.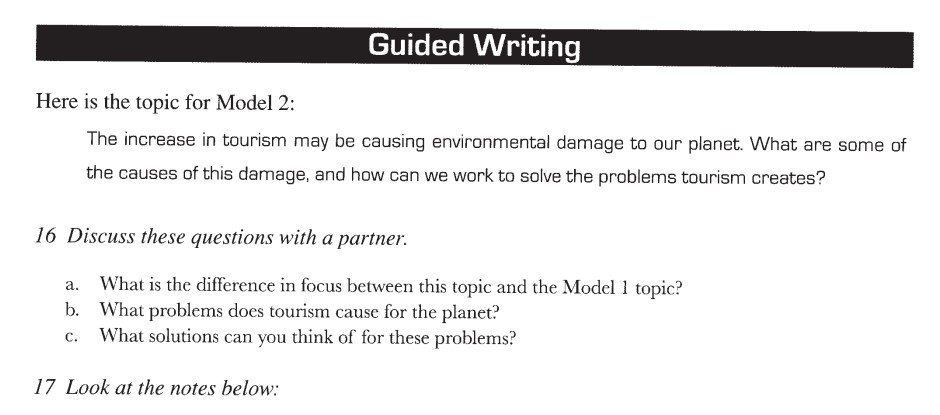 Target Readers
Lesson for IELTS Writing helps learners to form necessary Writing skills and supplement some vocabulary by topic, to assist learners in completing a Task 1 or Task 2 article. Therefore, the book is suitable. Those who have learned and practised the types of IELTS Writing articles, but do not have the right strategy, have not achieved high results, or lack the vocabulary to express themselves.
Although self-study students can also take advantage of this book, Lesson for IELTS Writing is more suitable for a class of about 5 students because some activities in the book require interaction between learners and students and requires guidance from the teacher.
Pros & Cons
Lesson for IELTS Writing is a book that is almost perfect in terms of content, as it provides tips and strategies and focuses on adding vocabulary and flexible grammar structure for learners' study, helping learners have all the necessary background before entering the writing phase.
The book is designed on a variety of topics, each topic is highly up-to-date and frequently appears in IELTS Writing tests in recent years, such as Fast food (fast food), and Sport (sports). sports), Media (communication), Environment (environment) and Transport (vehicle).
A big plus for Lesson for IELTS Writing lies in its form. The book is neatly presented and eye-catching, with visual illustrations and tables, helping learners to build joy in self-study while doing knowledge of vocabulary, grammar and lessons. Practising complex skills becomes more straightforward to remember and absorb.
However, Lesson for IELTS Writing is a book dedicated to IELTS Writing practice. It includes instructions, methods and a series of exercises to support vocabulary and grammar, but there are no complete IELTS sample test sets with all 4 skills: Listening, Speaking, Reading, Writing.
Therefore, although the book is handy for those who are just starting out and are still in the process of studying for a long time, it may not be the top IELTS preparation material for those who need to practice urgently or in the sprint stage of the IELTS journey.
Lessons for IELTS Writing Study Guide
Although Lesson for IELTS Writing is a guidebook with almost complete instructions and strategies for each type of Writing, it alone cannot guarantee the desired output. Learners should actively combine learning with other resources on Writing to have a more multi-dimensional view, thereby drawing out the most applicable principles and strategies for themselves.
To improve your writing skills further, check out the more advanced version – Lesson for IELTS Advanced Writing.
Besides, Writing, like other skills, requires a long, scientific practice with a lot of effort. Therefore, just reading books is not enough. You need to schedule a reasonable course to practice and actively listen to comments from relatives and teachers who have experience in IELTS exam and preparation to improve more and more.
Usually, there are many problems learners face when facing a Writing test. It can be limited vocabulary and grammar, "knowing" ideas or great ideas but "not knowing how to organize and express them".
To contribute to solving these difficulties, you can refer to the application of LinearThinking in Writing – a new method developed by the academic team at 9IELTS.
Roughly, LinearThinking in Writing includes 2 steps. The first step is observing the topic, reading comprehension, and analysing keywords to find related main ideas (main idea, argument). Going to the second step, based on the main points above, you develop additional supporting ideas for each corresponding point. In the above sequence, over time, you will build a complete outline with all the pictures and necessary vocabulary to confidently enter the writing phase.
Download Lessons for IELTS Writing Free
Please visit the link below to download Lesson for IELTS Writing book and find yourself suitable and effective Writing methods! Hopefully, 9IELTS's review of the above Lesson for IELTS Writing book will help you use the book effectively and have more orientation in practising Writing skills.