You should spend about 20 minutes on this task.
The graph below shows waste recycling rates in the U.S. from 1960 to 2011. Summarise the information by selecting and reporting the main features, and make comparisons where relevant.
Write at least 150 words.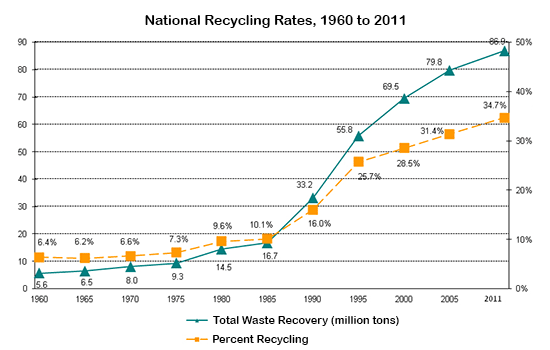 Read the following sample answer. Complete the answer by filling the gaps with the correct form of the words in the box. Some words can be used more than once.
sharp triple peak reach steady
from rise compare significant
The graph depicts waste recycling rates in the U.S. 1960 to 2011, in both percentage and tons.
Between 1960 and 1970, the percentage of garbage being recycled annually remained relatively at just over 6%. It then slightly over the next 15 years to 10.1% in 1985.
On the other hand, the amount of garbage being recycled during the same period, from 5.6 million tons in 1960 to 16.7 million tons in 1985. Following this increase, the amount of waste material being recycled has risen between 1985 and 2011 when it at 86.9 million tons.
Similarly, the recycling rate continued to grow from 1985 to 1995, and then at a slower rate over the next 15 years until it a peak of 34.7% in 2011. However, this figure is still disappointing to the total amount of waste being recycled each year.
(150 words)