» You are advised to spend about a maximum of 20 minutes on this task.
The figure shows the results of a survey of 1000 adolescents in five different countries. The participants were asked at what age they believed certain rights and responsibilities should be granted to young people. Summarise the information by selecting and reporting the main feature.
» You should write at least 150 words.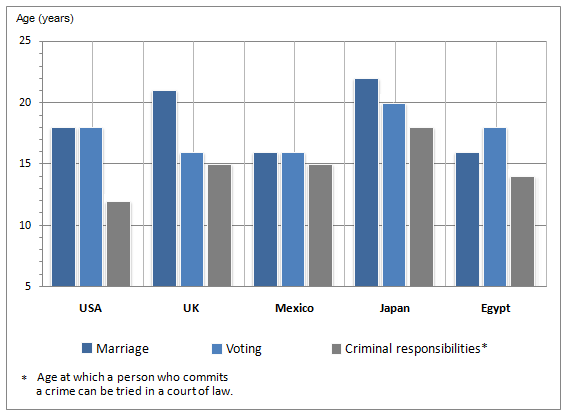 Sample Answer 1
The provided column graph summarises the result of a study. It indicates what people in five different countries think to be the appropriate age to be allowed to have certain rights and responsibilities. Generally speaking, citizens' opinion regarding the right age for marriage, voting and prosecution for crime dramatically varies.
As is given in the illustration, people in Japan and the UK opine that they should not marry until they are at least 20 years old, while Americans believe that this age should be exactly 18. On the contrary, Mexicans and Egyptians agreed that they should be allowed to get married just after they crossed 15. Regarding voting power, the Japanese state that 20 years is the right age for them, while Americans and Egyptians express it should be 18. Both British and Mexicans want their voting right at 16 years, on the contrary.
Finally, Americans give their opinion that the law should charge someone for committing any crime when they are 12 years old. Japanese seem to have a different opinion as they believe that someone should not be imposed with criminal offence until they turn 18. Survey participants in the other three countries expressed that before the 14, they should not be punished by law for misdeeds.
Sample Answer 2
The diagram describes a survey result of 1000 teenagers about at what age they should follow certain rights and responsibilities. The survey was conducted in five different nationalities in three categories: marriage, voting, and criminal responsibility.
The survey result shows that American and Mexican participants likely have the same opinion. Americans agreed that marriage and voting rights should be given at the same age (18) but criminal responsibility at a younger age. American teenagers believed that criminal responsibility should be given at about twelve years old. British and Japanese adolescents agreed that the right to marriage should be granted at an older age than other subjects. Afterwards, teenagers in the UK agreed that specific responsibilities should be granted within 18 years old, but the Japanese believe those should be suitable for over 18 years old. Only Egyptians agreed that voting should be granted at an older age than other categories.
In short, all teenagers from five different countries have a different agreement on what age young people should be granted on certain rights. Only the Japanese believe that they should get those rights above 18 years old, while others within 18 years old.
Sample Answer 3
The bar graph depicts the survey turnout of 1000 adolescents in 5 countries (USA, UK, Mexico, Japan, and Egypt). The study tackles the respondents' beliefs as to what age one should be acceptable to have the rights and responsibilities for marriage, voting and criminal responsibility. In an overview, respondents replied that marriage should be applied to those over 20 in UK and Japan. Voting was tabulated to side with the same age proportion in Japan, while criminal responsibility was considered to be taken from 18.
Marriage was seen to be more significant in Japan and the UK, where it is above the age of 20. Americans view it as acceptable starting from the age of 18. Both Mexicans and Egyptians think 16 is the right marrying age.
Furthermore, the power to vote at the age of 20 was considered mandatory in Japan; however, USA and Egypt reserved that right for citizens at 17. The Britons, as well as Mexicans, wanted it to be applied a year younger.
Lastly, Japan's criminal culpability age limit should begin at 18 years old. In contrast, the UK and Mexican respondents believe it must be imposed at 15 and a year before in Egypt. The USA subjects saw it necessary to lower the threshold to 12 years old.