You should spend about 20 minutes on this task.
The chart shows average levels of rainfall in Marley in the UK.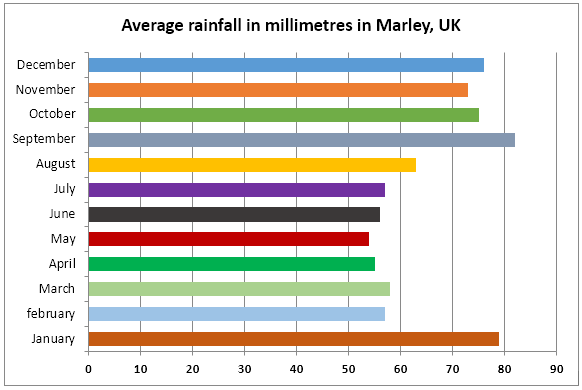 Summarise the information by selecting and reporting the main features and make comparisons where relevant.
Write at least 150 words.
Sample Answer 1
The bar chart describes the usual amount of rain precipitate over a year in Marley, UK. It can be seen that December, September and January have the highest yearly rainfall.
From December to September, rainfall primarily increases from about 84mm to approximately 94mm. the rainfall in October has an identical amount in December by about 84mm. interestingly, the level of rainfall dramatically declines from September to May, which levels off at about 51mm.
However, this trend does not last when the rain precipitate minimally rises in April (58mm) and is followed by a moderate soar in March by approximately 64mm. In February, the figure decreases, but it is followed by a tremendous increase in January that reaches roughly 79mm.
Overall, there is a drop in rainfall in the middle of the year, yet it increases dramatically in the subsequent months.
Sample Answer 2
The chart illustrates the average amount of rain, measured in millimetres, that falls each month in Marley in the United Kingdom.
It is notable from the chart that even in the driest months, at least 50 millimetres of rain falls. The least rainfall is recorded for May, with April being next at just under 55 millimetres; June and February have approximately the same level of rain, with slightly over 55 millimetres.
Between May and August, rainfall increases by about 5 millimetres each month before increasing significantly in September. At approximately 85 millimetres, September is the wettest month, with over 5 millimetres more rain than the second wettest month January.
It is clear from the chart that the wettest part of the year is from September through to January, with the most significant variation between months being seen between January and February. Between these months, nearly 25 millimetres of rain is declining.
Sample Answer 3
The bar graph delineates Marley's average rainfall over one year in the United Kingdom. The data has been measured in terms of millimetres.
Overall, in rainfall, September accounts for the dominant with more than 80 millimetres, while May constitutes the least, where amount of rainfall is around 55 millimetres.
It is apparent that February and March amount to an almost equivalent amount of rainfall, which is nearly 55 millimetres, followed by a marginal difference in April, June and July, where the amount of rainfall is closer to 54 millimetres for all. In addition, rainfall in September comprises about 82 millimetres, indicating the second-highest rainfall of all months, accompanied by November and October, where rainfall forms approximately 72 millimetres and 74 millimetres,s respectively. Furthermore, December makes above 70 millimetres of rainfall.
As data indicates, variation in the amount of rainfall in all respective months can be noticed.