» You should spend about 20 minutes on this task.
The graph below shows the destinations of holiday makers from a particular Asian country in 2012. Summarise the information by selecting and reporting the main features, and make comparisons where relevant.
» You should write at least 150 words.
Destinations of holiday makers from an Asian country (2012)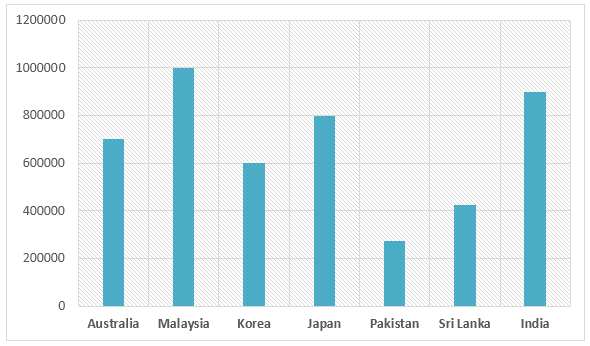 Sample Answer

The bar graph shows where tourists from an Asian country went to celebrate their holidays in 2012. Overall, Malaysia and India were their favourite destinations.
As can be seen from the graph, the highest number of holiday seekers, one million to be exact, went to Malaysia in 2012. The second largest tourist outflow from this country was to India with around 0.8 million travellers. Japanese share to this country's tourists was exactly 800 thousand which was roughly 100 thousand higher than that of Australia going tourists. Furthermore, 0.6 million tourists visited Korea in this year which was approximately 0.2 million higher than the holiday seekers to Sri Lanka. Finally, the lowest number of tourists made their holidays in Pakistan in the same year which was around .25 million.
In summary, most of the travellers from this country preferred other Asian countries like Malaysia, India and Japan as their holiday stops while Pakistan was their least favourite destination in 2012.