You should spend about 40 minutes on this task.
The diagram shows the different stages in the production of woollen goods
Give reasons for your answer and include any relevant examples from your own knowledge or experience.
Write at least 250 words.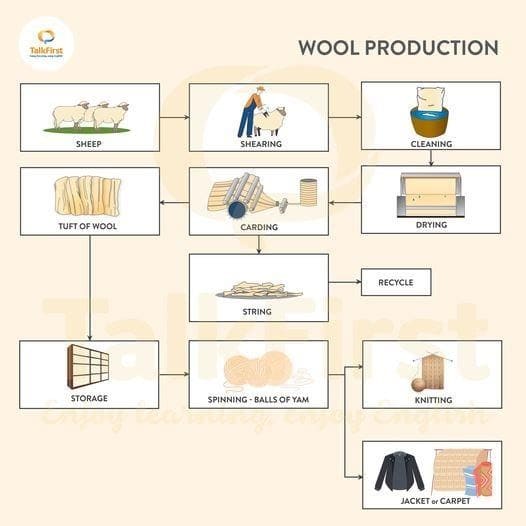 Sample Answer
The chart illustrates the various steps in the process of making woollen products.
Overall, there are 10 principal stages in this process, beginning with the rearing of sheep and ending with the finished goods.
Firstly, sheep are reared, until they have enough wool on their bodies for the next step – removing the wool, known as shearing. At the third and fourth stages, this wool is cleaned and dried. It is then ready for spinning by machine, after which the wool is almost ready to be made into different products. At this spinning stage, however, some of the product can be used to make string and may be recycled.
From the wool produced at the sixth stage, tufts of wool are manufactured and then stored. Next, the tufted wool is used for spinning into balls of yarn. Finally, these balls of yarn may be used for knitting or for making into woollen goods, such as jackets or carpets.
157 words