You should spend about 40 minutes on this task.
The diagrams illustrate 3 different types of bridges
Give reasons for your answer and include any relevant examples from your own knowledge or experience.
Write at least 250 words.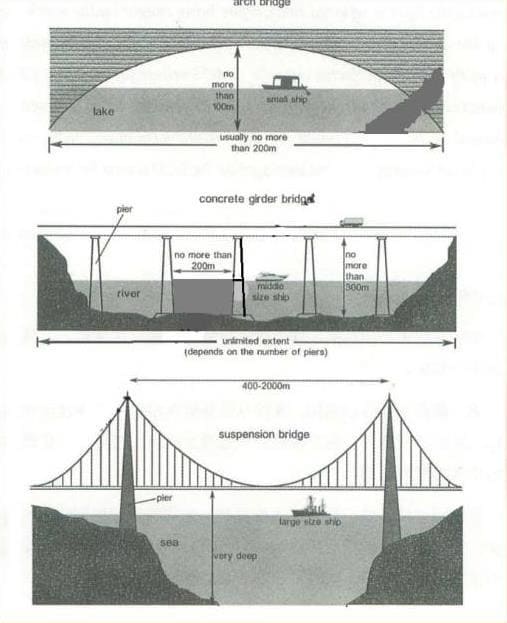 Sample Answer 
The diagrams illustrate 3 different types of bridges.
Overall, the design of the bridges differs in terms of their height and the use of piers. Each type is most suitable for specific locations, such as lakes, rivers or seas.
The arch bridge is constructed to cross small waterways such as lakes, and it has a maximum span of 200 metres. Its height of no more than 100 metres only permits small ships to sail under it. In contrast, the concrete girder bridge is constructed using piers, which cannot be more than 200 metres apart. However, there is no limit to the number of piers that can be used to cross larger bodies of water, such as wide rivers. Medium-sized ships can pass under this type of bridge, which may be 300 metres in height.
Finally, at sea, suspension bridges enable large ships to sail under them, because of the deep water which they span. The piers can be spaced between 400 and 2000 metres apart – depending on the topography – up to 10 times the distance between piers of the concrete girder bridge or the arches of the arch bridge.
189 words