You should write at least 150 words.
The graph below shows the different modes of transport used to travel to and from work in one European city in 1960, 1980 and 2000.
Write a report for a university lecturer describing the information below.
You should spend about 20 minutes on this task.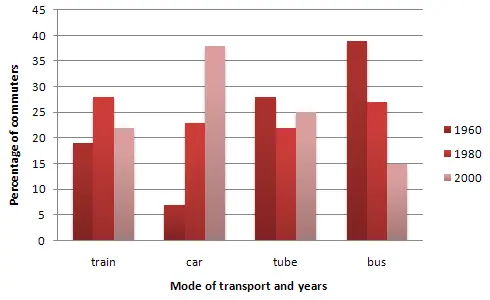 Sample Answer 1
The graph shows the changing patterns in commuting by train, car, tube or bus for commuters in London in the years 1960, 1980 and 2000.
The graph indicates the growing use of cars for commuting to work between 1960 – 2000 and the corresponding decline in the popularity of buses from being the most popular mode of transport in 1960 to the least popular in 2000.
The number of people using trains at first rose from just under 20% in 1960 to about 26% in 1980 but then fell back to about 23% in 2000. The use of the tube has been relatively stable, falling from around 27% of commuters in 1960 to 22% in 1980 but climbing back to 25% by 2000.

On the other hand, the use of cars increased steadily from just over 5% in 1960 to 23% in 1980, reaching almost 40% by 2000, whereas the popularity of buses has declined since 1960, falling from just under 35% in 1960 to 27% in 1980 and only 15% in 2000.
Sample Answer 2
The bar chart illustrates the different types of transport used to travel in a European City from 1960 to 2000. It is evident from the chart that car transport gradually increased throughout the period, while the other means of transport declined.
To begin, car travellers stood at just 5 per cent in 1960, which was 5 times less than for the bike traveller, which was far less than on foot. Apart from a jump to approximately 35% of total travellers in 2000.
The following two means of transport popularity were a similar trend; both were gradually decreasing over the time frame. In 1980, bike and foot travellers were 20% and about 18%, respectively. At the end of the period, both means of transport were between 5 to 8% in 2000.
Bus popularity spiked to 25 per cent in 1980. Then its popularity decreased the following year, and the number of bus travellers was 15 per cent.
Sample Answer 3
The types of transportation commuters in a European city depended on travelling to and from their workplaces in three different years – 1960, 1980 and 2000 are delineated in the given chart.
Overall, when cars gained popularity, buses lost their appeal. It is also seen that trains and tubes maintained an average rate of commuters over the period.
As per the chart, most people in the city travelled to and from work by bus in 1960. This was nearly 40%, almost 10% more than the people who depended on tubes. Train travellers accounted for around 18%, whereas a minor share of commuters travelled in cars (7%).
In 1980, there was a decline in the share of those who depended on buses and tubes by almost 10 and 5 respectively. When approximately 10% more passengers boarded the train, the growth in car commuters almost doubled.
By 2000, cars had become the most popular mode of transport. When just over 35% of the working population travelled in cars, the percentage of those who commuted by bus shrank to 15. Around 22 to 25% of people travelled by train and tube in the same year.
Sample Answer 4
The diagram delineates the type of transportation citizens of a European country used to travel to and from their workplaces in three different years – 1960, 1980 and 2000. As an overall trend, cars gained massive popularity as a mode of commuting while buses lost their appeal as a viable mode of communication for these Europeans.
As the diagram suggests, around four out of ten Europeans used buses to reach their offices and return home in 1960. Tubes were the second most prefered mode of transportation as more than 25% of people took this form of vehicle. Interestingly, Only around one in every 18 people used cars to travel, while trains were preferred by roughly 18% of citizens for commuting to and from offices. After two decades, trains and personal cars gained demand as more than half of the population used these two forms of transport. Tubes and buses retained less proportion of commuters this year, and buses seem like they have lost their attraction as a mode of transportation.
Finally, in 2000, more than one-third of these Europeans started using cars, while only 15% used buses to travel to and from their workplaces. Tubes retained almost one-fourth of the commuters, while train usage stood just above 20%.
Sample Answer 5
The bar graph shows the type of transportation used to work and return from work in three different years. As is noticed from the given data, the private car has become the most popular mode of transportation for office goers and over time the popularity of the bus has decreased. People started preferring private cars over public buses and trains over time. 
Initially, in 1960, around 20% of people used trains, 7% used cars, 28% used tubes, and around 40% used buses to return to work or return from work. After 20 years, trains and cars increased while tubes and buses popularity decreased. In this year, more people used trains than any other transportation as their mode of office transportation.
The least used transportation was the tube and personal car in 1980. Finally, in 2000, the scenario changed, and the car became the most popular mode of transportation used by more than 37% of people. The second most popular form of transportation was tube, while train and bus became the least preferred mode of transportation.