Learning and practising IELTS is a process that takes a lot of time and effort for many learners, especially the writing part. To help you review this section effectively and get a high score, 9IELTS introduces you to the Essential Writing for IELTS book series. This is a bedside book that any IELTS master should ever refer to.
This book gives readers in-depth practice on how to build vocabulary and use advanced English, with a strong focus on 600 English words related to different types of topics that frequently appear in IELTS tests.
Essential Writing for IELTS Review
Essential Writing for IELTS is an IELTS Writing practice book for beginners, compiled by author Hu Min – John A Gordon for people who have IELTS at Pre-Intermediate and higher levels to practice thoroughly writing ability. Regarding listening skills, there is Essential Listening For IELTS, reading skills Essential Reading For IELTS, the grammar section you refer to Essential Grammar for IELTS, the phonetic section Essential phonetics for IELTS.
Writing is always considered difficult and time-consuming for English learners and IELTS candidates. The difficulties you often encounter are the inability to implement the idea, the incorrect writing style, the incomplete grammar or the missing vocabulary.
There are many suggestions that you should memorize the available sample texts; However, practice shows that this doesn't work, and you may get a low score. Because the examiners involved in marking the IELTS exam are experienced in the industry, they easily spot sample essays.
In researching and compiling this book, the author interviewed many students and found that many do not have the habit of writing, the writing process is not the right process to have, and the writing skills are not strong enough.
Therefore, the author has synthesized all the parts that many of you are still lacking, affecting the results in the test so that after reading the book you will get the desired score.
Pros & Cons
You will have the opportunity to study and practice the steps needed to write better, from reading the topic carefully to outlining and checking the entire essay. The step-by-step process will be clearly outlined in this book.
At the same time, the author also answers common questions that students often ask such as 'how to write', 'where to start' and 'what to do at each step'.
The requirements of the IELTS writing test are obvious, namely two writing questions that test different essay writing skills, such as data description, analytical comparison, proposition and proof of point, etc.
Through meticulous analysis of the sample essay, the examiner's comments and the official grading criteria, the author divides the skills tested by IELTS writing into 3 levels based on difficulty (from easy to difficult) help students gradually improve their writing ability and thereby, improve their writing scores.
The focus of this book is to help students practice writing skills based on lessons and exercises in class, through situations and practice topics to string together an entire curriculum.
In addition, this book also helps you familiarize yourself with different types of questions, understand the focus of the test and get a high score in the IELTS exam.
The book can be used as a teaching textbook or self-study at home, consisting of two main parts: the lesson part and the exercise part. The lesson section provides learners with instructions on skills and classroom exercises; The exercise section includes exercises that complement and enhance classroom assignments. The lesson section has 18 lessons, in which lessons 1-3 are for level 1, 4-7 are for level 2 and 8-18 are for level 3.
However, the sample lessons are sometimes entirely separate and discrete, making it difficult for learners to synthesize.
Essential Writing for IELTS Study Guide
Those of you at a weak or basic level (Basic) can focus on previous vocabulary-related sections such as Words, My Words, Word Families, Word Family Practice, and Word Skills.
Those with intermediate level (Intermediate) can switch to Reading and Listening sections.
The more advanced (Advanced) students can study and confidently complete this document.
In particular, because the sample lessons are fragmented, learners need a separate notebook to synthesize their materials.
Download Essential Writing for IELTS Free
Please visit the link below to download the Essential Writing for IELTS book and start practising immediately! Above are the knowledge and content that Essential Writing for IELTS provides you to practice confidently at home. 9IELTS hopes that your band score will be improved effectively after reading this book. I wish you success in your path to conquering IELTS!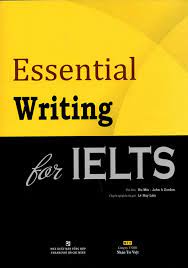 Due to copyright reasons, you can't download IELTS books directly on our website, but in this file. Please like and recommend our 9IELTS Fanpage to motivate us to keep up the good work.