Improve your Skills for ILETS is intended for students with a band score between 4.5 and 7.5. The preparatory series includes four courses: Academic Reading, Academic Writing, Listening and Speaking.
These four classes assist students to get a better IELTS score by developing their language, abilities, and test-taking strategies. The three volumes in the series may be used individually to emphasize certain skills or as a whole course. Alternatively, they may be used independently to enhance other coursebooks.
Improve your Skills for ILETS book series includes:
Improve your Skills Writing for IELTS with Answer Key
Improve your Skills Reading for IELTS with Answer Key
Improve Your IELTS Listening and Speaking Skills
Improve your Skills Writing for IELTS with Answer Key
The book Improve your Skills Writing for IELTS is divided into 10 different topics, for each topic, the writing lesson is divided into different skills. Thanks to that, learners can practice each skill separately and gradually improve their writing ability as well as complete a perfect IELTS Writing test.
The lesson structure by topic includes:
Task 1: Knowledge, exercises, and questions Task 2 with illustrative examples
Task 2: Knowledge, exercises according to task 2 questions with detailed examples
Practice Tests close to the real exam to apply the points learned to the article.
With such a lesson structure, you don't need to worry during practice but skip Task 1 and Task 2 (there are a lot of you who are too worried to focus on writing task 2 but lose it or have a misunderstanding. difference in importance of IELTS writing task 1).
Improve your Skills Writing for IELTS also provides a lot of knowledge about grammar and vocabulary for you to study to improve better. The exercises are divided equally in each Unit, helping you practice more advanced. Especially with the analysis part, there are very useful techniques and model text for you to write better.
In addition, Improve your Skills Writing for IELTS with Answer Key 6.0-7.5 is also a book that you can directly write in it (by leaving spaces) so that you can immediately practice the knowledge you learn to be able to Always improve your writing skills. After each lesson, there is a practice test with two parts Task 1 – 2. Sample exercises will be shared at the end of the book with the answers to the exercises for your reference.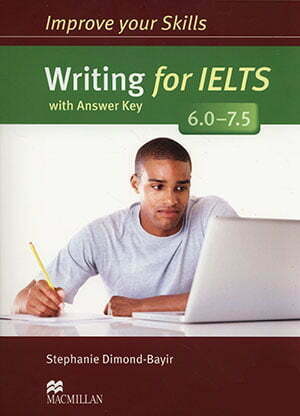 Improve your Skills Reading for IELTS with Answer Key
Improve your Skills Reading for IELTS with Answer Key 6.0-7.5 is divided into 10 units with independent and familiar topics in IELTS exam questions. Another special thing to mention is that, through each unit, learners will develop and perfect classic reading skills such as scanning, skimming, and predicting.
As for the practice exercises, you will be tested and practiced with many types of exercises such as sentence completion, matching, multiple-choice, yes/no/not given. In addition, the Exam practice section at the end of the lesson with the same question types as the real exam to familiarize you with the format of the IELTS Reading test.
When studying the book Improve your Skills Reading for IELTS with Answer Key 6.0-7.5, you will be exposed to 10 topics that frequently appear in the IELTS exam.
Change and consequences
The importance of the past
Machines, cycles, and processes
Education
Youth
Culture
Arts and sciences
Nature
Health
Individuals and society
With each topic, you will learn skills to deal with each type of question that may appear in the IELTS Reading test.
Topic
Skills & Question Types
Unit 1: Change and consequences
Scanning
Sentence completion (gapped)
True/False/Not Given
Unit 2: The importance of the past
Skimming
True/False/ Not
GivenSentence completion (matching endings)
Unit 3: Machines, cycles, and processes
Labeling a diagram
Completing tables
Completing flowcharts
Unit 4: Education
Yes/No/ Not Given
Predicting writer's claims
Matching headings (1)
Unit 5: Youth
Identifying relevant sections
Summaries with wordlist
Selecting statements
Global multiple-choice
Unit 6: Culture
Using organizing words
Matching headings
Matching phrases
Matching names
Unit 7: Arts and Sciences
Summaries without wordlist
Multiple-choice
Analyzing questions
Unit 8: Nature
Labeling a map
Short answer questions
Labeling a diagram
Classifying information
Unit 9: Health
Scanning for meaning
Identifying sentence function
Matching phrases
Unit 10: Individuals and society
Dealing with opinion
Yes/No/ Not Given
Thanks to the topic-based approach, this book is not boring at all. The topics are also very close to life so it won't take you long to understand. Improving your English and improving your social knowledge will help you achieve a higher IELTS band score.
In other books about IELTS Reading, the exercises usually have only one "frame", either word filling exercises or exercises similar to the Reading test. This will be very boring, especially if you have had to practice a lot.
The exercises are designed quite interesting and rich. Moreover, the exercises in the book are not too difficult but also very deceptive. Suitable for practicing each form that I'm weak with because each unit focuses on each type of card.
If your test score is between 4.5 and 7.5 then Improve your Skills Reading for IELTS is a reliable set of books that you can use as self-study material at home. The knowledge in the book is very broad in terms of test-taking skills as well as language knowledge. However, because it is written in English, if you have lost the basics or are just starting to learn English, it will take more time and effort.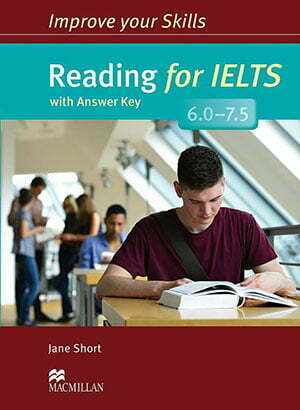 Improve Your IELTS Listening and Speaking Skills
Unlike the two books Writing and Reading, the publisher combines two skills into one book. However, don't worry, all the parts are still interwoven so that you can easily learn and practice.
This book is most suitable for those who have a target below 7.5. However, those who aim for a higher score can also use it to practice speaking topics again.
Improve Your IELTS Listening and Speaking Skills is one of the IELTS books focusing on 2 skills that help learners improve both listening and speaking at the same time. The book provides a complete way for you to practice IELTS Listening and Speaking tests. In particular, it also has 2 additional CDs with accompanying exercises to help you practice to improve 2 skills of listening and speaking.
Improve Your IELTS Listening and Speaking includes 10 familiar Units commonly found in the IELTS test, each Unit has 4 parts:
Topic talk: exercises and activities to introduce vocabulary, improve vocabulary, and useful ideas for the topic.
Listening skills: exercises and activities to develop skills for questions in the listening sections.
Speaking skills: exercises and activities to develop skills and language for the Speaking Modules, including practice questions from part of the Modules.
Exam listening: a complete part of the Listening Module to practice the skills learned.
First, you may have doubts about the combination of Listening and Speaking Skills in the book, which can cause knowledge to be overloaded. But the two parts are integrated and intertwined with each other according to a logical and reasonable system, helping you to study and practice.
The topics of Improve your IELTS Listening and Speaking are still familiar topics, similar to other books of the same series: Change and Consequences, The importance of the past, Education, Youth, Culture. This close connection. not only helps readers consolidate knowledge about topics, but also helps improve skills, especially vocabulary about those topics.
Moreover, as mentioned in the review of books in the same series, dividing chapters by topic will also make you learn new words in a much more flexible way. In it, the Topic Talk section will help you accumulate good vocabulary and ideas for each topic, helping to improve your vocabulary, very useful for that Writing and Speaking part!
The exercises in the Listening skills and Exam listening sections are close to the real test, while in the Speaking skills section, the exercises help you develop the vocabulary you've learned, as well as guide you to answer questions in Speaking.
In addition, the book still has the familiar Technique Box section, including "tips", and instructions before doing the test. Especially at the end of the book, there is also a Pronunciation section to practice pronunciation very well, don't miss it!
Despite proving full knowledge of skills as well as accompanying example exercises, in the Speaking section, the book does not clearly divide the content and does not follow the order of the parts in Speaking. For those of you who are not sure about each part of IELTS Speaking, this will make you confused in recognizing the lesson you are instructing in Part 1, Part 2, or Part 3.
In addition, there are no detailed instructions for each skill, but instead, the book will guide you through each small exercise. At the end of each chapter, there is no summary of the lesson content, which can make learners confused and easily forget the lesson content.