Road to IELTS is the British Council's official online IELTS preparation course that includes 3 versions: Test Drive, Last Minute and Full Version. It has over 120 hours of interactive activities, advice videos from British Council experts, hints on question types, and downloadable practice tests. It is comprehensive, up-to-date, and the best possible online preparation and practice resource for IELTS.
IELTS test-takers at ETC receive free access to 120 hours of the preparation material. This full version of Road to IELTS has a value of $159.99. Upon IELTS registration, all test-takers may enrol in Road to IELTS for free.
What is Road to IELTS?
As the British Council's most popular online preparation course, Road to IELTS will help you prepare for a great IELTS score!
The course includes:
IELTS Academic and General Training – online materials available for both tests
Practice zone – prepare Reading, Writing, Speaking and Listening questions just as you would find in the test
Sample videos – get advice and learn from previous test takers
Teacher Tutorials – learn exactly what to do (and what not to do) from experts
Timed practice tests – both IELTS on paper and computer tests are available
"My Progress" section – meet your targets using planning and tracking tools
"Resource Bank" section – access the score calculator, test countdown, and other resources to improve your planning.
Contents of Road to IELTS Course
As mentioned previously, Road to IELTS includes 3 versions:
Test Drive: Provides information to help you familiarize yourself with IELTS and the test structure in IELTS
Last minute: For candidates registered for the British Council exam. This is an IELTS document with a duration of 30 hours.
Full Version: A book and an online course that includes 300 interactive activities, 9 exercises and lots of video tutorials from experts.
Detailed contents of Road to IELTS are:
Advice from IELTS experts: Learn the tips and tricks that will give you the best chance of getting the band score you need – from British Council teachers.
IELTS mock papers: When you're ready, try some timed IELTS practice papers specially created by the British Council. Print them out and do them in test conditions or on the IELTS on a computer simulator so they're exactly like the real thing.
Plan and track: With so many IELTS study materials to get through, use the Study Planner to prepare for the test efficiently. Then, track your progress and make sure you're meeting your targets.
Interactive exercises: Get to know the IELTS question types and task types with over 300 online interactive. These come with instant marking and feedback.
Pros & Cons of Road to IELTS British Council
Advantages:
Various forms of interaction: Videos, Ebooks, interactive activities
A set of materials for a variety of subjects from basic to advanced
Reputable content guaranteed by British Council
The Progress function in Road to IELTS allows you to monitor your activities in each course. In addition, it also helps you analyze your time allocation and compare it with other live users.
Drawbacks:
The only downside of the document is that the instructions are all in English, making it more difficult for those with weak English backgrounds to access.
Road to IELTS Study Guide
The right audience for the course is those preparing for the IELTS exam from Beginner to Advanced. You should only use the course/book when you already have a basic level of English (Band 3.0+ IELTS). In addition, you also need to use a dictionary quite a lot to understand the instructions if your vocabulary is limited.
The materials in each topic are arranged like an authentic exam, and you have complete flexibility to use these materials. You can practice a specific skill (Reading, Writing,..) or in a specific form. However, the simplest is to practice according to the pre-arranged system:
Step 1: Read the Ebook document to learn about the exam structure of each IELTS test and effective IELTS test preparation methods.
Step 2: Watch instructional videos to master how to practice each skill.
Step 3: Practice with more than 300 given activities for each skill and each type of lesson.
Step 4: Practice with mock exams. As mentioned above, you do not need to study in order, but you can flexibly based on your strengths and weaknesses, but choose to review your weakest part first.
Download Road to IELTS PDF + Audio + Video
Road to IELTS Reading, Listening, and Writing is an IELTS course preparation. This course comes from the British Council with extreme difficulty with real exam questions.
Road to IELTS Academic Reading: Road to IELTS Academic Reading is a compilation of 2 IELTS Reading Full tests from the British Council with extreme difficulty with real exam questions. The structure is standard with authentic IELTS tests. Indeed, this will be an effective training source for those in the "sprint" step during IELTS test preparation.
Road to IELTS Listening [PDF + Audio]: Road to IELTS Listening is a compilation of 6 IELTS Listening Practice Tests from the British Council with extreme difficulty with actual tests. Indeed, this will be an effective training source for those in the "sprint" step during IELTS test preparation.
Road to IELTS Academic Writing: Road to IELTS Academic Writing consists of PDF files and videos that help learners familiarise themselves with different kinds of IELTS Writing Task 1 and Task 2 to improve their Writing skills.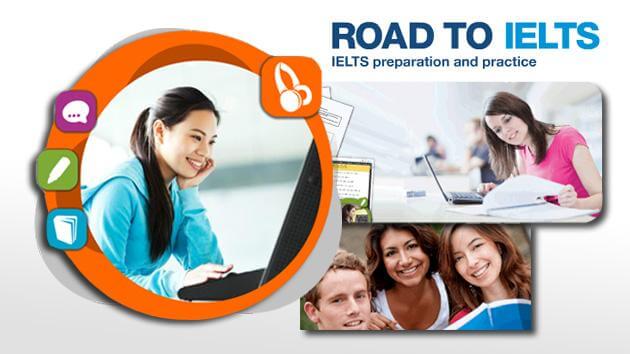 Due to copyright reasons, you can't download IELTS books directly on our website, but in this file. Please like and recommend our 9IELTS Fanpage to motivate us to keep up the good work.