Target Band 7: IELTS Academic Module is an outstanding self-study book for Academic IELTS preparation to help learners achieve the highest possible score. All of the suggestions, tactics, strategies, and recommendations are geared at optimizing students' scores by enhancing their task-solving speed and minimizing common errors. Target Band 7 is loved by both instructors and students.
Target band 7 IELTS Academic Module Review
In the IELTS exam, Time is your worst enemy. You need to do everything quickly. Of course, to answer all of the questions correctly, learners need time. But in reality, there will be a lot of questions to answer, a lot of writing to be done, and very little time to do it.
Besides, there are 2 main issues that will affect your score on the IELTS test: Time, tricks, and logical traps. However, do not worry too much, because the book Target band 7 is really a good assistant, helping you to know how to:
Listen, hear the correct answer and write it down quickly
Skim the passage and solve every question in optimal time
Write essay fastest
Build speech ideas in every Topic super fast
You can tell immediately what traps are to avoid
Target band 7 may not make you a true native, but it will definitely help you break through that target score!
Table of Contents
The IELTS Routine
Tips for the Reading test
Tips for the Writing test
Tips for writing task 1 – Report
Tips for writing Task 2 – Essay
Tips for the Speaking test
Similar to the book Ace the IELTS: IELTS General Module – How to Maximize Your Score (3rd Edition), Target band 7 IELTS Academic Module examines both the paper-based and computer-based IELTS tests and all four sections of the test. It starts with an overview of the test, followed by section-specific preparation advice. Because the academic and general exams differ in just a few areas, these books are essentially identical.
The primary difference between the two books lies in the writing part, notably assignment 1. Simone Braverman provides examples of IELTS task 1 problems, such as line graphs and maps, before explaining how to compose the essay.
Study Guide on Target band 7 IELTS Academic Module
On the market today, there are many types of IELTS books, it is important that you know what to do to use the book most effectively. Study Guide on Target band 7 is an excellent book providing useful tips and advice that certainly help you to avoid common mistakes and approach the exam in a sensible way
In terms of time, give yourself 3 hours a day to conquer IELTS – it will contribute to the results you want.
If you don't have much time, Aland suggests that you read this book and do the exercises in the lessons learned. And if you have a lot of time to practice for the exam, then the more you learn, the better.
You remember to read and pay attention to all the tips that the book has "take note" for you, and apply them smoothly when taking the real exam.
In particular, the book also gives you links to IELTS study materials at the end of each main chapter and a detailed self-study plan at the end of the book. Remember to study it carefully.
Last but not least, Target band 7 IELTS Academic Module provides the Pocket Tips – the most important hints for all chapters – Listening, Reading, Writing, or Speaking. Remember to re-read them before you start practicing – that will help you really focus on what's most important.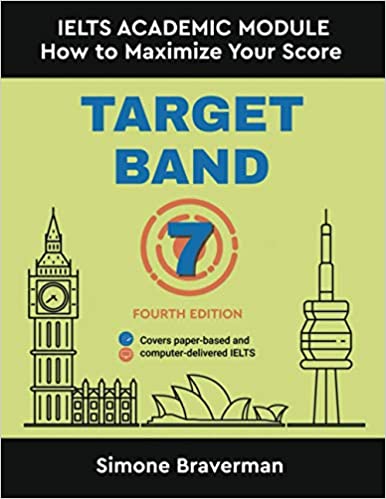 Due to copyright reasons, you can't download IELTS books directly on our website, but in this file. Please like and recommend our 9IELTS Fanpage to motivate us to keep up the good work.