Today, 9IELTS will introduce a specialized practice book on Listening skills: Winning at IELTS Listening by author Li Ya Bin. The most outstanding feature of the book is Listening practice by topic, focusing on common issues in the IELTS test. Winning at IELTS Listening is a book for those who understand the IELTS Listening test format and want to improve their IELTS Listening skills.
Winning at IELTS Listening Review
Book Contents
Winning at IELTS Listening is divided into 3 main parts: Listening exercises according to 10 common topics in the test, Review Questions and Answers.
Part 1: IELTS Listening activities
This section is designed according to 10 common topics in the IELTS Listening test:
Accommodation
People (People)
Education (Education)
University Life (Student Life)
Sports (Sports)
About the UK
Science (Science)
Health (Health)
Festivals (Festival)
Travel (Moving, commuting)
In each topic, there are many types of listening tests based on the structure of the actual test, with different difficulty levels, such as table completion, form completion, note filling ( note completion), multiple choice and short answer questions, etc.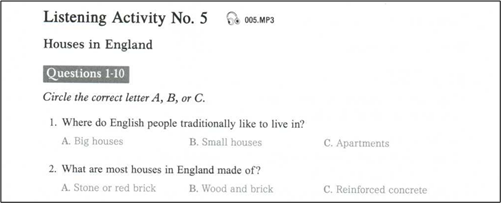 Part 2: IELTS Listening tests
True to its name, this section includes 3 sample IELTS Listening tests with all 4 sections (sections) and is quite close to the structure of the official test. Each section is a combination of many different exercises so that learners can both familiarize themselves with the exam questions and practice the types of questions learned in Part 1.
Part 3: Audio scripts & Answer key
This section provides audio scripts and answers for each exercise section. Learners can compare answers and evaluate progress through each lesson.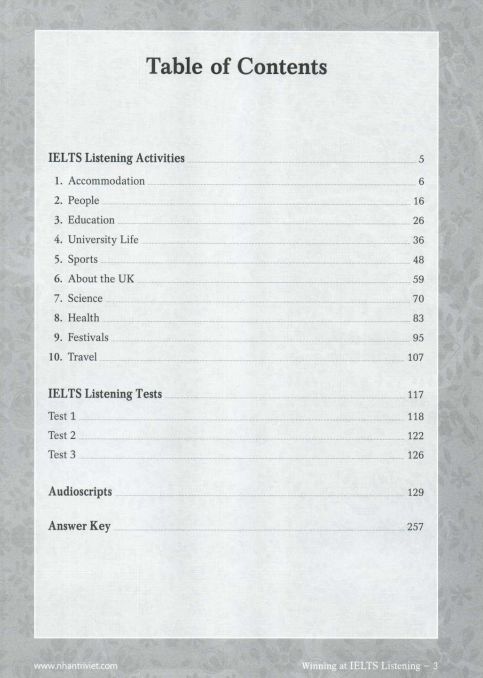 Target Readers
The book is suitable for those in the IELTS band 3.5 – 4.0, who have learned the IELTS test's structure and have basic vocabulary on familiar topics in the IELTS Listening test. Most of the exercises in the book have been simplified and arranged by level from easy to difficult, helping learners gradually adapt to the different types of lessons, and develop the necessary Listening – Comprehension skills, thereby getting a good background and solid foundation to handle complete exam questions.
Pros & Cons
Winning at IELTS Listening is designed by topic, with each lesson focusing on a different topic, so learners can not only practice listening but also have the opportunity to expand common vocabulary on that topic.
Audio files for listening purposes are carefully tested with good sound quality, without burdening the listener. In particular, the official IELTS listening tests are often designed with different voices from many regions. Understanding that, Winning at IELTS Listening has tried to integrate many different tones in the listening series, including British English, American English, British Indian, British Australian, Canadian … to help you approach and familiarise yourself with the local accents.
In addition, although the book has been written for a long time, the content of the topics is not outdated, so you can rest assured about the topic of exam preparation.
However, because the IELTS document has been published for a long time (2009), some of the content in the book Winning at IELTS Listening, in terms of format and format of the IELTS Listening test, is not updated closely with the topic structure. real exam today.
For example, section 1 of the Listening section is usually a Form completion test. Still, section 1 of the Winning at IELTS Listening book is a combination of different types: multiple choice, table completion, sentence completion.
Another example is the test that requires determining True / False sentences based on the listening passage that no longer appears in IELTS tests from 2016 and later, but is still included in the practice books.
Winning at IELTS Listening Study Guide
First, some test types are no longer suitable for the current IELTS Listening format. You should pay attention to learning and updating the new design, and avoid doing the exercises with the old form in the book because it will affect your thinking about exam preparation.
Secondly, with only exercises for review and mock test without explaining the test strategy, Winning at IELTS Listening is suitable for those who have practised IELTS before and want to improve their listening skills again. For starters, you can read other books that provide general information about IELTS Listening, learn the strategies for each section, and then use Winning at IELTS Listening as part of the session sprint exam.
In addition, to check your progress after completing the practice with Winning at IELTS Listening, before taking the test in this book, you can try a full IELTS Listening test in the same condition as the test room and record results. After that, you carefully go through the exercises in the Listening activities section to familiarize yourself with the many types of Listening lessons in the book, and at the same time take advantage of accumulating some vocabulary by topic.
Finally, when you are done with the familiarization process, arrange a quiet space and time to try the tests in the Listening tests section and then extract the results. It will help to reflect on your progress with the companion book.
Download Winning at IELTS Listening Free
Please visit the link below to download the book Winning at IELTS Listening and start practising immediately! Hopefully, the information about the book Winning at IELTS Listening above will help you use the book effectively and have more orientation in practising Listening skills.