The IELTS Resource Pack by Jon Marks is a valuable resource that enriches the teachers' IELTS preparation lessons and strengthens the student's ability to succeed.
Preparing students for the IELTS exam can become a gruelling cycle of exam practice and intensive language analysis. Communication games and activities may be available, but with the exam approaching, it can seem inappropriate to spend time on anything not directly relevant to the exam.
The games and activities in this book are intended to help with this dilemma. They are fun, motivating, and in many cases, kinaesthetic (i.e., students use their bodies and minds), but they all relate directly to the exam.
IELTS Resource Pack Contents
IELTS Resource Pack PDF + Audio by Jon Marks includes:
A bank with copyable exam practice material
25 lively communication activities, especially for students preparing for the IELTS exam
Highly motivated couple work, small group and overall activities
The language and skills students need to succeed in the Academic Writing, Academic Reading, Speaking and Listening modules
Free audio CD with auditory material for the exam
Download IELTS Resource Pack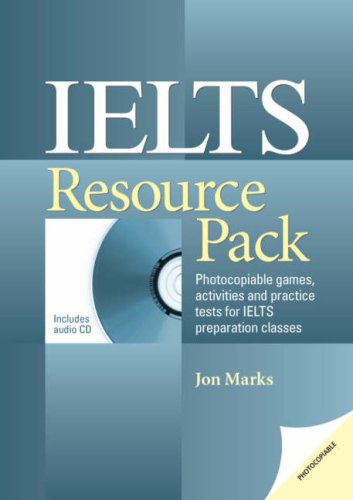 Due to copyright reasons, you can't download IELTS books directly on our website, but in this file. Please like and recommend our 9IELTS Fanpage to motivate us to keep up the good work.