IELTS to Success Book Series [PDF + Audio] is extremely useful for those who are in the process of conquering IELTS. Right from the first pages, these IELTS books provide specific information about the IELTS test, the layout of each section, and the types of frequently asked questions under the exam.
Unlike other normal exam preparation books that only list exercises, the author orients specifically on review tips, and full strategies for each skill, along with reading passages with answers and answers. explain. This helps learners have a clearer view of the upcoming IELTS tests as well as to prepare mentally for them.
IELTS to Success: Preparation Tips and Practice Tests can be said to be a great choice for IELTS learners at the beginner level because the book is designed as a handbook that provides all the necessary information about this exam at the same time. orientate a particular route.
IELTS to Success is written for those who take the IELTS Academic IELTS with the same sections as the Academic test. For the General exam, you can refer to the Listening and Reading sections if you want.
A practical book for beginners to get acquainted with the test, reading comprehension, and practice test. However, if you have a level of 4.0 or higher, start learning because the practice part is designed more than the strategy and tips section, so it will be more convenient for you to use it for practice.
Highlights of IELTS To Success
The introductory, introductory book covers some of the sections below the IELTS test with the study of some strategies to prepare you for the test effectively.
How will you be guided to prepare for each part of the Listening – Reading – Speaking – Writing tests?
Some good tips to take advantage of the time before the start of a section, take advantage of some of the suggestions given in the Reading section or cue card Speaking, Listening questions….will help you start the test with good preparation.
Lessons and study guides, and good strategies to complete the test more effectively are also provided for your own reference.
Especially this book provides many good tips in different languages ​​under the Speaking test. You will get many tips to complete this test better.
IELTS to Success: Preparation Tips and Practice Tests does not have a specific set of Listening – Writing questions but divides each skill with its own topic for you to practice for each part by yourself. With the same time and structure as the IELTS exam, the topic is selected and some questions are as difficult and easy as the real one, so you need to practice with peace of mind.
There are 3 listening tests with accompanying Audio files, at the end of the book there is a Tapscrip section and answer keys for some reference. The Reading section also has answers for you to check at the end of the book.
Contents of IELTS To Success
IELTS to Success: Preparation Tips and Practice Tests has 5 parts, namely:
Part 1: Provide some basic information and give you the clearest and most specific idea about the IELTS exam such as exam structure, scoring method, test method… Frequently asked questions by students will also be answered in this book.
Part 2: Specific instructions and explanations of some skills as well as some accompanying tips and strategies to help learners form their thinking quickly and access effective learning tips. The book also mentions special notes that you cannot ignore. For example, the change under the Speaking test compared to the exam before 2001 or the psychological preparation before and below the test date.
Part 3: includes some practice exercises for each skill. Listening has three exercises; Reading has six exercises; Writing has six exercises.
Part 4: Answers to some listening and reading practice tests and some sample essays. Finally, there are tape recordings of some listening tests. The results of these answers are explained to help students self-assess their ability under the practice process.
Part 5: Practice Tests have 06 practice exercises, each consisting of 03 reading passages with increasing difficulty like the exam.
After completing a number of exercises for each skill, learners will apply some of the tips and knowledge they have learned. From there, you can review your level and get familiar with the real exam.
Study Guide for IELTS to Success
With a systematic guide on getting used to the test and how to do the test, IELTS to Success: Preparation Tips and Practice Tests has great value for IELTS learners. You can choose to practice individual questions according to each skill or practice Listening to Reading, Speaking, and Writing like taking a real exam according to the set time.
When studying a book, write down what you feel is useful to you, the vocabulary system, and the good sentence structure, so that you can apply it to the test later.
With some great strategies and practice exercises close to the real exam, you can easily conquer the exam by following this book!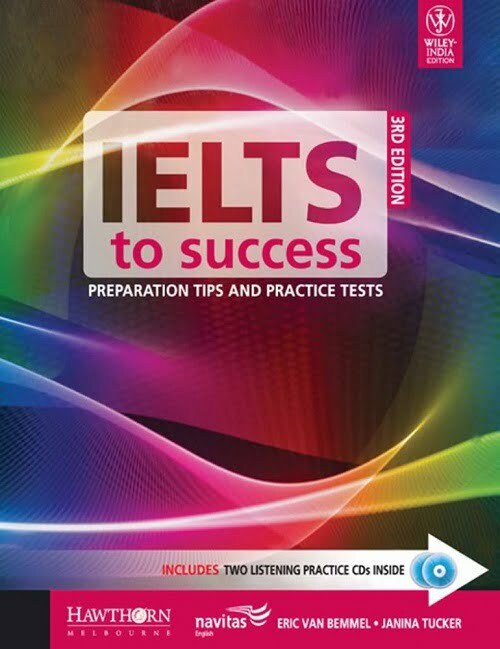 Due to copyright reasons, you can't download IELTS books directly on our website, but in this file. Please like and recommend our 9IELTS Fanpage to motivate us to keep up the good work.