Around three years ago, IELTS introduced the option for IELTS students to take the test on a computer instead of on paper. Since then, we have received emails from pupils every day asking 'Which one is easier?!'
Our response is the same every single time – neither!
That's right, the questions on the computer-based and paper-based exams are precisely the same.
Cambridge and IELTS published several research papers that compare the results of the computer-based exam with the results of the paper-based exam. You can see for yourself at semantic scholar, scientedirect and cambridge.
When choosing between computer-based and paper exams, the only question you should ask is: Which is right for me?
To help you decide which exam best suits your needs, this article will outline the pros and cons we discovered and help you determine which test will help you get the score you need.
Computer-Based IELTS vs Paper-Based IELTS
IELTS CBT/ CDT stands for Computer-based test and Computer-delivered test. The IELTS exam can be conducted in two forms: Paper-based or computer-based. The only difference between these two is that you are required to write on a paper while you will have to complete the test on a computer in the latter.
There's no other difference in the format, questions, or marking criteria. One point can be that you don't get time to transfer your answers in the listening test because you can type the answers on the computer.
Computer-based IELTS is opted for by most of the candidates and the other vital reason is the developed technology system. It is similar to paper-based IELTS regarding marking, timings, content, and task types.
The IELTS paper-based test asked the candidates to write the answers back to an answer sheet. The contrary happens in the case of the IELTS computer-based test. Few points to be noted about IELTS computer-based test:
Before starting a listening component, test takers get time to go through questions
Test takers can review answers at the end of each listening section in IELTS computer-based test
At the end of the paper, 2 minutes are allotted for reviewing the answers
The time allotment for the listening component is 30-34 minutes
IELTS computer-based test requires 5-7 days to deliver results, while the IELTS paper-based takes 13 days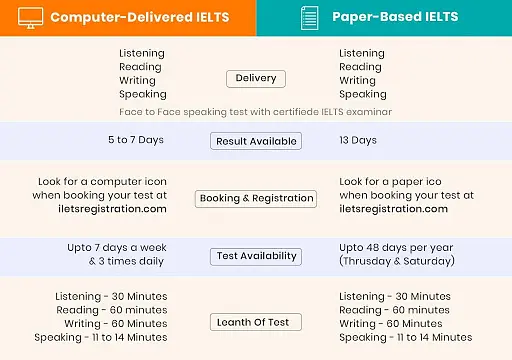 Pros of computer-delivered IELTS test
# 1. You will have more test dates to choose from. If you take a computer-delivered IELTS test, you will have more flexibility in choosing your exam date.
# 2. Your results will be available in 5-7 days. In the case of a paper-based IELTS test, it takes around 13 days for the results to be published. But if you take a computer-delivered IELTS test, you will get your result in 5 to 7 days. So if you are in a hurry, you might consider taking a computer-delivered IELTS test.
# 3. The whole process of booking the computer-delivered IELTS test is a lot easier and less confusing. Well, that depends on how you define "easier". However, most of the candidates who registered for the computer-delivered IELTS test said that it was easier and less confusing because they just went to the authorised test centres with the necessary papers and money and the friendly staff at the test centre helped them to a great extent. According to them, the experience was hassle-free as there were fewer forms to fill up and fewer emails and terms and conditions to handle.
# 4. You will take the test in a single day. When you take a paper-based IELTS, you take the Speaking test on a different date, either a few days before or after the Listening, Reading and Writing tests. However, when you take the computer-delivered IELTS test, you take the speaking test on the same day. So you essentially complete the whole test in a single day. Moreover, you can decide whether you want to take the Speaking test before or after the remaining three tests. That is great flexibility for many, especially for busy executives in their offices.
# 5. You take the test in a small crowd. Well, the test centres designated for the computer-delivered IELTS are less crowded as only a few candidates will take the test. Moreover, the "test authority" uses noise cancellation technology, making the exam hall more friendly and favourable.
# 6. If you feel comfortable writing on a computer, you can take this test more confidently. Well, this needs no explanation. If you are one of those who have a good typing speed and feel more comfortable typing on a computer rather than writing on a piece of paper, this test is for you.
# 7. Answer correction and correcting mistakes is hassle-free on a computer. Consider correcting spellings when you write on a paper; you either 'erase a few words or the whole sentence' or 'completely strikethrough it and then rewrite it. Imagine doing the same on a computer- you just press the Backspace or Delete button and rewrite. That's easier and a time-saver for an exam in which time is your greatest enemy!
# 8. Many test centres have individual cubicles, with fewer people taking the test. So it's easier to concentrate and possibly less stressful. When you concentrate well, you perform well. So, many candidates often prefer individual cubicles and less interaction in modern test centres that administer computer-delivered IETLS tests.
# 9. You will have much flexibility about when you take the test (e.g. in the morning or afternoon, before the Speaking or after the Speaking test). And it is convenient for busy executives. We know many test-takers who have always wanted to take the test in the evening rather than in the morning. With different slots in a day, the computer-delivered IELTS test now offers you this flexibility.
# 10. You no longer need to worry about your handwriting and its clarity and neatness! That's right. Many candidates are worried that their handwriting is not pretty neat and might affect their band score. With computer-delivered IELTS, you no longer need to worry about it as you will type instead of write on a paper.
# 11. You can go backwards and forwards whenever you want to. Yes, even if you take a computer-delivered IELTS test, you can go back to previous questions or pages to correct an answer or can go forward as you would be able to do in a paper-based test. Just use the backward or forward arrows to do so. You can even click on a question number at the bottom of the screen when you take the Listening or Reading test to go directly to that question, which is quite convenient.
# 12. You can adjust the volume during the Listening test, highlight text during the Listening and Reading test, take help from word count during your Writing test and edit your writing more quickly than paper-and-pencil based test. Yes, during your Listening and Reading tests, you can use your mouse or keyboard to highlight a particular word, sentence or paragraph and choose the highlighter colour. This is handy for answering Reading and Listening questions. Besides, a word count during the Writing test would greatly help every candidate who takes a computer-delivered IELTS test.
# 13. You can change the font size of the text. So you do not need to worry about reading from the computer screen.
# 14. And finally, managing time with an on-screen timer is much more convenient. It will flash and turn red when you have 5 and 10 minutes left in your Writing and Reading tests.
Cons of computer-delivered IELTS test
Before deciding to take the computer-delivered IELTS test, we believe you should know the disadvantages this test format might have for some candidates. If these disadvantages are ignorable for you and you find the advantages of taking computer-delivered IELTS more appealing, you should proceed and book this version of the test.
So here are a few disadvantages of taking the computer-delivered IELTS test:
# 1: If you have never used a computer before, this test is not for you. Also, if your typing speed is plodding, you will find this test harder than you think.
# 2: If you take a computer-delivered test, your computer screen will be locked at the exact time (exact minute and second), so you won't be able to make any last-minute corrections.
# 3: The timer on the computer screen will not display the seconds at the last minute. So during the last minute of your test, you won't know how many seconds you still have.
# 4: The computer-delivered test is conducted in a computer lab, and multiple candidates (sometimes even 15-20 plus) take the same test. So during the writing test, all the candidates would be typing simultaneously, which would create a noise that might distract you.
# 5: If you are not accustomed to writing on a computer screen and making corrections for typos and sentences, the chances are that you will find it difficult while you take the test on a computer rather than on paper.
# 6: While taking the listening test, you will be given a pen and paper for making notes. But you need to type your answers directly into the computer. This means you need to be able to listen and type at the same time. If this is something new to you, you will find it difficult.
# 7: In your Listening test, you will have only 2 minutes to check your answers, not 10 minutes to transfer answers as you do in a paper-based Listening test. Some students take only 4-5 minutes to transfer the answers to the answer sheet and utilise the remaining 5-6 minutes to revise, make corrections and answer anything they have missed. In a computer-delivered test, you can't do that.
# 8: Moving from one section to another or even one page to another may become time-consuming. And if you do not follow the exact procedure, you might end up wasting some valuable time.
Computer-based IELTS Listening Section
Pros
You get headphones for the Listening test and can hear the audio more clearly.
The volume can be adjusted.
Cons
Your attention is split between typing answers on the screen and making notes on a draft paper. Making notes is optional, but people do it when they hear something that seems essential, yet they don't know which question this may be the answer to.
You get less time to check your answers after the Listening test ends. In a computer-delivered test, you have 2 minutes instead of 10 in the paper-based test. Students use that time to check the notes they wrote on a draft paper during the test and possibly found and add some answers they missed earlier. They also check the spelling of their answers during that time, which is essential to avoid losing marks for misspelled answers.
People who aren't used to typing while listening may find it tricky.
Advice: Please get familiar with the Page look and feel on the CBT exam for each question type. You can get a sample for each question type on the IDP website.
Computer-based IELTS Reading Section
Pros
You can see the text and the questions simultaneously as the screen is split into two parts. The text is on the left, and the questions are on the right. Each side can be scrolled independently, letting you see any part of the passage and any group of questions. There is no need to flip pages back and forth, so that saves you time.
Cons
Reading on-screen is more complicated than reading on paper and can lead to problems. People tend to understand and remember the information better when they read on paper. Reading on screen is more suited for skimming and scanning, however, many IELTS question types require reading for detail, which is harder to do well on a screen.
Highlighting text and making notes are different on screen and on paper, it involves a few clicks and may feel not as instantaneous as highlighting/underlining and writing notes on paper.
Your notes are less visible – you need to click on the highlighted portion of text for your notes to show up on the screen. When you write something on your test paper, it's right there, you can't miss it.
Advice: Get used to scrolling up and down long articles to get used to reading and navigating passages on a screen.
Computer-based IELTS Writing Section
Pros
Editing your writing task 1 or task 2 is easier on a computer because you can copy and paste content, rearrange sentences or paragraphs and delete without crossing off or rubbing out.
There is no need to count words in your writing task 1 or 2, they are shown on the screen and that saves you time.
Bad handwriting stops being a problem in the computer-delivered test.
Cons
Some test takers find the noise from other people typing during the writing test very distracting. Headphones can help block out the noise to some extent.
Advice: You will be given a pen and paper. You can use it to plan your essay.
Computer-based IELTS Speaking Section
Like the paper-based test, the speaking section in IELTS Computer-Based Test remains identical. The test conductors haven't introduced bot dictation for speaking sessions. Few insights for the speaking component in IELTS Computer Based Test are as follows:
Soundproof speaking test rooms
Rephrasing or repetition of questions for test-takers if required
Examiners ask questions as per the level of English of the test taker
Examiners patiently listen to all answers
Accent is important
Through the speaking test, strengths and weaknesses are observed.
Computer-Based IELTS Preparation Tips
Every year the difficulty level of the IELTS computer-based test fluctuates, and the direct effect falls on the IELTS score. Here are a few IELTS prep tips which will help the candidates during the test:
Read questions thoroughly before answering
Practice listening to sound clips taken from movies, plays or news (try to depict words)
Unable to comprehend the meaning of a word, try to understand meaning by reading the paragraph around it
Practice every question under the stopwatch
Do not do any rough work for IELTS Computer-Based Test
While reading the passage, highlight the critical section
Try to cover all points in the Writing and Speaking components (as 25% of the mark is allotted for each criterion)
Focus on grammatical usage and spelling
Try to maintain a strict word limit
Try to improve your vocabulary
For the Speaking test, be confident while talking to the examiner
Try to read a vast range of topics to improve your vocabulary
Conclusion
Hopefully, this article has been helpful for you. The course on the IELTS Ninja website is beneficial for all candidates for the IELTS exam. You should visit the website and enrol on the course to get all the benefits. It is the best way to prepare, practice, and meet experts and professionals.