You should spend about 40 minutes on this task.
The diagram below shows the development of cutting tools in the Stone Age. Summarize the information by selecting and reporting the main features, and make comparisons where relevant.
Give reasons for your answer and include any relevant examples from your own knowledge or experience.
Write at least 250 words.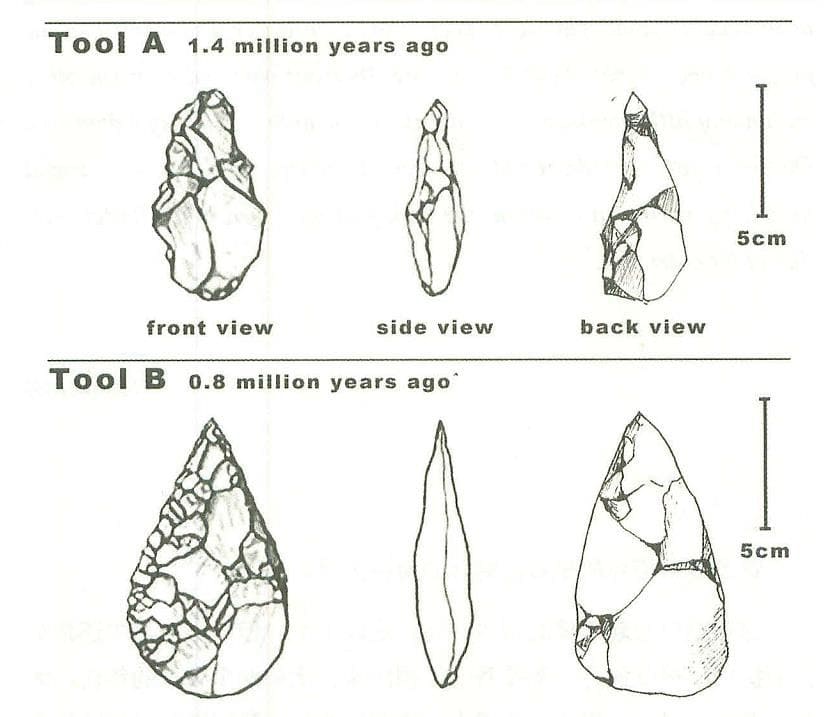 Sample Answer 
The diagram illustrates how the cutting instruments used during the Stone Age evolved between 1.4 million and 0.8 million years ago.
Overall, it is clear that Tool B is sharper and more regularly shaped than the earlier Tool A. Over a period of 0.6 million years, the cutting tool also increased in size and effectiveness .
The front view shows that the edges of Tool A are rough, revealing its more earlier stage of development. Whereas Tool A is comparatively primitive, therefore, the smooth edges of Tool B are clearly more effective as a cutting instrument.
One of the main differences between the tools is shown in the side view diagram. While Tool A is irregular, in contrast Tool B has a regular, flattened shape. The sharp edge of Tool B is designed for cutting objects cleanly and easily. Finally, the back view shows most clearly that Tool A is not only rougher, but is also smaller than Tool B.
161 words