» You should spend about 20 minutes on this task.
The maps below show the village of Stokeford in 1930 and 2010. Summarise the information by selecting and reporting the main features, and make comparisons where relevant.
» Write at least 150 words.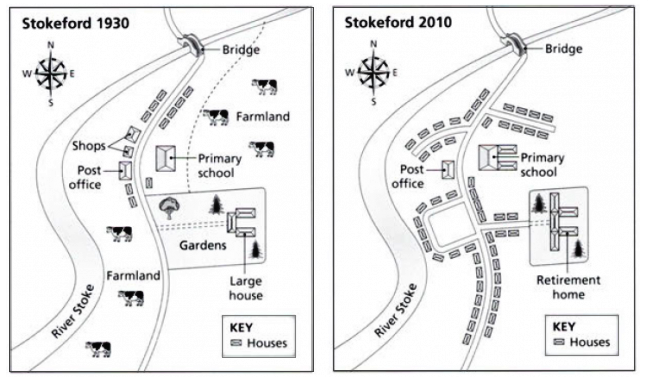 Sample Answer 1
The pictures illustrate the development of the village of Stokeford that have taken place over a period of 80 years. In general, it is clearly shown that River Stoke and a bridge remained unchanged throughout the given period of time and many more houses had been constructed in 2010.
There were major changes in the village of Stokeford over the years. First of all, the shops located in the east of River Stoke were destroyed and more houses were built in 2010. The next noticeable feature is that the farmland in 1930 was demolished and it was converted into residential places with new roads being constructed. Furthermore, primary school was developed in 2010 and it was almost doubled in 2010 compared to 1930. Part of the gardens in 1930 was used for residential purpose by building more rows of houses near the main road. The left-over garden with a large house was then developed into a retirement home in 2010.
[ Written by – Lee Wing Qeen ]
Sample Answer 2
The maps compare the structural developments and the transformation of a village called Stockford between 1930 and 2010.  
A glance at the maps reveals that the Stockford village in 1930 had fewer houses and extended farmland but witnessed rapid housing development afterwards.
As is observed, Stockford village is located at the east of the River Stoke. Parallel to this river, the main road has connected a bridge in the farthest north-east side of the village in both maps. A few houses on both sides of the road, two shops and a post office on the west side of the road were present in this village in 1930. Besides, an elementary school, a large garden and a connecting road to the bridge were on the east of this village. Two large farmlands were quite visible in the early map which disappeared in the latter one.
The 2010's map reveals that the post office, the bridge and the primary school remained unaltered, though, the school building was enlarged. The shops disappeared and the garden with many of its trees was compromised to build more accommodation facilities. The large house was converted to a retirement home with some extension to its structure. On top of that, the number of houses increased remarkably and these houses were built on the previously existing farmlands and garden.