Vocabulary is an essential part of the IELTS/TOEFL test. To achieve the highest test scores, you should focus more on academic vocabulary (ACADEMIC). In the following article, duhoctms.edu.vn would like to introduce the book 22000 Essential Words For IELTS and TOEFL.
22000 Essential Words For IELTS and TOEFL by Harold Levine provides readers with 2200 English words with clear meaning explanations. The book is arranged in weekly units.
To improve vocabulary best, you should only learn 3 new words a day and learn from 18 to 20 new terms in a week. This is a useful document for those who are and are preparing for the TOEFL or IELTS exam.
22000 Essential Words For IELTS and TOEFL Review
Book Contents
The book 22000 Essential Words For IELTS and TOEFL preparation is divided into 8 well-arranged sections. The book's first part introduces a rich vocabulary system through several specific contexts. The remaining 6 parts are extensions of the vocabulary, which can add prefixes, suffixes or derivative words. The last part, the author will introduce better methods of learning vocabulary.
Besides, the book is presented scientifically, clearly and systematically to make it easier for readers to access. In addition, vocabulary is also placed in each specific phrase to help candidates remember in the best way.
Pros & Cons
Advantages
The English vocabulary system is rich, these words are often encountered in the IELTS and TOEFL tests.
Build some more synonyms, collocations, definitions explained in detail, easy to understand.
It can be used as an IELTS vocabulary dictionary.
The approach of precise vocabulary, vocabulary placed in certain contexts, helps readers remember longer.
The bilingual version in Vietnam is a practical English vocabulary learning material for learners of all levels.
Defect
1 page of the book also has quite a lot of words. Therefore, making the reader dry, difficult to absorb if not focused.
The book does not design additional tests and exercises for learners to review.
Besides 22000 Essential Words For IELTS and TOEFL, you can also refer to other famous and popular IELTS vocabulary practice books such as: English Vocabulary in Use, Collins Cobuild Key Words for IELTS. And significantly to increase the band score in the speaking test, do not ignore the 3 sets of English Collocations In Use, English Idioms In Use and English Phrasal Verbs In Use of Cambridge Publishing House.
22000 Essential Words For IELTS and TOEFL Study Guide
The method of learning English depends on each individual. Here are some methods that 9ielts.com would like to introduce to you:
You should only learn 3 words a day: it's like eating rice: 1 word in the morning, 1 word in the afternoon, and 1 word in the evening. You do not find the book too good, but learn a few dozen words a day and then look back tomorrow and feel bored and give up this good book.
When learning vocabulary, you should always learn the accompanying examples. This helps you both learn the surrounding vocabulary, understand the types of words and write the correct grammar.
Before the end of the day, write 3 example sentences about the vocabulary learned that day.
Learn new words but still revise old words.
Learn a word should see its synonyms.
Make a habit of learning vocabulary every day.
Download 22000 Essential Words For IELTS and TOEFL Free
Please visit the link below to download the 22000 Essential Words For IELTS and TOEFL book and start practising immediately! Above are all 9IELTS sharing about the book 22000 Essential Words For IELTS and TOEFL. The book is rated as good, quality material and suitable for all levels. Therefore, if you are looking for a book to help improve IELTS vocabulary, you can refer to it.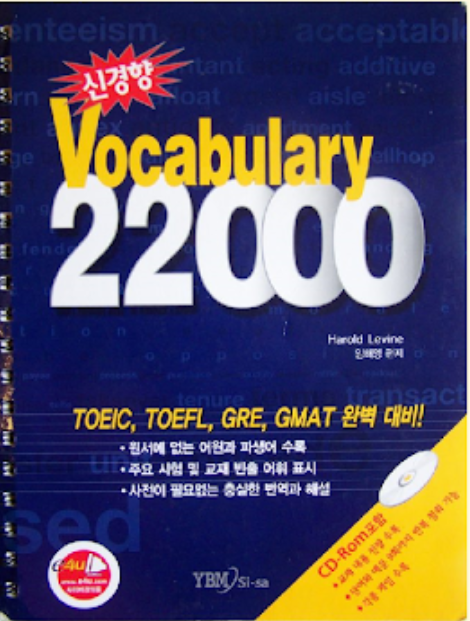 Due to copyright reasons, you can't download IELTS books directly on our website, but in this file. Please like and recommend our 9IELTS Fanpage to motivate us to keep up the good work.