Today's article will introduce the IELTS book series of 4 excellent skills that I am very interested in: Intensive IELTS listening, reading, speaking, writing full (Ebook + Audio). Let Tailieuielts.com review and download Cambridge IELTS Intensive Training books and other books at the end of the article to learn right away.
Target Readers of Cambridge IELTS Intensive Training
Unlike the familiar books on the market such as: IELTS 4 skills Collins for IELTS, or Get Ready for IELTS, … that you already know, Cambridge IELTS Intensive Training will not be suitable for those who have lost their roots, or have started to learn IELTS basic word. The book is aimed at readers who are planning to take the IELTS exam soon, and do have not much time to study but still want to improve their limited skills.
The book series is divided by skills: Listening, Reading, Speaking, Writing, and following the knowledge of common types of articles in real IELTS questions, so it will help you who are at level 3.5 – 4.0 IELTS easily improve knowledge and outline the most effective way to do the test.
Once you have a good knowledge of English, you can refer to the Cambridge IELTS Trainer 1 and IELTS Trainer 2 books, which include a collection of more complex questions than the real test, suitable for those with a band score of 4.5+. And if your ability is better, you can refer to the book Expert On Cambridge IELTS Practice Tests – a practice book for a band score 6+.
After achieving ability 4.0+, you can continue to refer to Complete IELTS Level 4.0 – 7.5 IELTS book series, Cambridge Action Plan for IELTS book or The Official Cambridge Guide to IELTS book. These are all 4-skill practice books compiled by Cambridge Publishing House, so you can rest assured to refer.
Cambridge IELTS Intensive Training Review
Intensive IELTS listening
The book fully provides you with 5 questions that appear most frequently in the IELTS Listening test, including: Map Labeling, Map Labeling Ticking and Table filling, Map Labeling, Short Answer, Matching and Multiple Choice, along with their solutions. each form. This will be highly beneficial for those with limited time, because the book has already focused on the most important parts for you. From there, you can familiarize yourself with, review and map out a reasonable course of action to easily conquer these questions as quickly as possible.
Not only that, the book Intensive IELTS listening also gives you a test like the real exam at the end of the book so you can practice and test your ability before actually entering that exam room. Don't worry because this is a book for self-study, all exercises, including the final test, have answers attached to help you check your results and recognize your mistakes so that you can correct them reasonably wrong.
At the end of the book is an audio script table, very convenient for those who want to "shadow" to increase their Speaking band. Sometimes, if the PDF is a bit blurry, please zoom in to see the detailed answer. This is a handy and practical Listening practice book.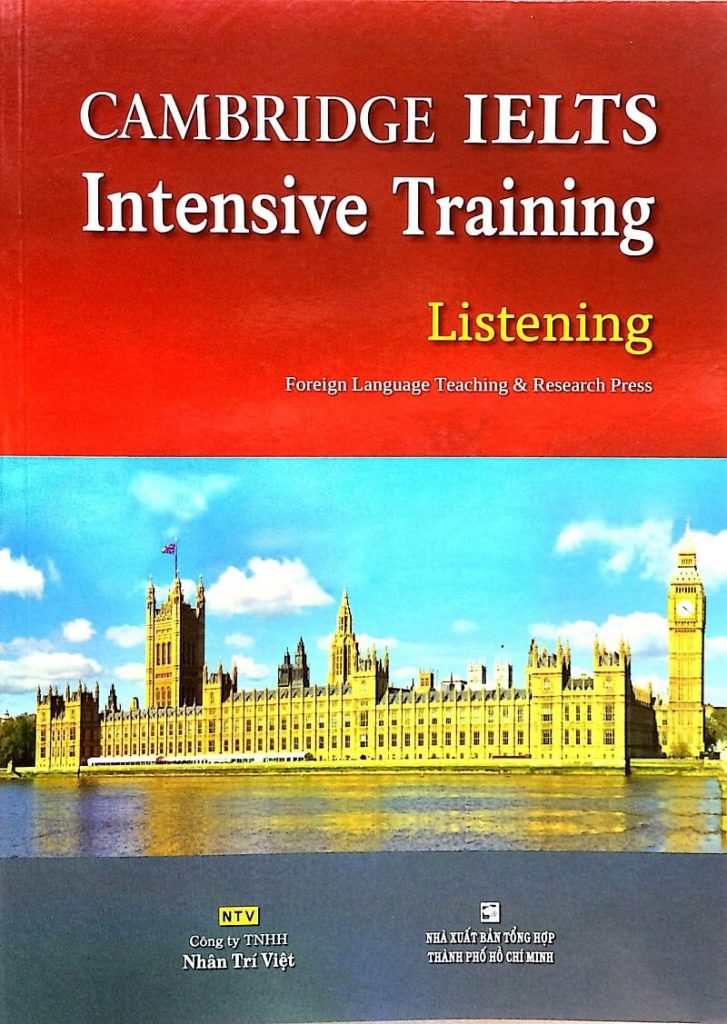 Due to copyright reasons, you can't download IELTS books directly on our website, but in this file. Please like and recommend our 9IELTS Fanpage to motivate us to keep up the good work.
Intensive IELTS reading
In the same series, Intensive IELTS reading is also considered a good Reading practice book. It is very suitable for self-study because of its science, detail and easy understanding.
Because of this logical layout, you can self-study IELTS at home and still know the information about IELTS reading tests and improve your vocabulary and grammar.
Chapter 1: Introduces you to topics and types of exercises that often appear in the IELTS Reading test.
Chapter 2: Difficult and common words in the test, along with grammar and arrangement of passages (or flow) in the reading passage. Besides, the instructions in the book will help you quickly grasp keywords in each sentence and paragraph so that you can quickly find the answer to each question. And remember to practice a lot and often because that is the key to helping you do the test faster and more accurately.
Chapter 3: Analysis of each type of test in IELTS reading: head matching, multiple choice, T&F, Filling in the gap,… and strategies that will help you do the exercises quickly and accurately during the pressure of the exam room there.
Chapter 4: Practice each strategy in 6 important reading questions.
Chapter 5: Individual practice with multiple choice questions (a type of exercise that always makes candidates bite their pen) 14 different topics are updated and interesting often in the recent IELTS Reading test.
Chapter 6: Answer keys are an indispensable part. This will be a place to help learners check and track their work results easily and a mirror reflecting the candidates' mistakes, reminding them of those mistakes.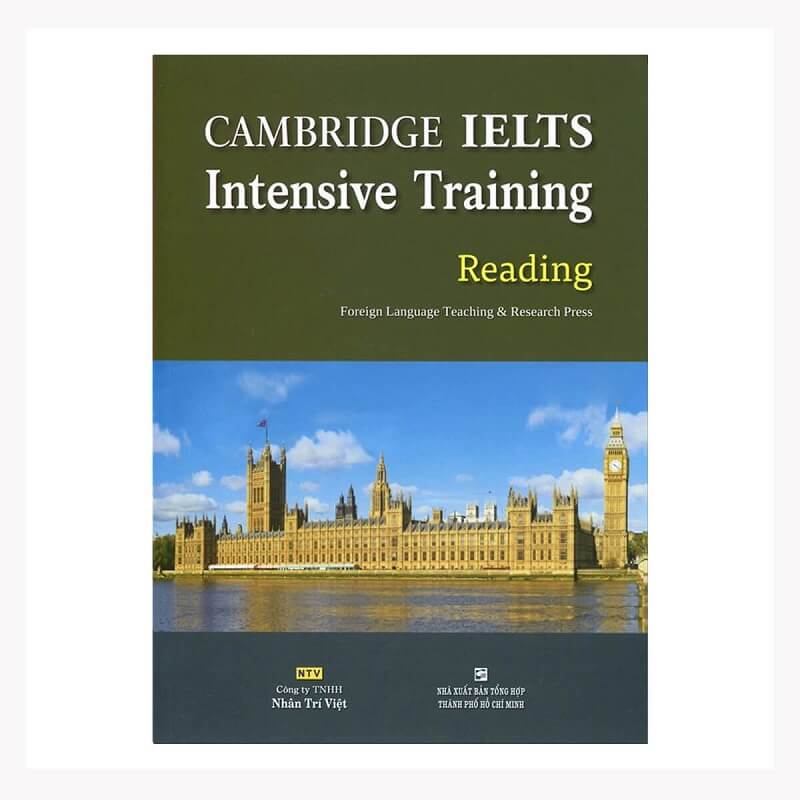 Intensive IELTS Speaking
Not only does the content follow the IELTS Speaking test format, the book also offers many reference questions for each topic and includes suggested answers. The book Intensive IELTS Speaking is divided into 4 Chapters as follows:
Chapter 1: The starting point – where you can get an overview of the IELTS Speaking test and the scoring criteria for each band of the examiner.
Chapter 2: Gives you information about each part of the test and how to limit the errors you are prone to make, causing you to lose points in each section.
Chapter 3: Provides different, familiar topics, extended questions and sample answers so that you can practice in front of the mirror to get used to how to answer when entering the exam room.
Chapter 4: Provides "a mountain" of good, rare vocabulary and good expressions in the IELTS Speaking test.
Besides Intensive IELTS Speaking, if you want to use English fluently and pronounce it correctly, you should refer to the Cambridge Interchange book series. This is a book series for people who want to learn American English. The book has the optimal learning method, the content is oriented to contemporary topics, focusing on pronunciation and communication fluency.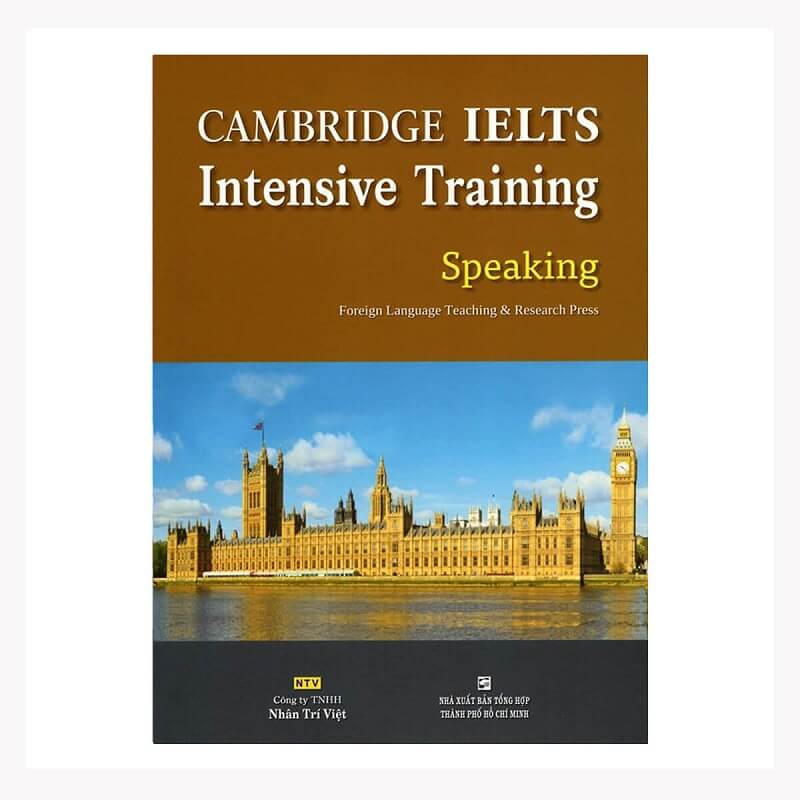 Intensive IELTS Writing
Regarding Writing, the Cambridge IELTS Intensive Training Writing book provides knowledge that follows the ielts writing test. Includes 6 Chapters:
Chapter 1: Learners understand the structure of the IELTS Writing test and the scoring criteria for writing by the examiners.
Chapter 2: Instructions on the basic steps to writing a complete task 1 and task 2.
Chapter 3: Introduces the writing style in the writing test of task 1 and task 2, and also points out the mistakes that candidates often make, causing them to lose points, unfortunately.
Chapter 4: The system gives you the words used to connect the paragraphs so that your article is logical and coherent throughout the article.
Chapter 5: The book provides good tips, and specific instructions on how to deal with each type of test in both IELTS Writing Task 1 and Task 2.
Chapter 6: This is a collection of good IELTS Writing samples for your reference to improve your writing skills.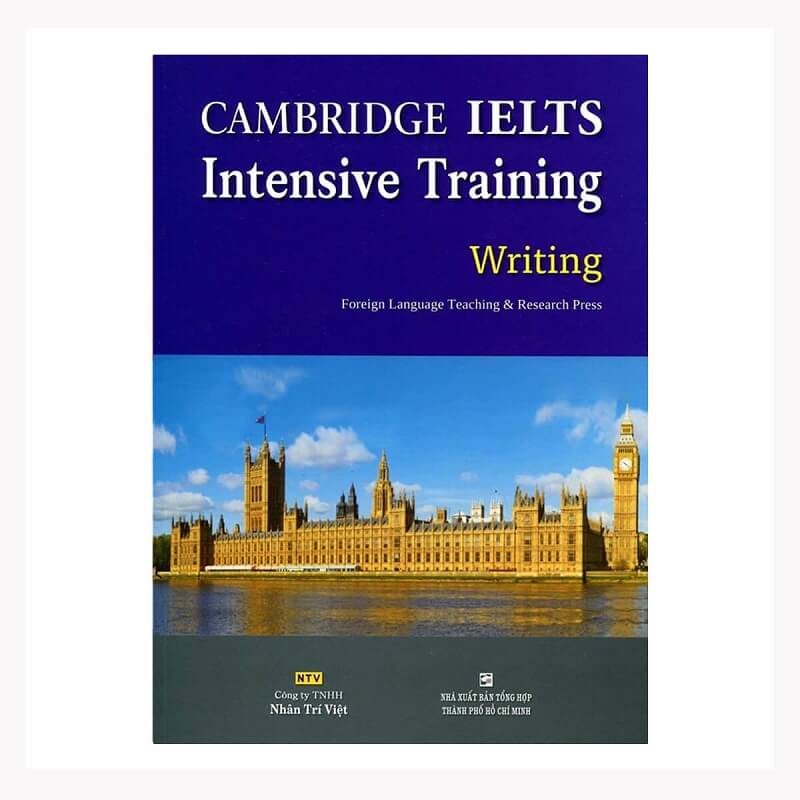 Download Cambridge IELTS Intensive Training Free
Please visit the link below to download the Cambridge IELTS Intensive Training book and start practising immediately!
Due to copyright reasons, you can't download IELTS books directly on our website, but in this file. Please like and recommend our 9IELTS Fanpage to motivate us to keep up the good work.