IELTS Topic Vocabulary Ngoc Bach is a book compiled by teacher Ngoc Bach. The book is a review material that often follows the exam structure. In addition, according to the teacher, when reviewing this book, the probability of winning the "cabinet" is relatively high.
IELTS Topic Vocabulary Ngoc Bach Review
IELTS Topic Vocabulary Ngoc Bach is the latest IELTS vocabulary practice book compiled by teacher Ngoc Bach. The book is 100% written by the teacher and team from start to finish, so it can be optimized for Vietnamese candidates' learning process.
The book provides a system of vocabulary, grammar and even the most common vocabulary mistakes in the IELTS test. In addition, because the book is regularly updated and revised, candidates can rest assured about this lecture.
In addition, the book also summarizes the best, easiest-to-use collocations, ideas, divided by IELTS topics to help you add skills and strategies.
If you want to learn IELTS vocabulary, you can refer to classic vocabulary books such as Word Power Made Easy – learning with fun, having fun learning, Oxford Word Skills. Or famous IELTS vocabulary books like English Vocabulary in Use, Barron's Essential Words for the IELTS, Collins Cobuild Key Words for IELTS.
IELTS Topic Vocabulary Ngoc Bach Study Guide
To use the book IELTS Topic Vocabulary Ngoc Bach effectively, readers can immediately refer to the following 4 steps:
Step 1
It would help if you learned all the vocabulary and meanings with examples in English. These example sentences will help you get more ideas for task 2. This is excellent supplementary knowledge for the Speaking and Writing sections.
Step 2
You should only learn 3-5 words a day. After memorizing, you can listen to the voice of the native teacher and then compare it with the Script and reread the word.
Step 3
Save audio files to your phone and practice listening at any time. You can still study whenever you have free time, even while cooking or taking a bath.
Step 4
See the file "APPLYING TOPIC VOCABULARY TO ACTUAL ARTICLES" to know more about IELTS Writing Task 2 and Speaking samples. This file will show you how to use Collocations in actual writing, they also apply in many different contexts. You can use it in any situation.
Making sentences with each learned phrase is advisable to deepen the memory of these phrases.
Finally, you should apply the learned phrases to task 2 and speaking.
Download IELTS Topic Vocabulary Ngoc Bach Free
Please visit the link below to download the IELTS Topic Vocabulary Ngoc Bach book and start practising immediately!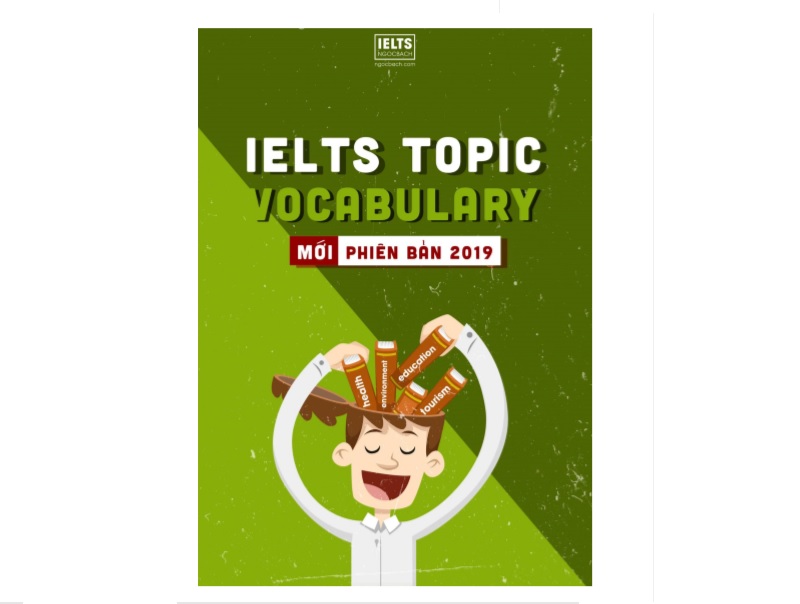 Due to copyright reasons, you can't download IELTS books directly on our website, but in this file. Please like and recommend our 9IELTS Fanpage to motivate us to keep up the good work.