Collins Vocabulary for IELTS is one of Collins' famous IELTS books with 20 familiar and simple topics, covering all the necessary vocabulary for the IELTS exam. In this post, 9IELTS will review the book and provide the download link for free!
Collins Vocabulary for IELTS Content
The book includes 20 familiar topics, simple but comprehensive enough to cover the vocabulary needed for the IELTS test. Compared with the Cambridge IELTS series, the book is a huge set of documents with a suitable vocabulary for all 4 skills of Reading, Writing, Listening and Speaking. Bringing a huge amount of knowledge and a solid luggage to help the soldiers confidently with the goal of 6.0+.
In each unit, you will follow a practice exercise that is modeled after the actual IELTS test. Activities in each lesson help you develop skills and vocabulary to solve problems. Key Vocabularies and test-taking skills will be highlighted in the Exam Tips sections.
| | | | |
| --- | --- | --- | --- |
| Unit | Topic | Unit | Topic |
| Unit 1 | People and relationships | Unit 11 | Words for describing graphs and diagrams |
| Unit 2 | Health | Unit 12 | Words for describing a change |
| Unit 3 | Education | Unit 13 | Words expressing similarity and difference |
| Unit 4 | Adventure | Unit 14 | Words describing cause and effect |
| Unit 5 | Gadgets | Unit 15 | Signposting expressions for writing |
| Unit 6 | Cities | Unit 16 | Adverbs |
| Unit 7 | The art of persuasion | Unit 17 | Words for problems and solutions |
| Unit 8 | Getting involved | Unit 18 | Words for talking about ideas |
| Unit 9 | Global warming | Unit 19 | Emphasis and understatement |
| Unit 10 | Revision 1 | Unit 20 | Revision 2 Audio script Answer key CollocationsIELTS information |
Collins Vocabulary for IELTS Content
Various topics will be featured in these 20 Units, revolving around: Finance, education, people, health, environment, etc.
Units 1-9 will be vocabulary related to topics close to daily life such as health, education, etc.
Units 11-19 are synthesized into groups of words describing functions such as problems, solutions, etc.
Unit 10 will reappear the words learned in Units 1-9 and words in Units 11-19 will be revised in Unit 20 of the book.
This gives you the opportunity to firmly remember what you have learned and to strengthen your skills in terms of phrases or the meaning of words that are rarely seen in different contexts.
The book is structured into:
Part 1: List the vocabulary block corresponding to the topic given in each lesson
Part 2: Exercises to help you immediately save previously learned vocabulary in your mind and understand how to apply them in each context.
Part 3: The test is similar to the real test so you can gradually get used to it, with a section marked with useful test tips and advice.
The book is divided into systematic sections, helping you learn in sequence to be able to easily memorize vocabulary words. After you have a full vocabulary, you can take a test to immediately assess your current level.
Target Readers
Vocabulary for IELTS Collins is suitable for all those who are in the process of preparing for the IELTS exam. The book focuses on the most important and common vocabulary and grammar used in an IELTS test today.
Based on the difficulty as well as the amount of vocabulary, this book is said to be suitable for those who are at level 5.0 and above and are aiming for 6.5 or higher. You can refer to Cambridge Vocabulary for IELTS, Cambridge Vocabulary for IELTS Advanced or English Collocations In Use.
This book includes a CD to help you practice listening better, and at the same time correcting your pronunciation skills correctly and best. You will find your vocabulary richer, pronunciation more fluent when learning this book.
Collins Vocabulary for IELTS Pros & Cons
Pros
The vocabulary section in the book Collins Vocabulary for IELTS is divided by topic, making it easy for you to learn, wherever you go. In addition, the presentation of vocabulary by topic is quite clear, easy to read and easy to search. When you forget, you can quickly find the word again conveniently.
The way to learn vocabulary through doing exercises and correcting problems in this book also helps you to increase your ability to memorize vocabulary quickly. Not as boring as the traditional way of memorizing through notes.
The Exam tips section has great tips to help you choose the correct answer quickly. From there, you can apply these strategies to similar exercises.
Cons
The only downside is that Collins Vocabulary for IELTS is only suitable for those who already have an English background. For those who are just starting to learn English, you can refer to lighter books, because IELTS Collins has a lot of vocabulary and these words carry specialized knowledge mainly.
Therefore, I recommend that you choose a book suitable for your current level to easily absorb knowledge.
Collins Vocabulary for IELTS Study Guide
To be able to use the Collins Vocabulary for IELTS book effectively and make the most of the book, here are some optimal learning methods for you to refer to:
Focus on learning all the vocabulary part 1: You have to see all the vocabulary of each unit, then practice doing vocabulary exercises to apply and immediately remember the words you have learned. Finally, start taking the IELTS test so as not to be surprised.
Practice grammar regularly: Grammar is also a very important factor to help you achieve high results in exams, so you should remember to regularly practice grammar by making sentences or writing paragraphs containing phrases. law learned.
Note important ideas in a notebook: Get in the habit of writing down important ideas so that when you forget, you also have something to take out to review. Especially the mistakes when doing the test need to be noted in the notebook so as to learn from them and not make them again next time.
Read Exam tip: Don't forget to read the Exam tip section in the boxes. It provides you with many useful tips and strategies to help you pass the IELTS exam more easily!
In the Exam tip below, we will guide you to distinguish between the types of words and the identification signs of adjectives so as not to confuse them when taking the test. In addition, Exam tips are also included in some listening lessons to guide you through effective listening strategies.
Download Collins Vocabulary for IELTS PDF + Audio
The book Vocabulary for IELTS Collins is the most reliable resource for IELTS preparation that readers should refer to. The book is very useful for English learners in general and those who are preparing for the IELTS exam in particular.
To help you study effectively, we have collected the book Collins Vocabulary for IELTS to bring you free resources, accompanied by full Audio to practice listening and pronunciation.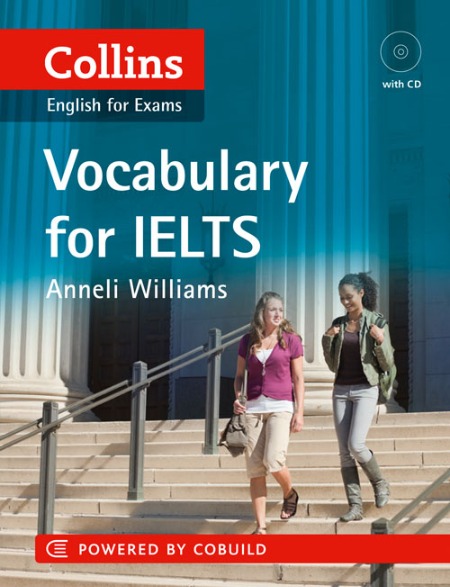 For copyright reasons, you can't download IELTS books directly on our website, but in this file. Please like and recommend our 9IELTS Fanpage to motivate us to keep up the good work.