Focus on Academic Skills for IELTS is a famous IELTS preparation ebook from Pearson Education in 2010. The book is essential for those who want to self-study IELTS at home. So in today's article, ieltscapoc.com.vn will review this book in detail and guide you on how to use it.
Focus on Academic Skills for IELTS will give you an overview of the IELTS test. With this book, you will be fully trained and prepared with the necessary knowledge for all 4 skills.
The book gives you:
A complete introduction to the IELTS exam with practical study guides.
In the book, the author provides 10 modules of the most popular topic-based lessons in the IELTS test. Each module has 2 lessons in the format of the IELTS Academic test. Therefore, with in-depth academic knowledge, you can quickly learn.
Focus on Academic Skills for IELTS Review
Book Contents
Focus on Academic Skills for IELTS book includes 10 modules, each focusing on 4 skills in the IELTS test. Because it is IELTS Academic, it is easy for you to learn in-depth academic knowledge.
A lesson has the following structure:
Great Module
2 small units
small lesson sections in each unit
Language a view exercise
After 2 units is an overview progress post.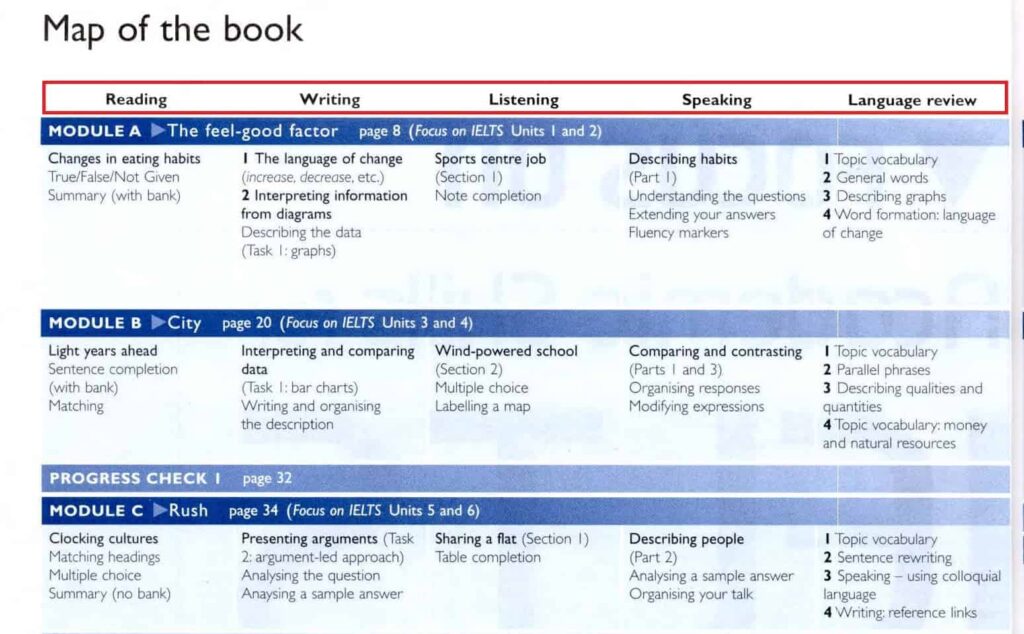 In addition to providing a wealth of knowledge about vocabulary, grammar, and question types in the test, the book also offers more than we think.
Understand the details of each section in IELTS, from overview to more information. And especially according to each common topic, it will help you master the 4 skills of the test.
Share more tips and strategies to do each type of test in each IELTS skill. In the lesson part, when providing knowledge, the author also designs listening, reading, writing and speaking lessons around a topic; learners will expand from that topic. Lessons improve ability and provide helpful vocabulary and grammar to supplement academic exams.
Besides the exercises for each lesson, the end of each section will be a separate exercise for learners to practice, start over, and remember the knowledge they have learned. The exercises also revolve around using phrases, and useful structures, and applying tips for effective self-study. These are especially good tips to apply yourself in self-studying these topics.
After each unit of theory-practice exercise, there will be a summary of the language review grammar knowledge learned. Because to focus intensely on the test, this section is generalized quite in detail to avoid making mistakes when taking the test.
Then after each module lesson, there is a progress check – summarizing the vocabulary, sentence structure, exercises… learned. Maybe you see many activities, but practice makes perfect, so don't be discouraged.
In particular, at the end of the book, there is a Speaking – Writing example section comparing the difference between high and low score samples to help learners better understand and know how to improve their knowledge to get such a high score. But unfortunately, this part is not much but enough for reference.
At the end of the book is the answer key, tape script, and sample lesson…for you to refer back to see how much you have progressed.
Target Readers
For those taking the Academic test, an excellent skill-enhancing document is Focus on Academic Skills for IELTS. This book helps you focus on references for your exam more smoothly.
The book is suitable for those of band 4.0 and above for study reference.
Pros & Cons
The highlight of the book can be mentioned is how to arrange the lessons scientifically and logically. The knowledge in the units is evenly distributed, making it easy for you to set a reasonable study time to review all 4 skills, not just focus on a specific skill.
At the same time, the types of exercises given by the author are relatively simple, close to the shared knowledge and have a structure similar to the questions in the IELTS test, this helps you gradually become familiar with how to do the test as the most effective memorization of knowledge.
Focus on Academic Skills for IELTS focusing on study skills for IELTS is the ideal companion to focus on the IELTS course, providing topic-associated practice for each unit. It can also be used for self-study or as a short intensive IELTS course.
Details about the test
Guided practice for all four skills in each of the ten modules
Enter language to speak and write
Hints and tips for solving challenging problems
Language assessment at the end of each module, focusing on an academic language course
Five self-testing progress tests recycle critical language and skills in new contexts.
Instructions to rate your articles
Ideas to speak and write about topics in reading and listening texts
Tips on how to improve your performance in all four skills
But there is a limitation in the book Focus on Academic Skills for IELTS because the book does not guide how to pronounce the words in the modules. Therefore, you should actively look up the pronunciation of new words in the lesson. This is very beneficial for Listening and Speaking skills!
Focus on Academic Skills for IELTS Study Guide
The book is completely written in English, so to learn this book you must have a solid level of English or IELTS 4.0+. To use the Focus on Academic Skills for IELTS book most effectively, Vietop would like to note a few things for you:
It would help if you studied from beginning to end. Spend 2-3 hours a day studying a unit. Please focus when studying, if you learn quickly, it will take 1-2 hours to complete 1 unit.
Arrange to inspect 2 units, on the 3rd day, just practice and watch again. The Progress check will not take much time, but you need to summarize the knowledge you have learned. After studying, check the answers at the end of the book, full Audio script.
Use the notebook to record the vocabulary, grammar points, and test tips you learn during study and homework.
Download Focus on Academic Skills for IELTS Free
Please visit the link below to download the Focus on Academic Skills for IELTS book and start practising immediately! The Focus on Academic Skills for IELTS book 9IELTS has provided in the article will give you a resource to improve your English skills. Read this book to prepare well for the IELTS exam! Good luck with your IELTS test results!