How to prepare for IELTS is a perfect set of documents for some of you to prepare for the IELTS exam, especially some people who are just starting and want to prepare for the IELTS exam. The document will guide, analyze … very carefully for a friend. If you do not own this book, you will be sorry because the ebook How to prepare for IELTS contains interesting IELTS English learning resources. Read the reviews carefully and choose the right book for you.
The document also provides specific instructions on how to study, documents used for exam preparation, etc, to help some of you have the right learning path. Let's explore this book series and "battle" with it to increase your band score!
Not published by Cambridge, but this book series also comes from the publishing house with the "blood" of Oxford. The book's authors are all language experts with experience in teaching and marking IELTS. Therefore, you can rest assured with some of the knowledge that the book brings.
How to prepare for IELTS is a set of 4 skills with several lessons from small to large, easy to learn in low band for some beginners. Those of you who do not know anything about IELTS, some of the sections below this exam, please explore this book to have a better view of the test structure and start studying more smoothly.
How to prepare for IELTS Listening PDF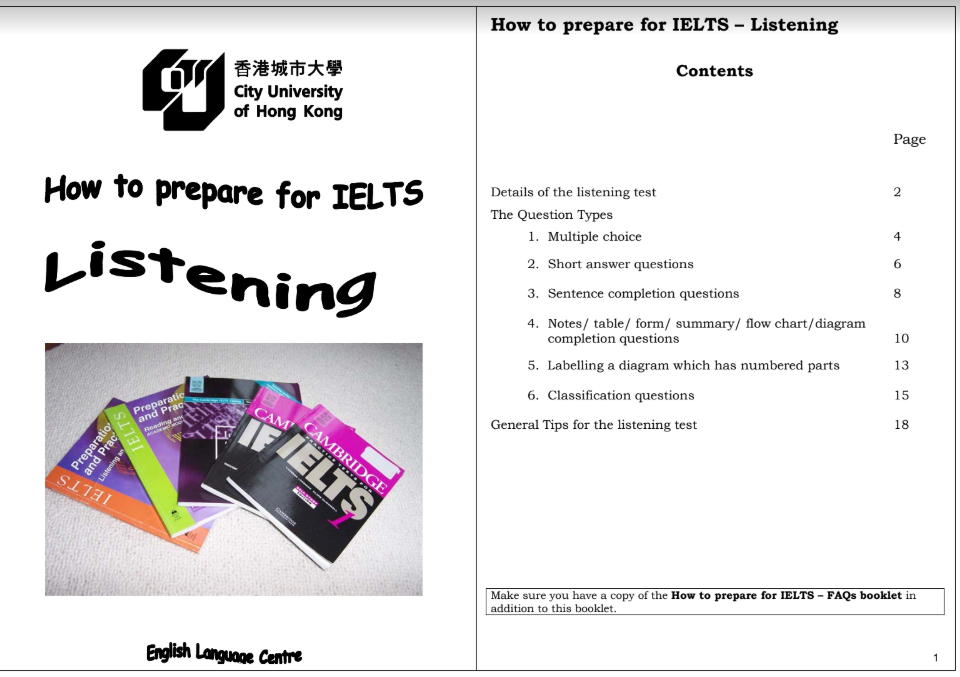 The exciting thing about the book is that the shared code, from test tips to practice exercises, helps you to fight immediately, applying some of the strategies you have learned to the test.
Units of the ebook How to prepare for IELTS Listening according to each sharing section:
About that section, what's common content
Example sections to better understand the exam
Strategy announcements need attention for effective test-taking.
The essential parts to pay attention to are language focus, situations – situations … when practising questions.
Listening practice with instructions on answering each type of common question under Listening.
After learning some Units for each Section, a student will have 3 complete tests to practice, answers and tapescripts for self-review.
Thus, if you study carefully with this material, you will gain a lot of knowledge and strategies to practice effectively.
The biggest barrier when taking the listening test is that the candidate only listens once. If you miss a word or a paragraph below, you won't have a chance to hear it a second time.
That's why some of you are listening for the first time but can't fully understand and don't understand the meaning of the listening piece, you need a lot of practice to improve your listening skills.
9IELTS's advice for some of you who are facing this problem, it's very simple to divide the listening lesson into several parts and listen to it over and over again at home. You will see something new every time you listen firmly, and your listening skills will be greatly improved compared to if you only heard it once.
If you are a newbie and cannot listen effectively (words are lost, words are lost), you need to start with the secret of Listening – Copying Spelling: It sounds pretty dull and will consume a lot of ink. But believe me, this is the most effective and fastest way to help you improve your Listening skills.
How to learn:
You need to listen to the tape and take notes on some of what you hear.
Then, listen a second to see if your heard is correct.
Finally, I listened to each sentence and took notes, just like in elementary school.
Listen to the same song repeatedly, with each listening focusing on a different element. You will see a lot of new things there.
For example:
With the first listening, you need to make an effort to listen and understand the meaning of the whole song or grasp the main idea of ​​the song.
On the second listening, pay attention to some words or passages you have not heard clearly the first time to verify the information. Also, see how some verbs in the lesson are conjugated.
Next, try to hear the speaker's pronunciation, stress, or tone.
And finally, try to listen to some important words like articles or prepositions under the lesson…
How to prepare for IELTS Reading PDF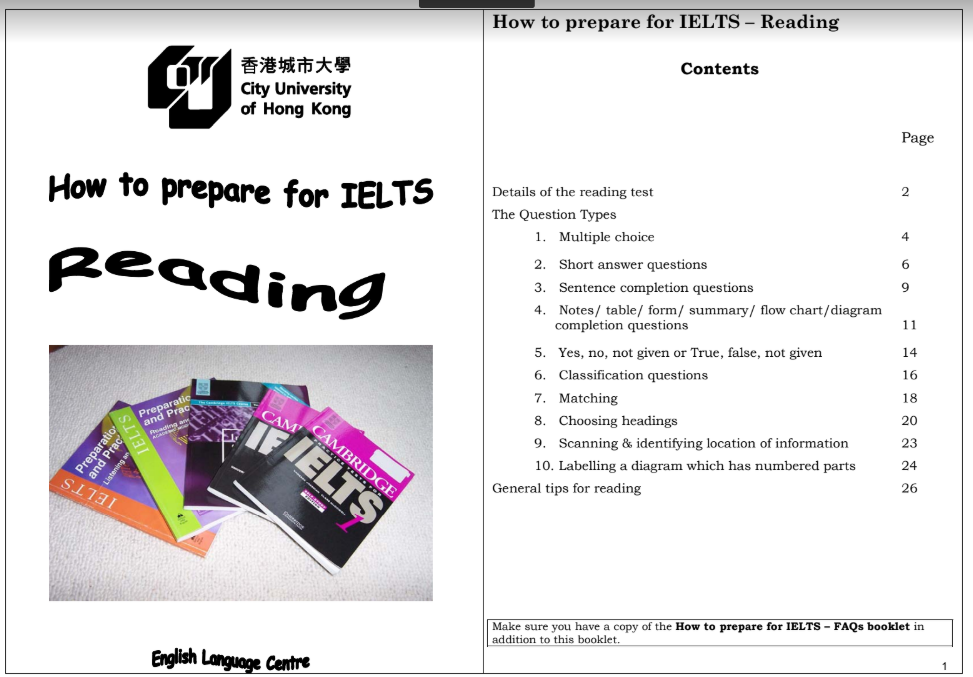 The book How to prepare for IELTS Reading is for the Academic test more than you need to study in this method. This book is excellent when sharing the secret to learning IELTS Reading and Writing effectively, definitely helping some of you on the journey to conquer IELTS.
About Reading
The skills you need to do compelling Reading
Divide the lesson into each type of lesson such as: Multiple – Choise, True/False/Not Given, Table Notes… Each of these lessons is a specific application of some effective test-taking tips.
4 test papers for some of you to practice on your own, the answers will be at the end of the book.
As such, some of you may find that the book will give tips on how to do the test according to each type of question, improve your knowledge, get ready to take the IELTS test with more expensive scores.
Don't forget to practice with some tests equivalent to the actual exam to take the exam effectively! Download now and learn!
Have you completed some of the Reading and Comprehension tests under this series? If so, don't hesitate to redo them a few more times. Because we are only perfect when we do the same thing over and over again.
To get a high score below the IELTS test, there is only one formula that is "hard work". Doing it repeatedly will help you see new things you sometimes missed in the previous work. Help learners do better on the test and avoid some unnecessary mistakes.
The steps to prepare for the Reading test include:
Please set the time and do the test within 60 minutes to see how many sentences you can correct and how many points you get.
Do the test again, but do not limit the time that some of you always do the test according to your ability.
The thing that makes 1 Passage under 20 minutes.
Focus on a few questions you are weak in and have not been able to answer much. For example, the form of True / False / Not Given, Matching Headings or Multiple Choices…
Take the test and use the dictionary simultaneously to see if you can improve your score. Or can you try reading an article to check your understanding or not?
Alternatively, you can preview the answers and try again under the reading to see where they appear.
Finally, some of you should make a vocabulary table and some "keywords" under the lesson.
How to prepare for IELTS Writing PDF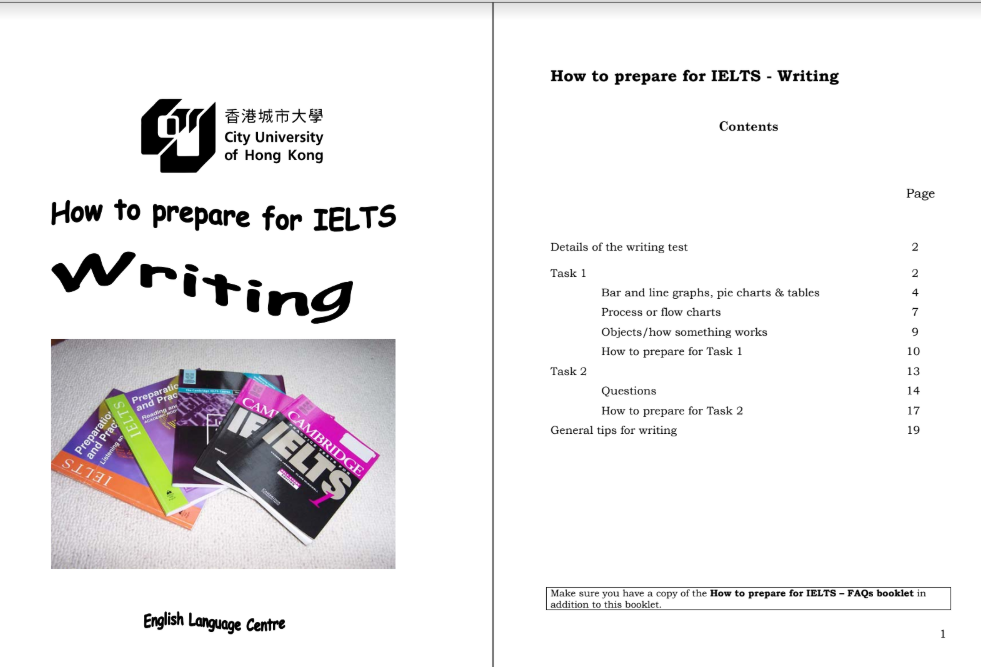 Similar to the Academic book, the How to prepare for IELTS Writing book provides some students with practical self-study resources when divided equally into each section of the General Reading and Writing test. You carefully shared how to do the test effectively in each test section.
The writing lesson is divided into two Tasks:
Share specifically about Task 1, some points to know, some chart samples, maps, process … commonly found under the test. Besides that it is important to do assignments effectively.
Learn 4 scoring objectives: Grammar, vocabulary, coherence, logic to practice for each test.
Articles for reference and comparison
Still sharing about this exam, some frequently asked questions and the layout of the Task 2 article, how to implement the idea…
Learn how to effectively do the test according to the 4 scoring goals above.
Reference lines, practice comparisons
Common mistakes to watch out for.
We often believe that the more things we do, the better. However, the downside of this trick is that it doesn't stay much under your head.
The saying goes: "I fear not some who have practiced 10,000 kicks once, I fear only some who have practiced one 10,000 times" – Bruce Lee. Writing practice is the same; instead of some of you doing 5 different Writing questions, why not try to write 1 topic but write it in 5 different styles?
Note that: each time you write, some of you should improve and develop some aspects of the article so that it is better than before.
For example:
If you are not good at writing, at first try to write a few short sentences that express the problem most understandably.
For the second writing, try expanding the sentence and focus on the article's grammar. Try applying some of the structures I learned in the article.
The next time you write, you can expand the idea for the article, especially the explanation and evidence.
In the following few times, why don't you upgrade the vocabulary for your essay?
How to prepare for IELTS Speaking PDF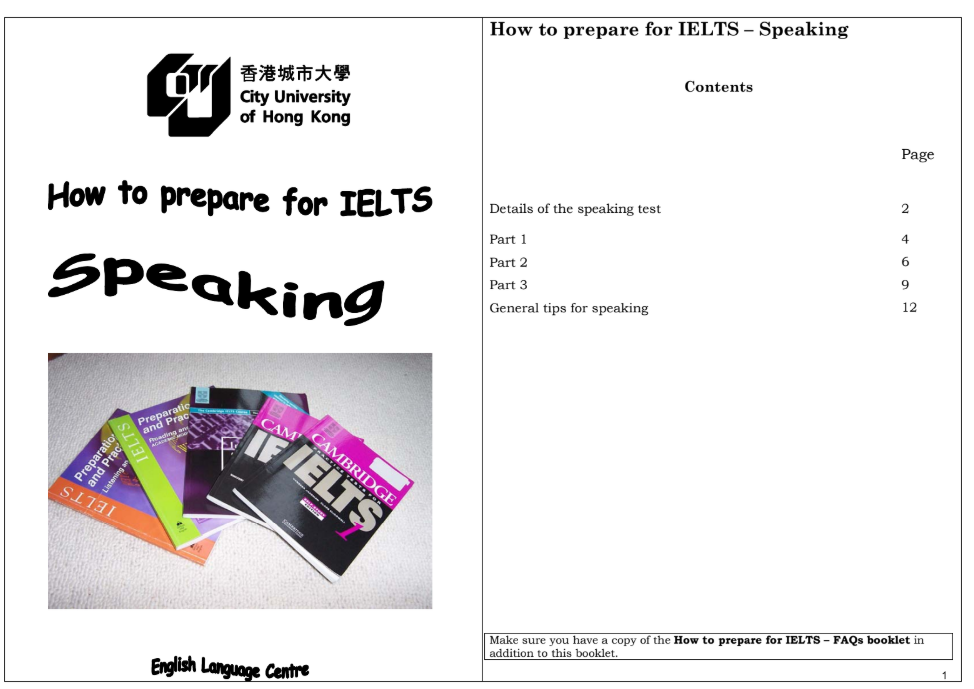 Unit Speaking shares:
Introduction to each Part under Speaking
Learn some objectives from Vocabulary – some words to use, how to paraphrase vocabulary words to use… to sentence structure to start, Grammar application, pronunciation, pronunciation… for you to develop your speaking, and have a more complete and impressive Speaking lesson.
Questions and answers come with each Part under Speaking. This is a good reference source for some of you when practicing Speaking.
An interesting feature of the book is a table for you to grade your answers. After recording the talk, study it yourself; that will help you know your level and what needs improvement.
For this section of the test, some of you should:
Please list a few questions under this section and practice with them daily. Remember to do it every day!
Practice in front of a mirror, record your speech, and then ask others to listen and evaluate.
Or you can also get yourself a companion to support each other under daily English speaking practice.
For example, the goal is for you to master this topic before taking the exam.
How to practice IELTS Speaking Part 1
With Speaking part 1, familiar everyday topics will be asked, such as family, job, study, hobby, etc. The examiners will ask you about 8 to 10 questions and will last for 4-5 minutes. . This part will mainly revolve around you, so don't stress or be shy.
When practicing Speaking Part 1 at home, you should start with familiar topics around life, then make a list of questions the examiner may ask you, for example:
Basic Description Questions
Like/Disliking Questions
"Types of" Questions
"Wh-/How" Questions
"Yes/No" Questions
"Would" Questions
How to practice IELTS Speaking Part 2
IELTS Speaking part 2 will present you with a new and completely different challenge from the other parts of the test. The first thing it requires is to speak fluently and coherently over a long period, which becomes easier with enough practice. Here is a reference template so you can practice Speaking Part 2 yourself at home:
Step 1: Start the talk + Answer question 1
For Part 1, you should practice within 25 seconds and create your template for every lesson Part 2, instead of using each lesson, one style will take a lot of time.
Step 2: answer the question what / where / who / when / how often
Depending on the required questions of the test, you will answer the above questions; besides preparing yourself, a good vocabulary will also help your Part 2 be more successful. It is not difficult to refer to many online resources about Speaking part 2 for reference, then prepare your template.
How to practice IELTS Speaking Part 3
In Speaking Part 3, you will be asked questions related to the topic of the previous Part 2 by the examiner. The examiner will ask you to discuss ideas and issues more deeply and broadly. This dialogue is a long interview, lasting about 4-5 minutes, higher than the short presentation in Part 2.
Preparing for Speaking Part 3 is necessary because if you answer well in this part, your whole speech will be appreciated, so invest time and effort into it. Answer the question in 3 steps:
A: Answer: Answer the topic sentence.
E: Explain: Explain why you made that choice.
E: Example: Give examples of answers to convince listeners.
This is the perfect structure to help you conquer any topic in IELTS Speaking Part 3. And one more step you can add is Alternative (this part may or may not be possible). I don't include it. You can expand it yourself later).
The sample answer is as follows:
Step 1: Answer (Give a direct answer to your question).
Yes, there are far too many game shows on TV for my liking.
Step 2: Explain (Explain your point of view)
I suppose the channels show these programs because they are popular, and they must be very profitable.
Step 3: Example (End your answer with a specific example, the more specific the better.)
A good example is 'Who wants to be a millionaire?', which has been told to TV channels worldwide.
With this answer, you will ensure 3 factors:
Answers with compelling content are not too long and not too short.
The answer structure is tight, and logical.
Minimize pressure when facing this part of the exam.
Download How to prepare for IELTS Full PDF
The How to prepare for IELTS Listening, Reading, Writing, Speaking book series will give you a better view of the IELTS test structure and help you study IELTS more smoothly. Check out these books to increase your use of English skills! Good luck with your studies!