You should spend about 20 minutes on this task.
The chart gives information on the percentage of women going into higher education in five countries for the years 1980 and 2015.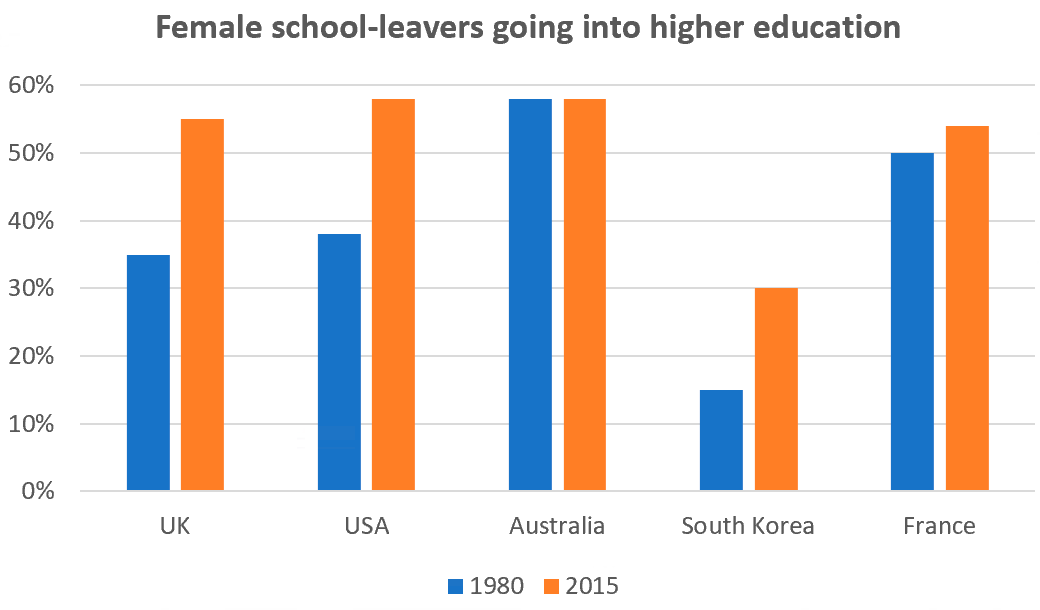 Summarise the information by selecting and reporting the main features, and make comparisons where relevant.
Write at least 150 words.
Sample Answer 1
The bar chart shows the percentage of females entering higher education between 1980 and 2015. The chart shows the percentages in five countries, the UK, the USA, Australia, South Korea and France. Overall, the proportion of women in higher education increased in the five countries.
There were more female students in 2015 than in 1980, with more than half of women in higher education in all the countries apart from South Korea. In four countries, the percentage of women going into higher education rose.
The most dramatic change was South Korea, where the percentage doubled from 15% to 30%. The slightest change was seen in France, where the number increased only from 50% to 54%. The only country in which there was not an increase was Australia. Although the percentage of Australian women going into higher education remained the same at 58%, this was the highest in 1980 and equal to the USA in 2015.
Sample Answer 2
The bar chart illustrates the proportion of female school-leavers who went into higher education in five nations between 1980 and 2015.
Overall, the percentages for the five countries all witnessed an increase. In addition, Australia's figure remained the highest whilst South Korea still registered the lowest proportion over the period shown.
According to the chart, the proportion of Australian women studying after school stayed unchanged, at about 58%. A similar number can be seen in the USA in 2015 after increasing by a quarter. In contrast, South Korea's percentage was much lower than other nations. In the beginning, approximately 15% of South Korean female school-leavers went into higher education, but it doubled in 2015 to 30%.
On the other hand, the UK's percentage rose from more than a third to about 55% from 1980 to 2015. Meanwhile, there was no significant change in the figure for France as it only experienced an increase of less than 5% to reach nearly 55% in 2015.