» You should spend about 20 minutes on this task.
The graph below gives information about international tourist arrivals in five countries. Summarise the information by selecting and reporting the main features, and make comparisons where relevant.
» Write at least 150 words.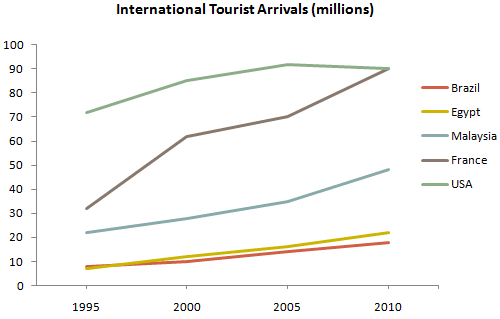 Sample Answer 1
The line graph compares the number of foreign tourists arriving in five countries between 1995 and 2010. Overall, tourist arrival in these countries increased over time, and the USA and France received the highest number of foreign travelers during this period.
As the data suggest, over 70 million international tourists landed in the USA in 1995, more than double that of France. Malaysia, in this year, received around 20 million tourists while fewer than 10 million travelers visited Brazil and Egypt each. Tourists' arrival in the USA gradually increased, but a sharp rise could be observed in the case of France, where over 80 million travelers visited in 2010.
Despite the USA being the favorite among tourists, France, as a destination, became famous with the rapid increase of its tourists' number. Moreover, approximately 50 million people went to Malaysia to spend their holidays in 2010, which is more than doubled in just 15 years. Finally, tourists' arrival in Egypt slowly increased and crossed the tourists' arrival in Brazil as more than 20 million people traveled to Egypt in 2010, while this number was about 3 million fewer in Brazil.
Sample Answer 2
The graph compares the number of international tourists in 5 countries from 1995 to 2010. Generally speaking, the USA had the highest number of international tourists among these countries, and the number of tourists who visited France during this period increased rapidly. So, France as a tourist destination has become more popular over time.
Initially, in 1995, more than 70 million international tourists traveled to the USA, while just 30 million tourists traveled to France. Brazil and Egypt had less than 10 million tourists this year compared to just above 20 million tourists in Malaysia. Over the period, the total number of tourists visiting these 5 countries increased with some slight fluctuations.
In 2005, tourists to the USA reached 90 million, the highest among these countries. This year, the number of international tourists in France was about 65 million, which was a sharp increase compared to its previous number of international tourists. In Malaysia, Brazil, and Egypt, tourists number increased but did not exceed 40 million. Finally, in 2010, international tourists numbers in the USA and France intersected at about 90 million. Compared to the previous years, France gained the highest ratio of international tourists. This number also increased in Malaysia and reached over 45 million, which is almost double compared to the data in 1995. Brazil and Egypt had the least number of international tourists among the five countries, and in 2010, they both had around 25 million international tourists.