Surely Writing band 6.5 is a goal that many Vietnamese students aim for the most. Currently, on the market, there are many books to prepare for this IELTS band test, and one of them is IELTS – Collins. Today, review and download the Collins Writing for IELTS PDF Free book at the end of the sharing article to study if needed!
Collins Writing for IELTS is an IELTS Writing study book, part of the Collins for IELTS series author Collins. The book is also divided into 12 Units, corresponding to 11 topics of the IELTS test, along with a Final Practice Test to test your level in the final unit.
Collins Writing for IELTS Review
Book Contents
The book Writing for IELTS is divided into 12 lessons, in which each lesson from 1-11 corresponds to Topics that often appear in real IELTS exam questions, such as: Family matters, Youth, People and Places, Health and fitness or Education…
In particular, the last Unit is a Final Practice Test with a structure quite similar to the actual IELTS Writing test. There, you will experience the closest to the actual test, as well as check the results of the learners after using the book.
In addition to providing lessons and tests, it also shows you useful tips and strategies to help readers optimize their scores.
Each lesson from unit 1 to unit 11, will be broken down into 3 parts:
Part 1: Vocabulary
This section will provide readers with a range of topic-appropriate vocabulary along with a selection of popular, academic words and expressions.
Attached are exercises that help you practice what you have learned above so that the meanings of words are clearer and you also remember the lesson longer.
Part 2: Practice Exercises
Next, this second part will provide you with the exercises along with extremely detailed instructions to be able to complete the exercises. Along with that, there are guiding questions showing you the criteria for a good-quality article.
Moreover, in this section, important grammatical structures will be highlighted, helping you to notice and remember them longer, thereby increasing the accuracy of the article.
Part 3: Exam Practice
Includes practice questions, divided into 2 tasks (Task 1 and Task 2), in the format closest to the actual exam. Through this test, you will be more familiar with the actual test format, and from there, you will be more confident when taking the test.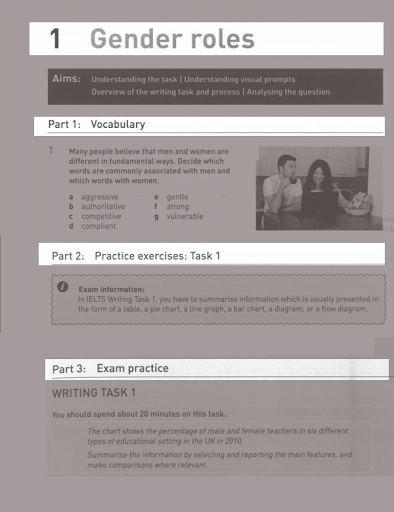 Along with that, the author also provides extremely useful information in the boxes:
Aims: Brief description of the skills that you will be trained in each Unit.

Exam information: provides key information about the sections of the IELTS Writing test.

Exam tip: provides the techniques and tactics needed to score well in the written exam.

Target Readers
Writing for IELTS (Collins) is not suitable for those of you who have a low band score, or you have lost your roots. The book is only suitable for candidates with an IELTS band score of 5.0 – 5.5. And now trying to conquer higher scores in IELTS Writing (Band 6.0 +).
If you are at a lower level, you can refer to the basic to advanced writing practice books such as Writing Strategies for The IELTS test, The Key to your IELTS Writing target or Collins Writing for IELTS.
Those of you who want a band score of 7.0 Writing IELTS, don't miss High-Scoring IELTS Writing Model Answers, Academic Writing practice for IELTS, Essential Writing for IELTS or Ideas For IELTS Topics Simon.
Pros & Cons
Advantages
The book is presented very logically and scientifically, helping readers to improve their writing skills from easy to difficult levels.
In addition to vocabulary and exercises, the book also has tips and strategies to help optimize your score.
The topics in the book are familiar topics in the IELTS test.
Vocabulary and idioms in the book are compiled relatively rich and diverse to help readers expand their vocabulary.
Defect
Due to a large amount of knowledge, it is easy to confuse learners not knowing where to learn from.
The book is designed entirely in English, so it is sometimes a small obstacle for learners.
Collins Writing for IELTS Study Guide
If you want to study this book effectively and achieve the desired score or even higher, here are some suggestions for you:
First of all, you should spend 3-4 hours per Unit. You should also try to complete all the questions, along with the basic Tasks in the lesson.
Because these are basic exercises that have been thoroughly researched by the author, helping to build the foundation for your article.
Should carefully study the vocabulary mentioned in each lesson and apply it to specific exercises. This will help you expand your vocabulary and increase your ability to express yourself, avoiding repeating mistakes.
Besides learning new words carefully, don't forget to review old words every day, so that you can remember them for a long time.
For part 1, you should try to answer the questions without using a dictionary. This will help you increase your judgment and understanding of the context of the lesson. This also helps you avoid being dependent on the dictionary because the IELTS test does not allow the use of dictionaries.
Do not write the answer directly in the vocabulary practice section, but write it in a notebook. After each lesson, review at least once to deepen the vocabulary.
For part 2, you should practice writing step by step from start to finish. This helps you familiarize yourself with the types of writing in the exam, train your thinking and increase the students' cognitive, evaluation and critical abilities.
With part 3, if you find it difficult at first to write long paragraphs in a limited time, I recommend you to write short, quality sentences but still ensure the required level.
Then, gradually reduce your writing time to the allowed level and gradually expand your answers. Thus, you will have good control over all 3 factors, the minimum number of words, the quality of the article and the time limit.
After you finish the article, ask a professional to comment and correct your article because you can't find your own mistakes.
And don't forget to make a habit of writing English in your daily life such as writing to-do list, journaling, etc.
Download Writing for IELTS Free
Please visit the link below to download the Writing for IELTS book and start practising immediately!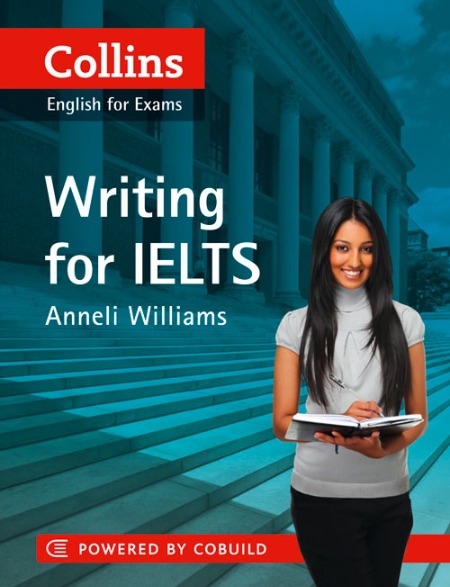 Due to copyright reasons, you can't download IELTS books directly on our website, but in this file. Please like and recommend our 9IELTS Fanpage to motivate us to keep up the good work.