Those who want to conquer high-stakes IELTS exam must be familiar with the series of practice questions from Cambridge University Press: Cambridge Practice Test for IELTS. In the article below, 9IELTS will spend a couple of lines reviewing the second book of this famous series: Cambridge Practice Test for IELTS 6.
Cambridge IELTS 6 is in the book series of the same name, published by Cambridge University Press – one of the most prestigious publishers in the world of English language learning in particular and language skills in general.
For those who don't know, Cambridge IELTS is a series of books about the IELTS exam published annually by Cambridge itself to give you the best orientation for those who are preparing for the IELTS exam. The book is a collection of many different sets of topics, and by exploiting these topics, readers will be able to decipher and grasp the structure of the exam. This will help you be more confident when entering the 'battle' with the exam.
Cambridge IELTS 6 Review
Book Content
Cambridge IELTS 6 is divided into 4 main sections:
The first part provides 4 IELTS Academic mock tests and 2 questions in a General Training format. The Listening section in each test has an accompanying audio file.
The second part is recording the Listening tests in the practice test (audio scripts).
The third part includes answers to exercises of the Listening & Reading test sections (answer key).
The last part is the answer sheet – sample answer sheets of skills in the IELTS test.
Each practice test in Cambridge IELTS 6 is designed in the same order as in an IELTS Academic test: from Listening to Reading, Writing and Speaking.
Target Readers
Because the Cambridge IELTS 6 book only provides practice questions, this document is suitable for those who have mastered the exam structure and tactics for handling different tests in each skill. Thus, the book is a reliable source of reference and practice for test takers before the official exam.
Pros & Cons
Cambridge IELTS 6 is a product of the prestigious Cambridge University publisher, the research result of many world-class language experts in IELTS preparation, test preparation and marking.
Moreover, the book Cambridge IELTS 6 is "honoured" to be a member of the official list of IELTS preparation books of Cambridge University Press. Therefore, it is expected to have high reliability and closely follow the actual IELTS test.
Book Cambridge IELTS 6 designs both practice tests for IELTS in 2 formats: IELTS Academic and General Training with all 4 skills. This feature sets the book apart from most exam preparation materials on the market, as they mainly focus on one test format.
With the design of Cambridge IELTS 6, it is accessible to learners of both formats, Academic and General Training.
In addition, at the end of Cambridge IELTS 6 there is a sample writing section, which acts as a standard framework for readers to refer to their work and see what worked well and areas for improvement.
However, Cambridge Practice Test for IELTS 6 is a book specifically designed for practice purposes, it does not include instructions on the problem-solving process, test strategies and additional exercises for vocabulary/language. Learners' law. Therefore, the book is not suitable for beginners.
Another weakness of Cambridge IELTS 6 lies in its up-to-dateness. Some listening tests are no longer suitable for the current IELTS test.
For example, in Listening test 4, section 1 includes 3 types of note completion (fill in notes), table completion (fill in tables), and sentence completion (fill in words/phrases in sentences), while section 1 in the test IELTS Listening from 2017 and later only tests one form, Form completion. Therefore, learners must pay attention to this point when doing the test.
Cambridge IELTS 6 Study Guide
Cambridge Practice Test for IELTS 6 belongs to the official IELTS preparation materials of Cambridge University publisher, so you should take advantage of the opportunity to practice. However, there are two caveats before preparing for the exam.
Firstly, the test questions have some outdated formats, especially in the Listening section, people need to carefully learn the latest IELTS format (which can be compared with Cambridge IELTS books from 9 onwards) to avoid doing those kinds of things.
Secondly, for a successful mock exam, the necessary conditions for a continuous and authentic test-taking process must be ensured: space, time, tools, questions and answer sheets. After taking the test, you must compare the answers and convert them to the corresponding IELTS band score, then try to find the reason behind the mistakes.
With Speaking, you can record your Speaking part and then ask a teacher or acquaintance with experience in this field to evaluate. Of course, you can consider yourself based on the IELTS Speaking scale description, but this is a personal skill, so getting other people's opinions is necessary. On that basis, you will know what you need to improve.
Download Cambridge IELTS 6 Free
Please visit the link below to download the Cambridge IELTS 6 book and start practising immediately! Download Cambridge IELTS 6, and you can not only practice well but also have great experiences in the process of IELTS test preparation, thereby removing obsession and stress during the actual exam.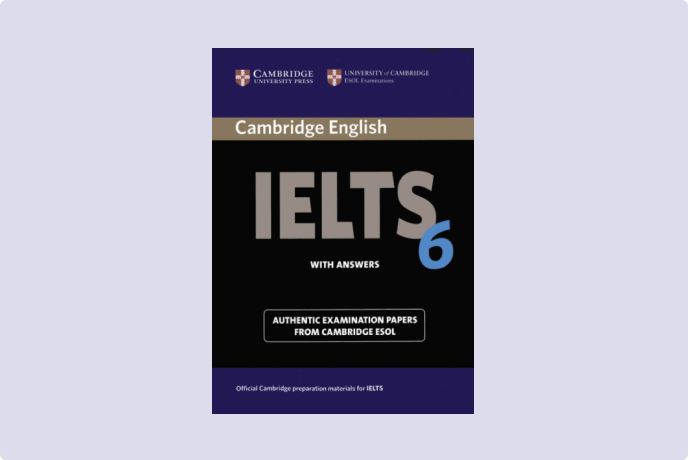 Note: For copyright reasons, you can't download IELTS books directly on our website, but in this file. Please like and recommend our 9IELTS Fanpage to motivate us to keep up the good work.