The IELTS test is divided into two formats: IELTS Academic and IELTS General Training selected depending on the learner's individual needs. However, IELTS Academic attracts more test takers for various reasons than General Training, and these IELTS format test preparation materials are not as plentiful. In the following article, 9IELTS would like to introduce the Book: Cambridge IELTS 11 General Training.
Cambridge IELTS General Training 11 Review
Book Content
In terms of structure, Cambridge IELTS 11 General Training is divided into 3 main parts:
The first part provides a general understanding of the IELTS exam, the format of the test and the band score for the IELTS General Training test.
The second part, which is also the focus, includes 4 IELTS practice tests in a General Training format with all 4 skills of Listening, Speaking, Reading and Writing.
The third part is transcripts (records of Listening lessons), sample writing and test answers.
Target Readers
Because the Cambridge IELTS General Training 11 book only provides practice questions, this document is suitable for those who have mastered the exam structure and tactics for handling different tests in each skill. Thus, the Book is a reliable source of reference and practice for test takers before the official exam.
Pros & Cons
With a relatively young age , Cambridge IELTS 11 General Training owns a collection of quality sample test questions. It is as similar as possible to the recent IELTS General Training exam.
In addition, the BookBook is listed in the official IELTS preparation materials of the prestigious Cambridge University – one of the three governing units of the IELTS exam- so learners can rest assured to take the test confidently.
With such high reliability, the tests will accurately reflect the learner's level, thereby helping you to draw the points that need to be improved quickly to have the corresponding solutions.
However, the Book contains only sample exam questions designed for practice purposes. There is no section dedicated to introducing the test format, giving instructions or suggesting some essential strategies for different types of IELTS test.
Therefore, the BookBook is unsuitable for students who are just getting started and need a lot of detailed instructions before moving on to the practice phase.
A few passages are designed to be more complicated than the level required for an IELTS General Training reading, as shown by the fact that it contains a lot of academic language with a complex structure, making it suitable for the format. IELTS Academic form rather than General Training.
Cambridge IELTS General Training 11 Study Guide
One of the biggest problems students face when facing a written test is a lack of ideas and insufficient vocabulary. If you have difficulty planning the Writing test, whether it's limited vocabulary or pictures, you can refer to the Linear Thinking method – a new method developed by the academic team. The technique of 9IELTS with the hope of overcoming significant obstacles for learners.
Specifically, with Writing, you need to encapsulate the following 2 steps:
First, you must analyze the topic based on choice, observe the keywords, and then find the main ideas/arguments.
Second, you develop supporting ideas based on the arguments identified in the first step.
Just like that, building a complete and detailed outline is only a matter of time, after a few times, you will master it.
9IELTS's Linear Thinking method can also be applied to both Reading & Listening, but it requires a specific practice route to be more suitable for the review process than the stage. Practice quizzes urgently. To learn more about this method, please visit the official website of 9IELTS: 9ielts.com.
In addition, after completing each mock test in Cambridge IELTS General Training 11, you should check your answers carefully and record your results to compare with other tests. In addition, it is also essential to find out what is wrong and why you did it wrong, what factors affect the results of the test, because you will learn a lot from that mistake, especially gaps in test skills and knowledge required for a perfect IELTS test.
Download Cambridge IELTS 11 General Training PDF
Please visit the link below to download the Cambridge IELTS General Training 11 book and start practising immediately! Download Cambridge IELTS General Training 11, and you can not only practice well but also have great experiences in the process of IELTS test preparation, thereby removing obsession and stress during the actual exam.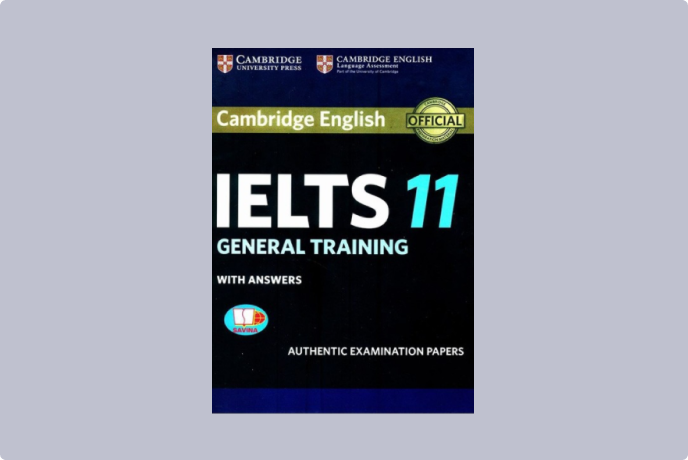 For copyright reasons, you can't download IELTS books directly on our website, but in this file. Please like and recommend our 9IELTS Fanpage to motivate us to keep up the good work.
Note: Please note that these Cambridge IELTS Books 1-17 Academic + General Training were collected from different sources on the internet and gathered together to help students prepare for their upcoming IELTS exam. The website owner does not hold any responsibility for those. If you have any claims regarding any content of this website, please contact us.